Bread flour or All purpose flour – 3 ½ cups (might need a little more)
Instant yeast – 2 ¼ tsp
Sugar – ¼ cup
Salt – 1 tsp
Water – ½ cup
Milk – ½ cup
Yogurt – ¼ cup
Butter – 5 tbsp
For the filling –
Butter – 3 tbsp (softened)
Sugar – ¼ cup
Cinnamon – 1 tbsp
For the Icing –
Powdered sugar – 1 to 1 ½ cups
Vanilla extract – 1 tsp
Milk – 1 or 2 tbsp

Procedure –
To make the dough –

In a saucepan, add the milk, water and butter. Heat it until the mixture is warm and the butter has almost melted. There might still be a little bit of butter not melted, but that will not be a problem. The rest of the butter will get incorporated when making the dough.
In a large bowl or in the mixer bowl, add 3 cups of bread flour, instant yeast, sugar and salt. Mix once to combine.
Add the warm milk/butter mixture to the flour mixture along with the yogurt.
Turn the mixer on low and start mixing the dough. Slowly increase the speed to medium and mix well and until the mixture is completely incorporated.
Knead the dough further and add the rest of the flour if needed to make smooth and elastic dough.
Place the dough on a greased bowl and cover it. Place it in a warm, draft free spot to rise until doubled in volume (about 1 hour).
Shaping the cinnamon rolls –

In a bowl, combine the sugar and cinnamon and mix well.
Once the dough has doubled in volume, gently punch it down and place it on a floured work surface.
Roll the dough to a rough rectangle, measuring about 12 x 16 inches.
Spread the softened butter evenly over the rectangle. Sprinkle the cinnamon sugar all over the rolled over dough. Make sure you get to the corners and sides as well.
Now start rolling the dough tightly, jelly style until half way. Roll the other half the same way and bring it to the middle.
Make a rough marking and cut the rolled dough into 12 equal parts. Makes sure you use a sharp knife and make one gentle swift cut.
Take one piece of the cut dough and slightly stretch it out and then pinch the bottom to form a heart shape (refer to the picture below).
Place it on a baking sheet. Repeat the same with the rest of the pieces.
Cover the sheet and let the rolls rise again for about 30 to 40 minutes or until almost doubled.
Baking the rolls –
Preheat the oven to 350 F.
Once the rolls have doubled in volume, bake them for about 20 to 22 minutes or until they are golden brown. Let it cool in the pan for about 5 to 10 minutes.
Combine the icing ingredients to form a smooth icing. Drizzle the icing over the baked rolls when still warm and serve.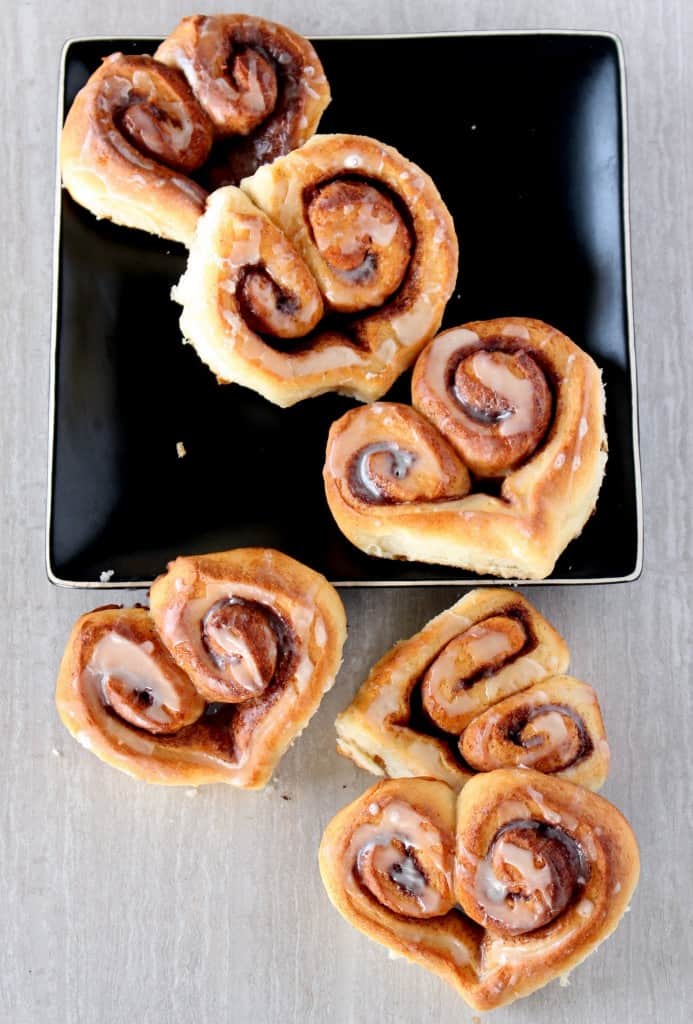 Check out the Blogging Marathon page for the other Blogging Marathoners doing BM# 68