16th August, 2012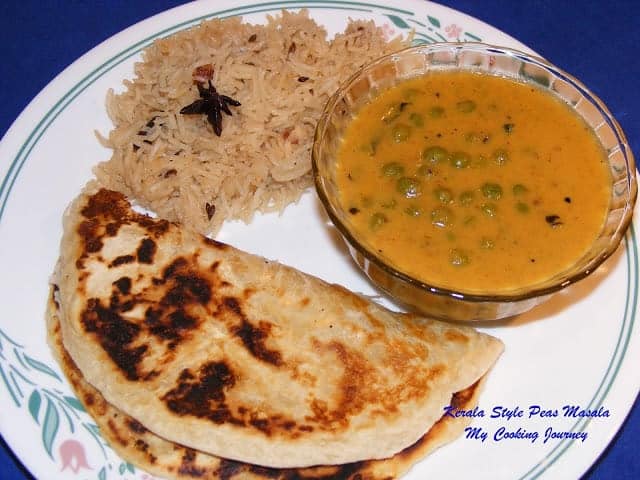 This recipe has been in my mind for several weeks now. I saw this recipe in a blog called 'Edible Garden'. Never a big fan of peas (that's the only vegetable I don't like); I first sort of just read through the recipe and ignored it. But for some reason the recipe kept haunting me to try it. Maybe it was the pictures taken by Nags, the owner of Edible Garden, or her beautiful description. So, anyways I made this recipe and it wowed me. It was such a rich and mouth pleasing flavor, that made us keep going back to more.
If you want to check the original recipe (I have not changed anything from the original), please follow this link –Kerala style peas masala.
Nags had mentioned that this masala is usually paired with appam or puttu in Kerala. It tastes wonderful with Parathas and rice. I am sure this would be a very good accompaniment for Dosai too.
Preparation time – 30 mins (for peeling the peas, if using fresh ones)
Cooking time – 30 mins
Difficulty level – easy
Ingredients (serves 4)
Fresh or frozen peas – 2 cups (I used frozen peas)
Onions (chopped) – 2 large
Tomatoes (chopped) – 2 large
Garlic – 2 cloves
Ginger – 1 inch piece
Coriander seeds – 2 tbsp
Dry red chilies – 3
Coconut milk (thick) – 1 cup
Garam masala – 1 tsp
Oil – 3 tsp
Salt – to taste
Mustard seeds – ½ tsp
Curry leaves – few
Procedure
Heat very little oil and fry the coriander seeds and red chilies until brown and aromatic. Let it cool down a bit and then grind it with very little water to a smooth paste.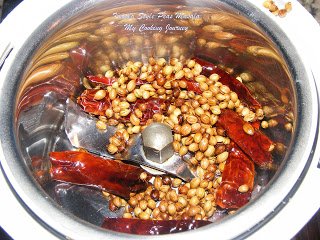 In a kadai or a pan, heat about a tsp of oil and add the chopped onions. Sauté till golden brown and then add the chopped tomatoes, ginger and garlic. Fry till the tomatoes are cooked and mushy. Let it cool and then grind into a paste.
In the same pan, boil the peas with just enough water and turmeric powder.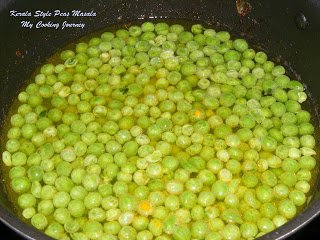 Once boiled, simmer the heat and add the ground coriander, red chilies paste. Mix well and continue to simmer for about 5 more mins.
Now add the ground onion mixture and cook for another 5 mins. Take care not to overcook the peas. The peas should be soft to touch, but still should maintain its shape.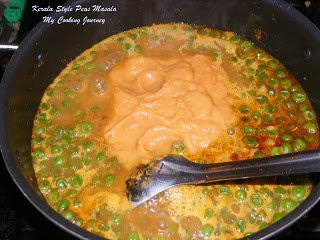 Now add the coconut milk and salt and let it come to boil.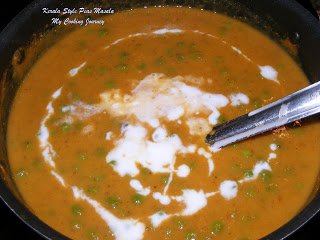 Once it comes to boil add the garam masala. Check for the consistency of the gravy. If too thick add little water and mix well. The masala is now ready.
Season the masala with mustard seeds and curry leaves and serve hot with parathas, rotis or rice.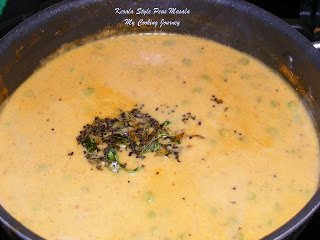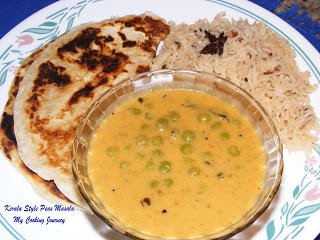 Notes and observations
My recipe turned out a little watery, so please make sure that initially when boiling peas add just enough water to cook it. Also try to grind the onion mixture with little or no water.