2nd Feb, 2014
Naan is a flattened flatbread that is very famous in many parts of Asia. The Naan is from the Persian origin and is usually cooked in a Tandoor. Also what differentiates the naan from the rest of the Indian flatbreads like roti or chapatti is the fact that it contains yeast or similar leavening agent. I have seen making Naan in several TV shows and read through it in several cook books. With a little tweaking based on my liking, this is a recipe that works great for me.
For me making naan was always the Ah-Ah thing. I usually take the easier way out and make roti's or phulkas or parathas, but there is nothing like making naans at home and eating them right out of the oven. I made the garlic naan recently, because my older son just loves garlic. If you want to make just plain naan, follow the recipe exactly except for, brush the dough with plain ghee instead of garlic flavored ghee.
With just a little planning in the morning, one could make the naan for lunch and also enjoy a few for dinner on a weekend. I have tried making these on griddle/pan but was not too happy with the texture. I like the texture when cooked under the broiler. If you don't have an oven, cook it in a pan, covered on one side and then flip it to the other side until evenly browned and puffed up. I served it with my kid's favorite subzi, honey toasted tofu with sesame. Do try the naan with any of your favorite gravy and enjoy!
Preparation time – 20 mins plus 1 ½ hrs of resting time
Cooking time – about 3 mins per batch of Naan
Difficulty level – Medium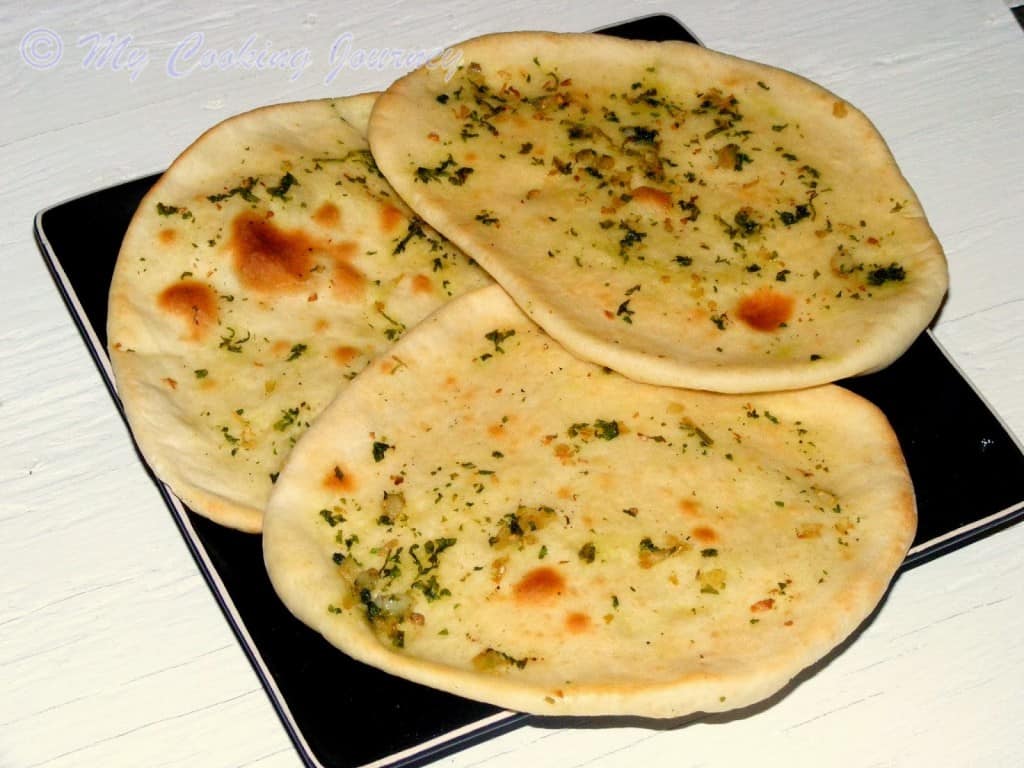 Ingredients – Makes 14 medium Naans
To make the Naan –
All purpose flour – 4 cups plus more for dusting
Water (Luke warm) – 1 1/3 cup
Active dry yeast – 1 tbsp
Sugar – 2 tsp
Salt – 1 tsp
Yogurt – ¼ cup
Ghee /Clarified butter or oil – 3 tbsp
Ghee or oil + Ghee – 4 tbsp
Garlic – 4 cloves (finely minced)
Cilantro – 4 tbsp (finely chopped)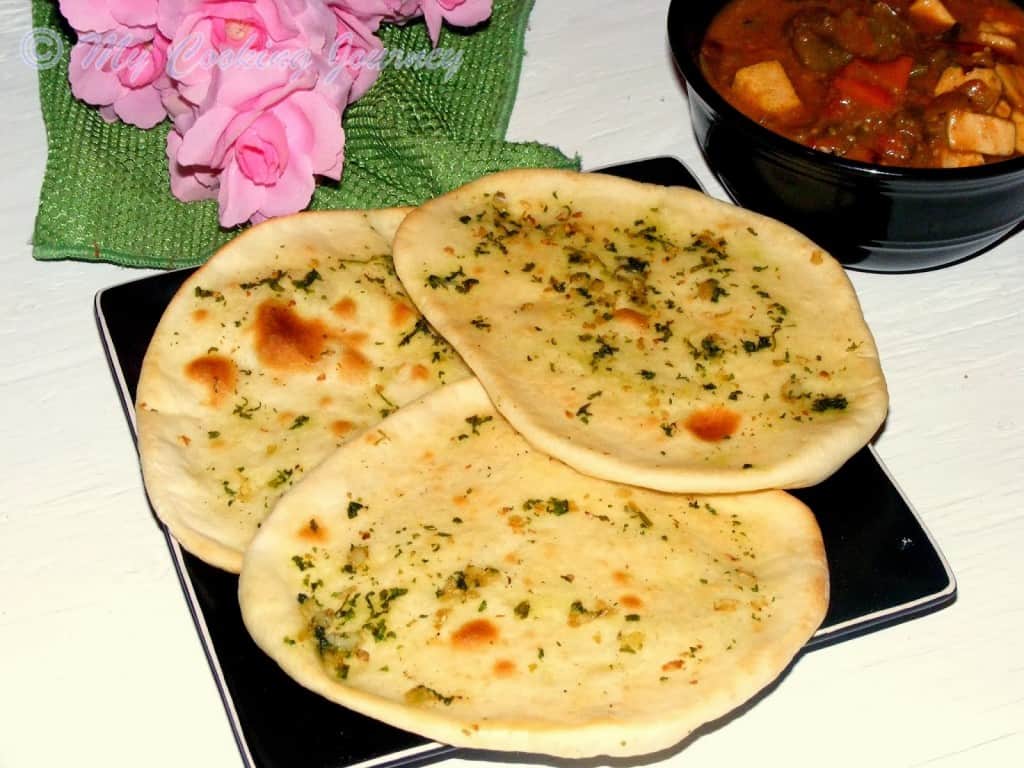 Add the yeast to the warm water and also add the sugar to it. Mix it well and leave it to proof for 5-10 minutes.
In the meantime, add the flour to a large bowl or in the bowl of the mixer. Add the salt, yogurt and ghee or oil to the flour and mix it.
Now add the proofed yeast mixture to the flour and mix well. Knead the dough for about 10 minutes until it is soft, smooth and pliable. The dough will be a little on the stickier side but not too sticky. If the dough appears too wet, add a bit more of flour. If the dough appears dry add a little bit more of warm water.
Leave the kneaded dough in a greased bowl and let it rise for about an hour or until it is doubled in size.
In the meantime let us make the garlic topping.
Heat the ghee or oil and ghee mixture in low flame. When it heats up add the finely minced garlic and fry for about 30 seconds. Now add the chopped cilantro and give it a good mix. Turn off the heat and let it sit until ready to use. If using ghee make sure to keep it in a warm place, otherwise it might solidify upon cooling (especially in cold places).
Take the rested dough out and punch it down. Now divide it into 14 equal pieces and roll them to make a ball.
Lay the rolled balls onto a baking tray and let it rest for 10-15 more minutes.
Now take one ball at a time and dust it with a little flour. Roll it out into a tear drop shape naan.
Lay the shaped dough on a greased, foil lined tray. I usually keep two naans per tray.
Brush the top of the dough with the garlic butter/oil and cook it under the broiler for 2 minutes. Keep an eye starting from 1 minute and 30 seconds.
Now flip the naan and let it cook for a minute more on this side.
Remove from the broiler and keep it warm in a foil covered container. Repeat the same with the rest of the dough. I make whatever is needed for lunch and then leave the remaining dough balls, covered in the refrigerator until I make them again. Take them out couple of hours before making.
Serve warm with any side dish!
This post is for the CC Challenge of the month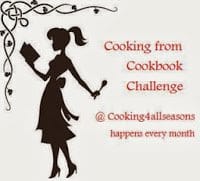 Kids Delight happening at Seduce your tastebuds