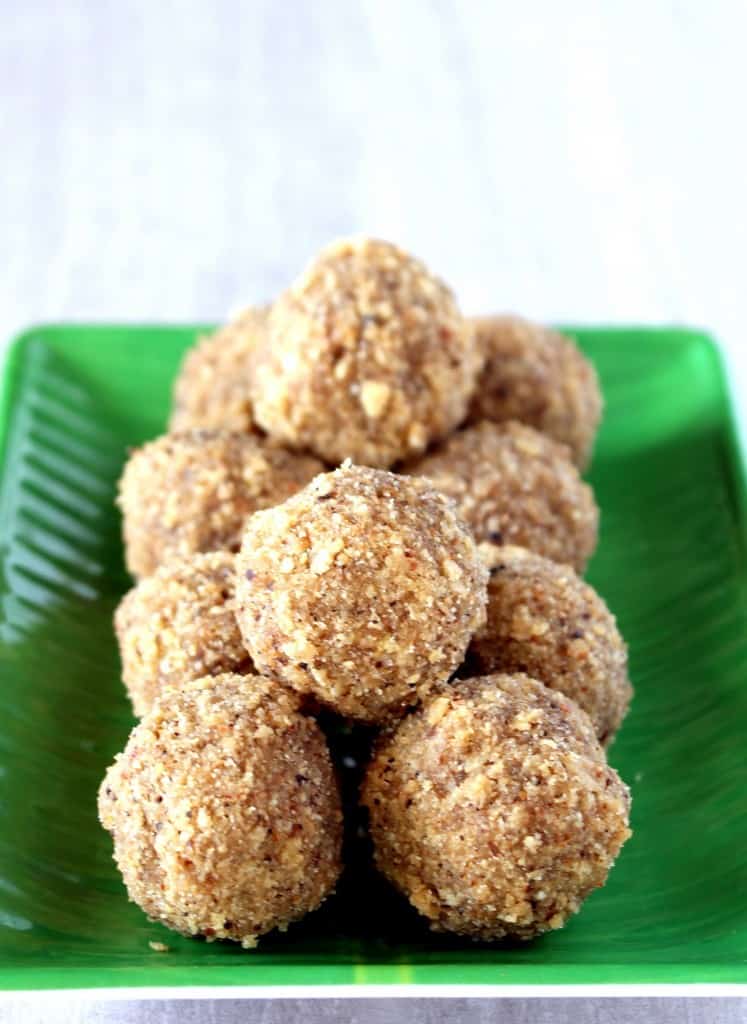 I had been thinking of making this recipe every since the day Valli posted it in her blog. I always end up having extra chapathis in hand whenever I am making them for dinner, so this recipe was supposed to be a breeze. I made chapathis for dinner as always and when we started eating, I realized that every single person in my family was extra hungry that day and kept eating more and more.

I was so confident that I had made extra chapathis to make this laddu, but it did not work out quite as planned. I had to make some extra dough and then made some chapathi just for making this ladoo. I had the laddu ready when boys came back from school and they enjoyed it with their milk. They had no clue that this was made from chapathi and were very surprised when I told them.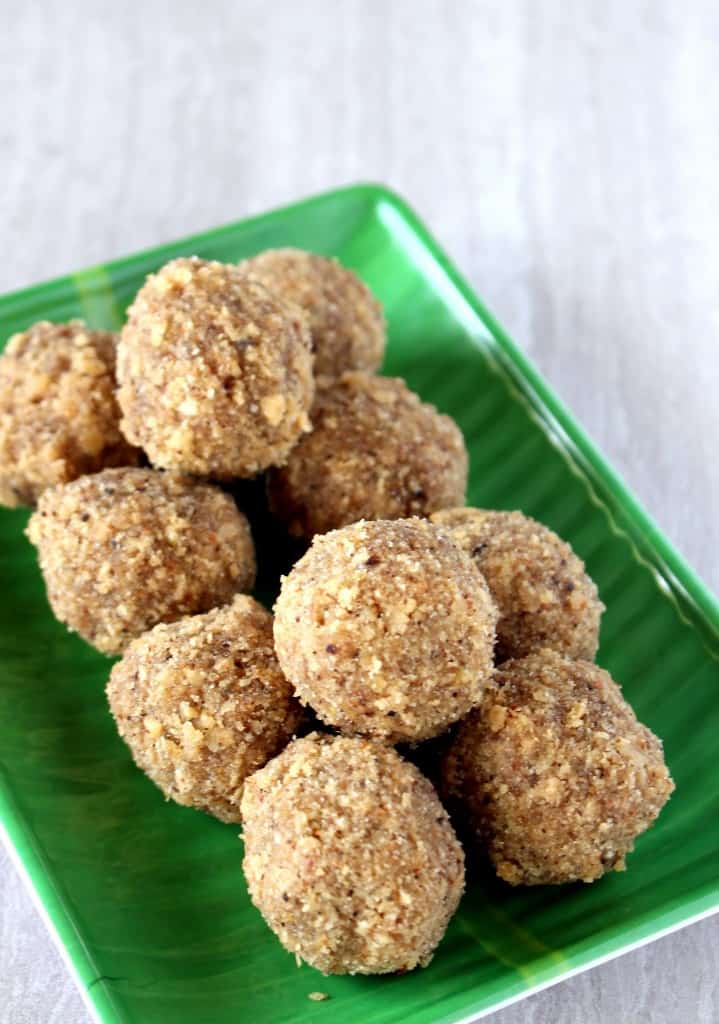 I learned from Valli's post that this was a very famous ladoo in Maharashtra and is a loved recipe. I am sure this would be a fun recipe to make especially in families where they eat more chapathis than rice. I think that even as a South Indian, I would be making these once a week as I am very notorious for making more that what is needed.
Preparation time – 5 minutes
Cooking time – 5 minutes
Difficulty level – easy
Recipe Adapted from – Spice Your Life
Ingredients – Makes 10 small laddus
Chapathi / Roti / Phulka – 4 (leftovers work great)
Brown sugar – 1/3rd cup
Almonds – 7 or 8
Cardamom powder – a pinch
Ghee / Nei – 2 tbsp (melted)
Milk – 2 tbsp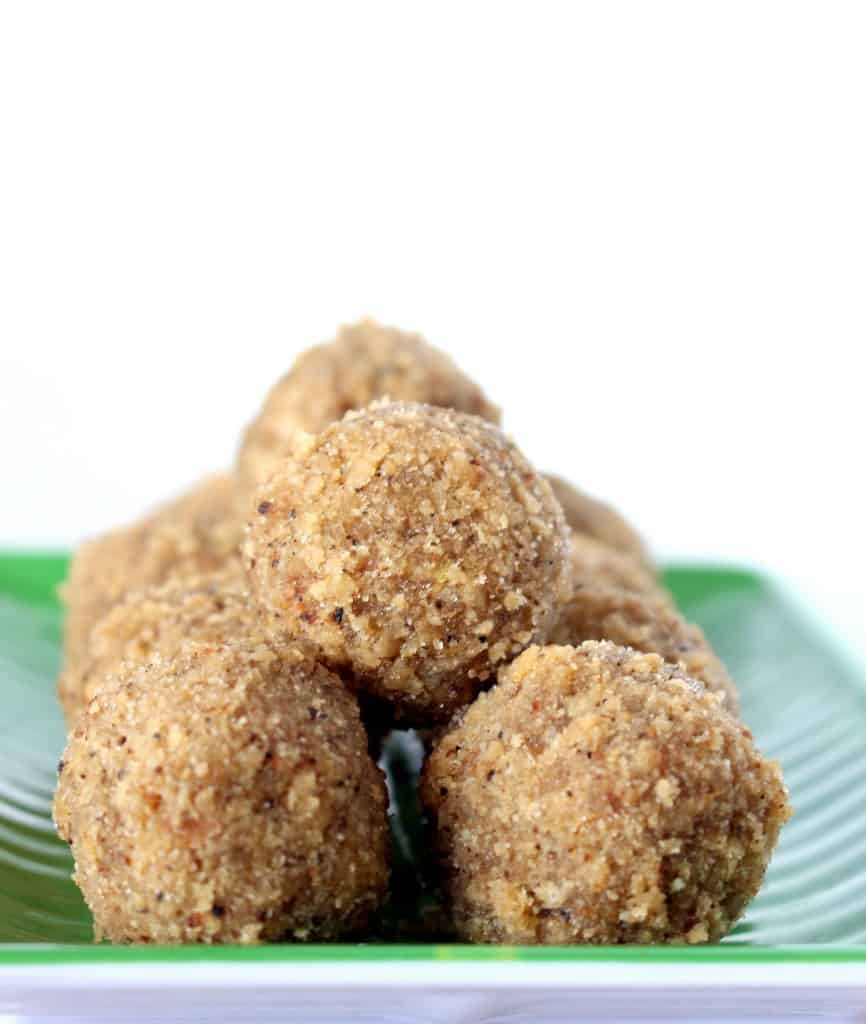 Procedure –
Make the chapathi and let it sit for a day for better results. Tear them into tiny pieces.
Heat about 1 tbsp of ghee in a pan and add the torn pieces. Fry them in low flame, taking care not to burn the pieces until they are toasted and crispy. Leave them to cool down.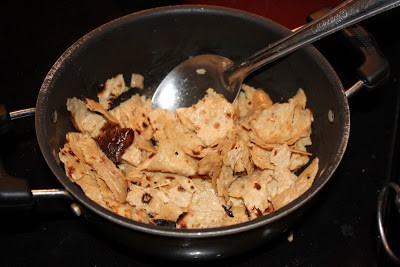 Transfer the cool pieces in a blender / food processor and shred them into coarse powder. Transfer this to the pan again. Also chop or grind the almonds into small pieces. I coarsely powdered my almonds as well.
Add the brown sugar, almond pieces/powder and cardamom powder to the pan along with the powdered chapathi.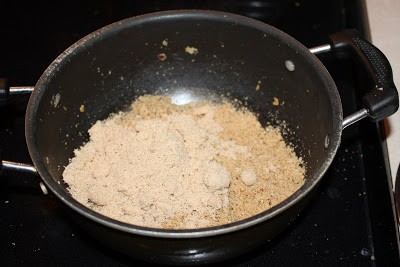 Heat it into low flame and keep mixing. Add the remaining ghee and let everything come together.
Add a tablespoon of milk and try to see if you can form the laddu. If the mixture is still crumbly, then add a little more milk and form ladoos.
You can store it outside for a couple of days if the weather is cooler or refrigerate the laddus.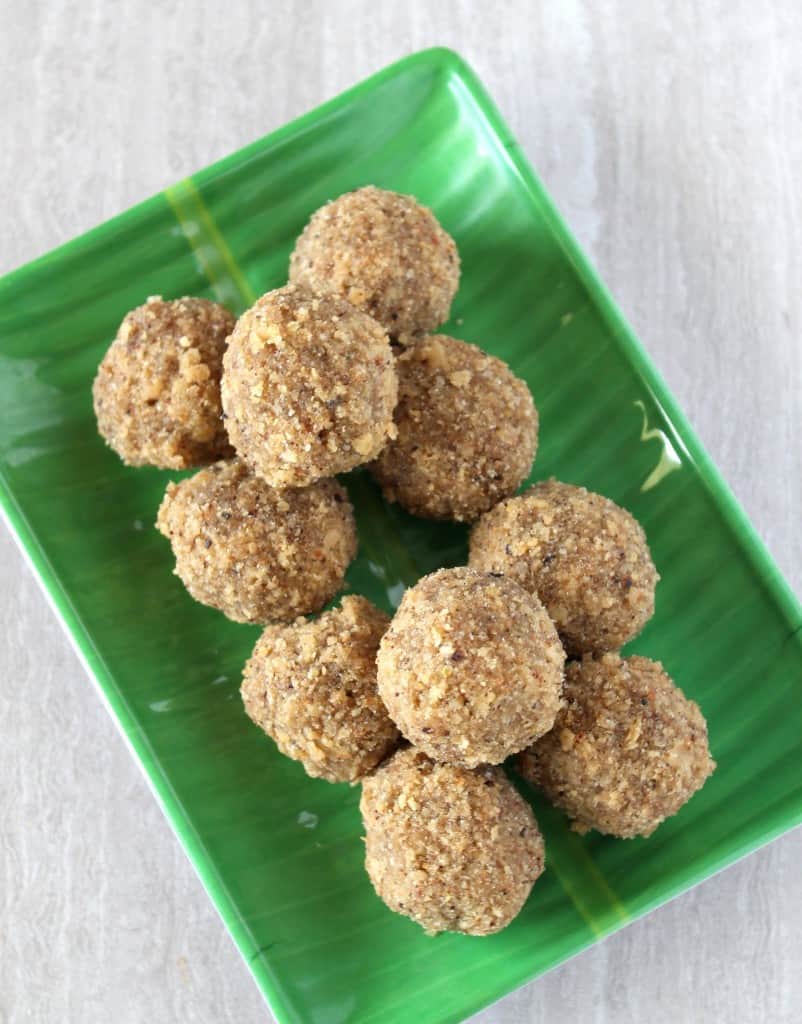 Check out the Blogging Marathon page for the other Blogging Marathoners doing this BM#64