17th June, 2015
This week my theme for Blogging Marathon is guilt free indulgences. I am going to be blogging about the basic lifestyle changes that I have made for my family over the past few years. I love cooking with whole grains as I love the nutty texture and the flavor they render to a recipe. I have been trying to use a lot of whole grains in my everyday cooking and there are some recipes that have become a norm in my house. Using whole wheat flour instead of refined flour is something that I have been doing a lot now.
I also try to limit my white rice consumption and have been using brown rice, quinoa and now my new favorite, the steel cut oats. When it comes to substituting the white rice, it is just me in the house. My husband just does not want to eat his sambhar, rasam or curd with anything else other than the regular rice. I do agree that it takes a while to get used to the flavors and the textures, but once we get used to them it is a treat.
This recipe though was an exception and my husband simply loved it. Last week, one of the afternoon, it was just me and my husband for lunch. I was thinking hard on what to make for just us and carry it over for dinner. That is when I thought why not use oats to make a spicy Bagalabhath. I love steel cut oats for its texture and lately have been using a lot for breakfast. It does take a while to cook, so I have made it habit to cook a large batch on an evening and then take out a little of it each morning to make it our breakfast. I just have to add the needed milk, flavorings and nuts or dry fruits of our choice.
I did the exact same thing as to cook the oats and then I added the seasonings along with yogurt and it made a delicious bagalabhath. I had perfectly made 2 bowls of the bagalabhath and we were so full with it, although the flavors made me want to go for more. I have also added a little bit of onions which can be omitted if preferred. I would also highly recommend using steel cuts oats instead of the rolled ones as the texture would be different.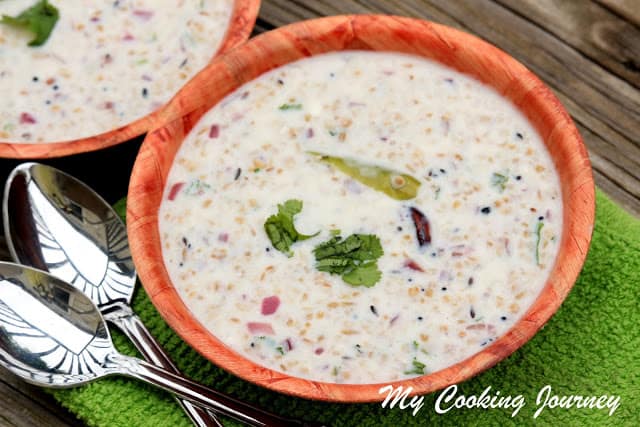 Preparation time – 5 minutes
Cooking time – 30 minutes
Difficulty level – easy
Ingredients – (serves 2)
Steel cuts oats – ½ cup
Yogurt – 1 ½ cups
Onion – ¼ cup (finely chopped)
Green chilies – 2 (slit)
Red chilies – 1
Ginger – ½ tsp (finely grated)
Curry leaves – few
Mustard seeds – ½ tsp
Ullutham paruppu / urad dal – 1 tsp
Asafetida – a pinch
Oil – 1 ½ tsp
Salt – to taste
Procedure –
Add a drop of oil to a pan and fry the oats until aromatic. This step is optional but it releases a lovely nutty flavor which I love.
Add about 2 cups of water to the fried oats and let it cook in low flame until soft. It takes a good 15 to 20 minutes for the oats to cook. If using rolled oats, it will take very less time than this. Also add a pinch of salt when the oats is cooking.
Meanwhile heat the oil in another pan. Add the mustard seeds and urad dal. When the seeds splutter, add the red chilies, curry leaves, green chilies, asafetida and ginger. Fry for about 30 seconds.
Now add the chopped onions and let it fry for about 2-3 minutes. Make sure that the onions still have a crunch to it.
Add the seasonings to the cooked oats along with salt needed. Whip the yogurt a little bit and then add it to the oats. Mix well and garnish with cilantro.
Serve with pickles or as is.
Check out the Blogging Marathon page for the other Blogging Marathoners doing BM# 53