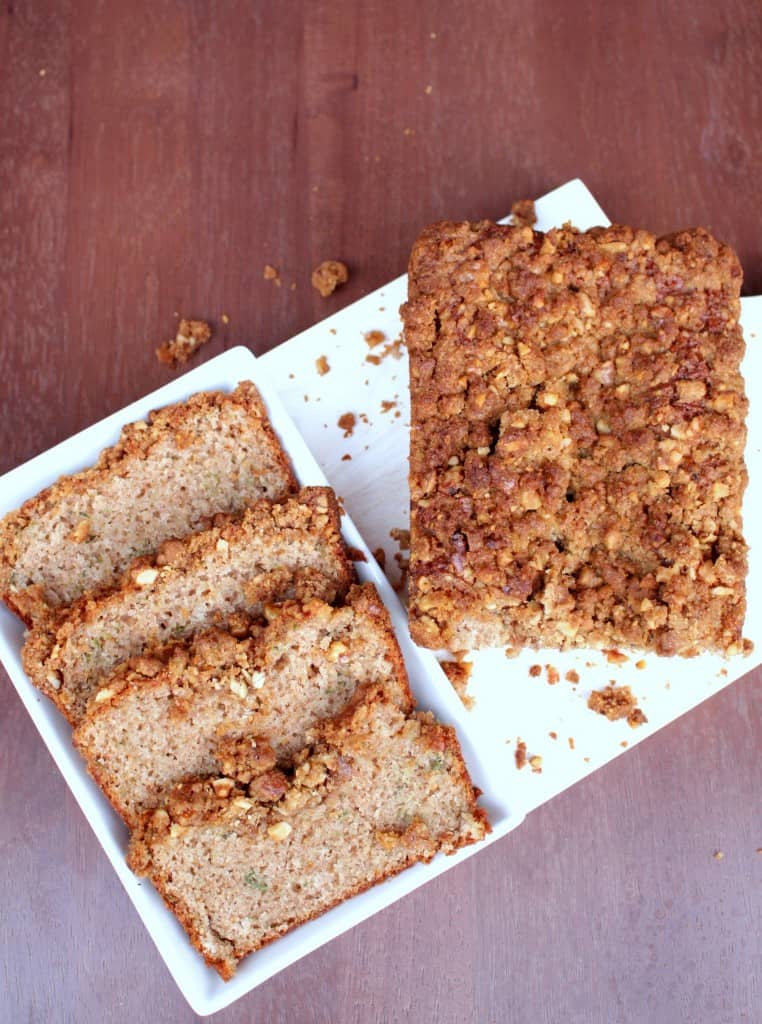 I have no idea why I have never baked zucchini bread before. It would be an understatement, if I sad that this was one of the moistest quick breads I have baked. It was just wonderful bread and it needs no words beyond this.
My oldest one has been asking me to make coffee cake for a while now as he loves the crumble topping in the coffee cake. Since this week is all about breads, I wanted to bake a quick bread for the category and that is when I thought why not make the zucchini bread with a crumble topping.
I was initially thinking of making zucchini walnut bread, but then just the brown sugar crumble sounded boring, so I thought I would skip the walnut in the bread and use it the crumble topping. That is by far the best thing I have put in bread. The bread was super soft and the walnut crumble topping gave the bread the much needed texture.
I used Greek yogurt in the bread and that compensated for the eggs. This is one of the breads that disappeared within a day and that shows that everyone in the house just loved it.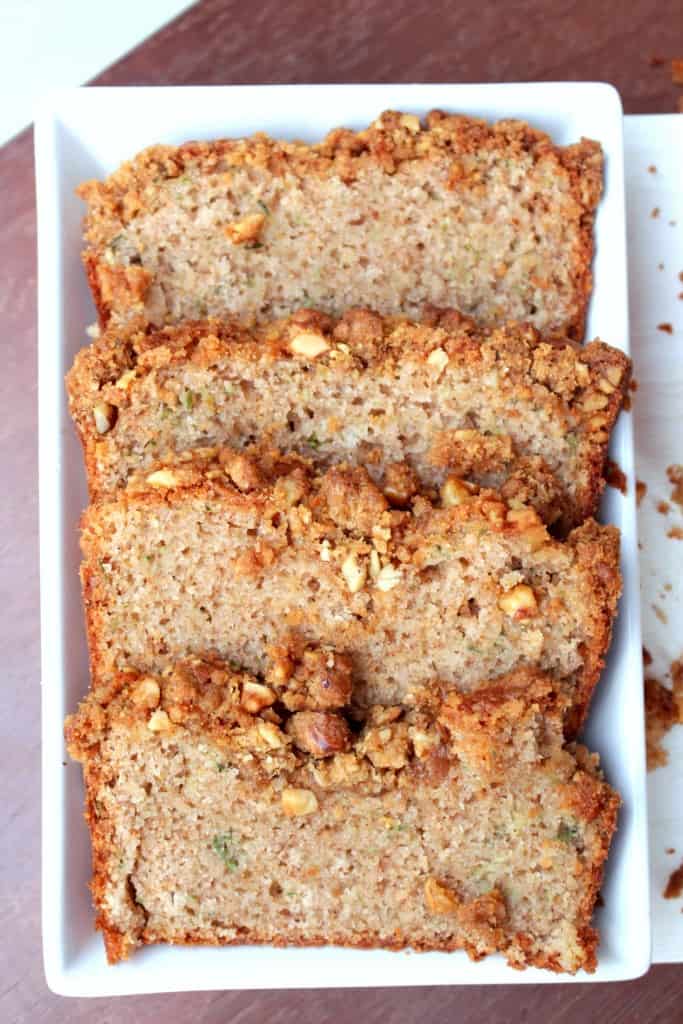 My other recipes this Marathon –
Soups
Appetizers / Snacks
Breads and Rolls
Preparation time – 10 minutes
Baking time – 50 – 60 minutes
Difficulty level – easy

Ingredients – makes 1 standard 9 x 4 loaf pan
For the bread –
All purpose flour – 1 ½ cups
Baking powder – 1 tsp
Baking soda – ½ tsp
Salt – ½ tsp
Cinnamon – 1 ½ tsp
Nutmeg – ¼ tsp
Sugar – 1 cup
Zucchini – 1 medium (grated)
Greek yogurt – ½ cup (I used Vanilla flavor and one 5 oz container)
Vegetable oil – ¼ cup
Vanilla extract – 1 tsp
Butter and all purpose flour – for greasing and dusting the loaf pan
For the Walnut crumble topping –
All purpose flour – 1/3 cup
Brown sugar – ¼ cup
Walnuts – ½ cup (chopped)
Butter – 3 tbsp (cold)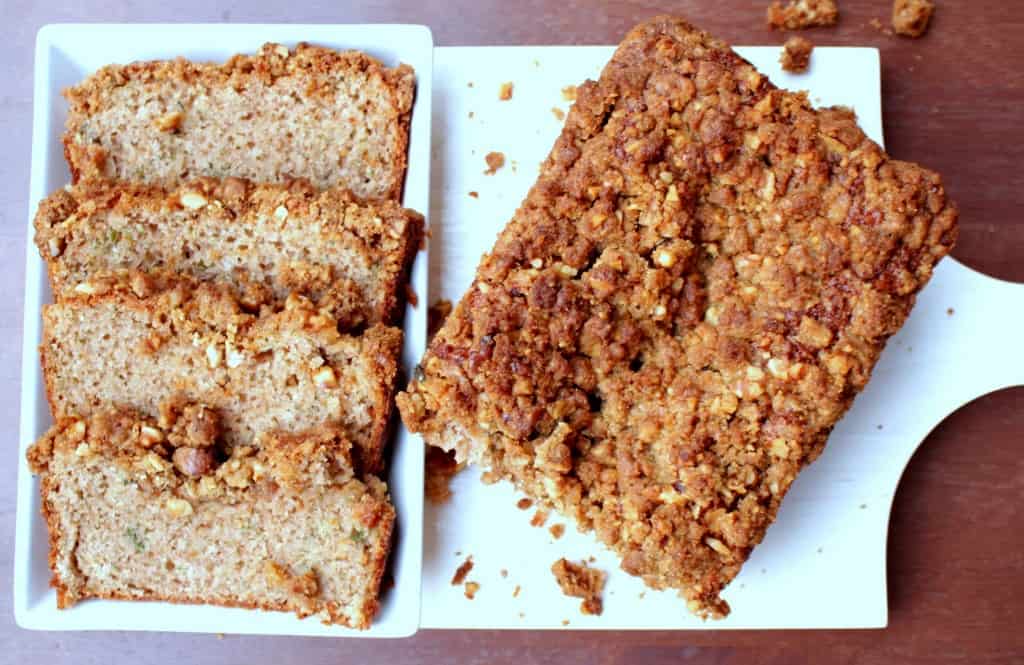 Procedure –
Preheat the oven to 350 F. Liberally grease the loaf pan with butter and then dust it with flour.
In a large bowl, add the yogurt and the sugar. Beat it with a hand mixer until smooth and fluffy.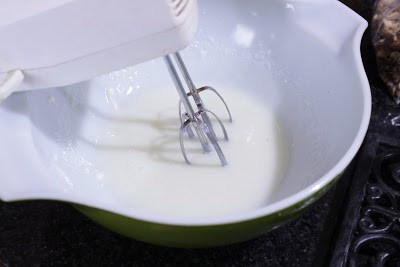 Add oil and then blend again.
Add the grated zucchini and the vanilla extract and mix.
Sift the flour and the rest of the dry ingredients directly over the wet ingredients and gently mix to combine.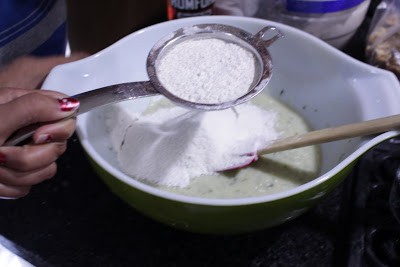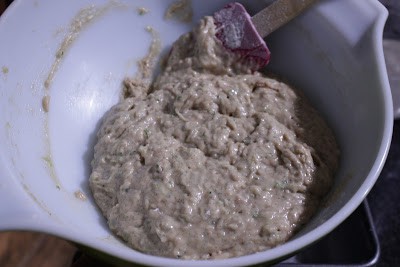 Pour the prepared batter into the greased and floured loaf pan.
To make the crumble topping – Add the all purpose flour, brown sugar and walnuts in a bowl. Chop the butter into tiny pieces and then using your hand mix everything together.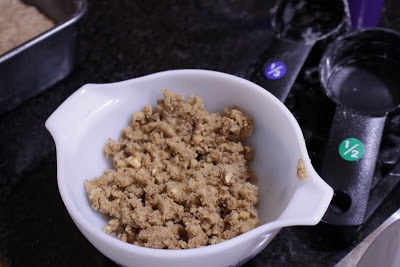 Add this crumble topping evenly over the batter and bake for 50 to 55 minutes or until the bread is golden brown and the toothpick inserted in the center comes out clean.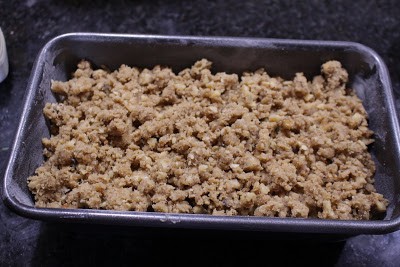 Let it cool in the pan for about 10 minutes and then cool it completely on a wire rack.
Check out the Blogging Marathon page for the other Blogging Marathoners doing BM# 68