Dec 29th, 2010
After a wonderful vacation and a tough settling down, I am back again writing for the blog. We had great food throughout the vacation, but we totally missed the home food. As soon we came back and sort of settled into the reality, I had to cook something hot and spicy to help us warm up in the freezing cold weather.
This is my mother's recipe for the bisibela Bhath and it has always been a total crowd pleaser. There was nothing that could go wrong (However hard I try) in this recipe. Hope you all enjoy this recipe as much as we do.

Preparation time – 15 mins
Cooking time – 30 Mins
Difficulty level – easy/moderate
Ingredients – (Serves 4)
Rice – 1 cup
Tuvar dal (Split Pigeon pea) – ½ cup
Cook the rice and dal in sufficient water until soft in consistency.
Tamarind – lemon size ball soaked in water or 1 tsp of tamarind pulp
asafoetida – ¼ tsp
Salt – as needed
Curry leaves – few
Fry together –
Coriander seeds – 2 tsp
Red chillies – 6
Channa dal (Bengal gram dal) – 2 tsp
Urad dal (Black gram dal) – 1 tsp
Cinnamon – 2" piece
Cloves – 8
Pepper corn – 8-10
Grated coconut – ½ cup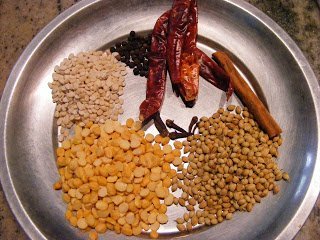 Fry the above ingredients in very little oil and once cooled grind them into fine powder.
Vegetables used –
We can use a variety of vegetables for this. I am listing few of the vegetables commonly used. Depending on what is available, one can go wild with their choices.
• Small onion (Pearl onions) – ½ cup (This adds lot of flavor in the dish. If not available we can substitute this with 1 large regular onion.
• Potato – 1 large (Cut lengthwise in thin strips)
• Carrot – 2 (Cut lengthwise in thin strips)
• Bell pepper – 1 (Cut lengthwise in thin strips)
• Raw banana (Vazhakkai) – 1(Cut lengthwise in thin strips)
• Drumstick – A handful (I used frozen)
• Green peas – ½ cup
Other vegetables that can be used – radish, cauliflower, White pumpkin or chow chow(Coyote squash), Yellow pumpkin.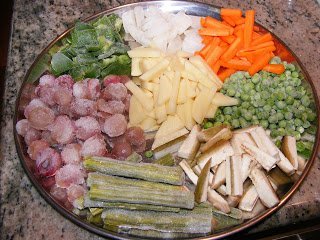 Procedure –
• Fry the vegetables in ghee for few mins. Then add the tamarind water, salt , asafetida to the vegetables.
• Let it boil until the raw smell goes away and the vegetables are just cooked and not mushy.
• Now add the ground mixture and let it boil for couple of minutes.
• Now add the cooked rice and dal mixture and mix well.
• Simmer it for few minutes and at the end add some ghee or Sesame oil to enhance the flavor.
• Serve hot with Pappad!!!