25th Jan, 2014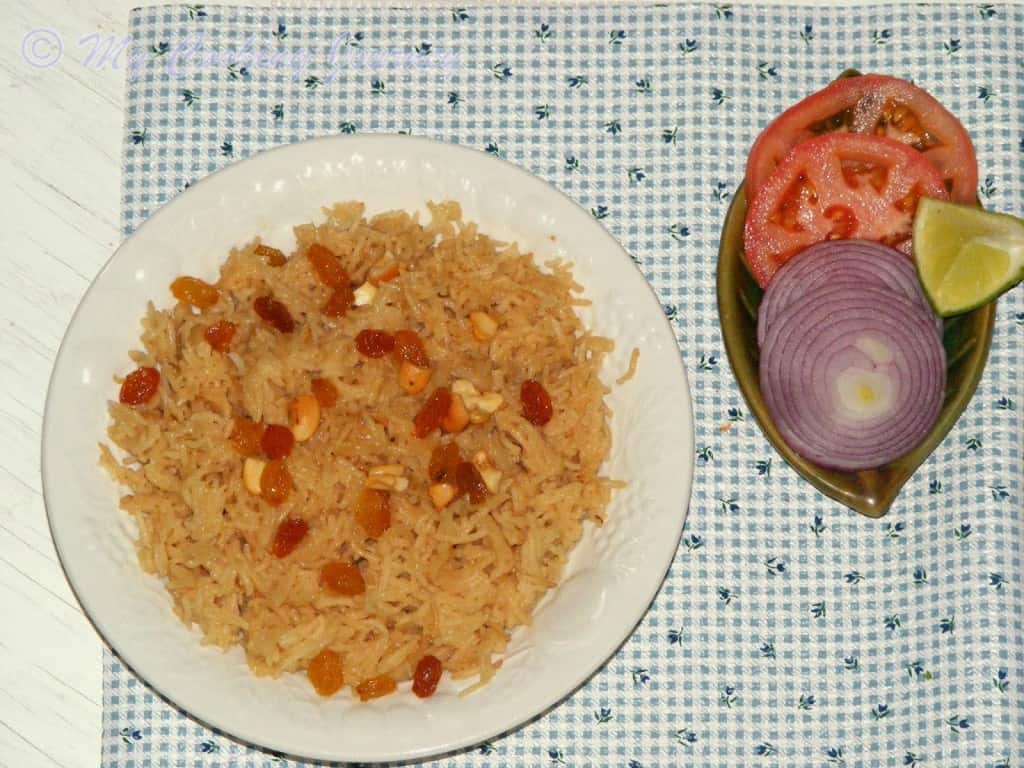 For the third week of Blogging marathon, I chose to make recipes from my online bookmarked sources. I have pages and pages of recipes that I have found fascinating and this is a very good chance for me to try them out. This recipe is from Chef Mireille's space and it was just the kind of recipe that my family loves. The recipe is a common one in the Parsi kitchen and is often accompanied with Dhansak.
The rice gets its color from the caramelization of sugar, but the sugar does not make the dish extremely sweet. There is just a hint of it in the background and when served with spicy gravies, it pairs very well. I also garnished the rice with some fried cashews and raisins.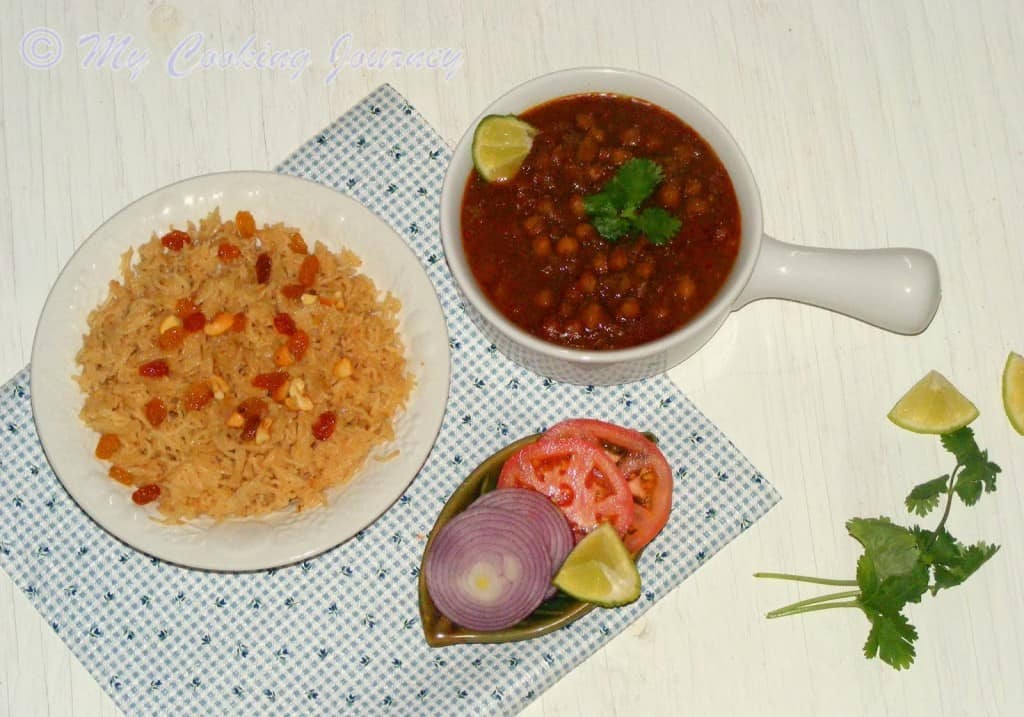 Preparation time – 10 mins plus 20 mins to soak the rice
Cooking time – 30 minutes
Difficulty level – easy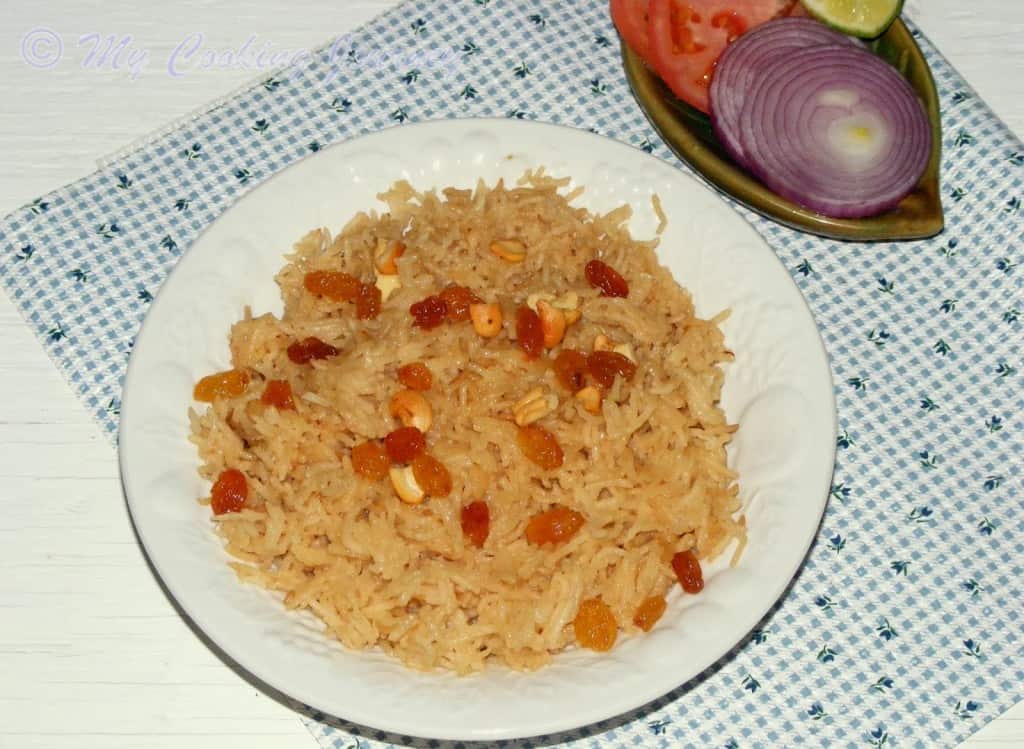 Ingredients – (serves 4)
Basmati Rice – 2 cups
Onion – 1 large (sliced thin)
Cinnamon – 1 stick
Cloves – 8-10
Sugar – 1 ½ tbsp
Oil/ghee – 2 tbsp
Salt – to taste
*To garnish –
Ghee – 1 tsp
Cashew nuts – 10 (broken into pieces)
Raisins – few
*Note – garnishing the rice is entirely optional.
Wash and soak the rice for about 20 minutes. Now drain the rice and keep it aside.
In a small sauce pan, add the sugar and heat it on low to medium heat. Let the sugar melt and begin to turn brown. Let all the sugar melt and caramelize. At this stage carefully add about 1 cup of water and mix well. Take care to add the water slowly because it might splatter. Keep the caramel water aside to use to cook the rice.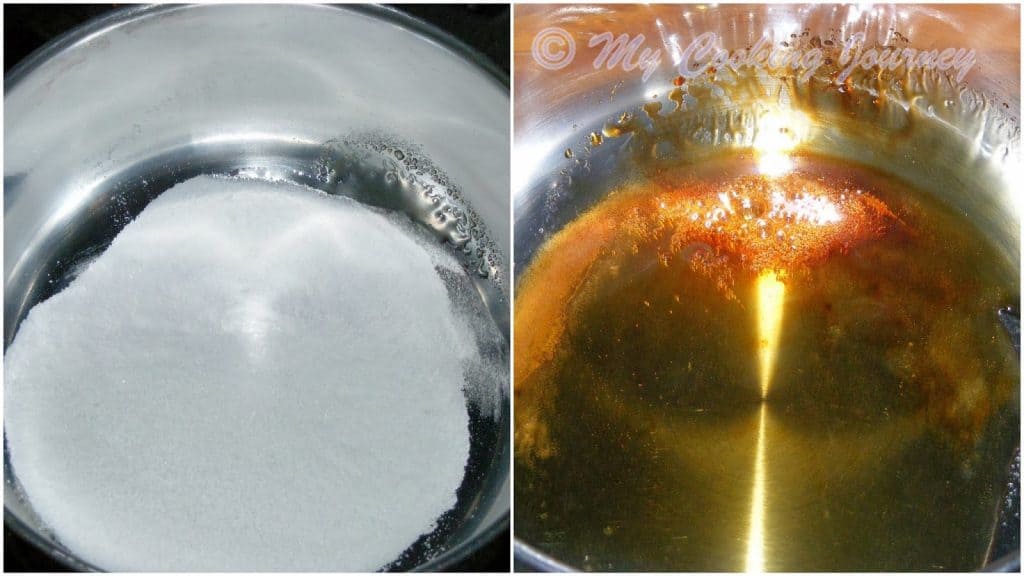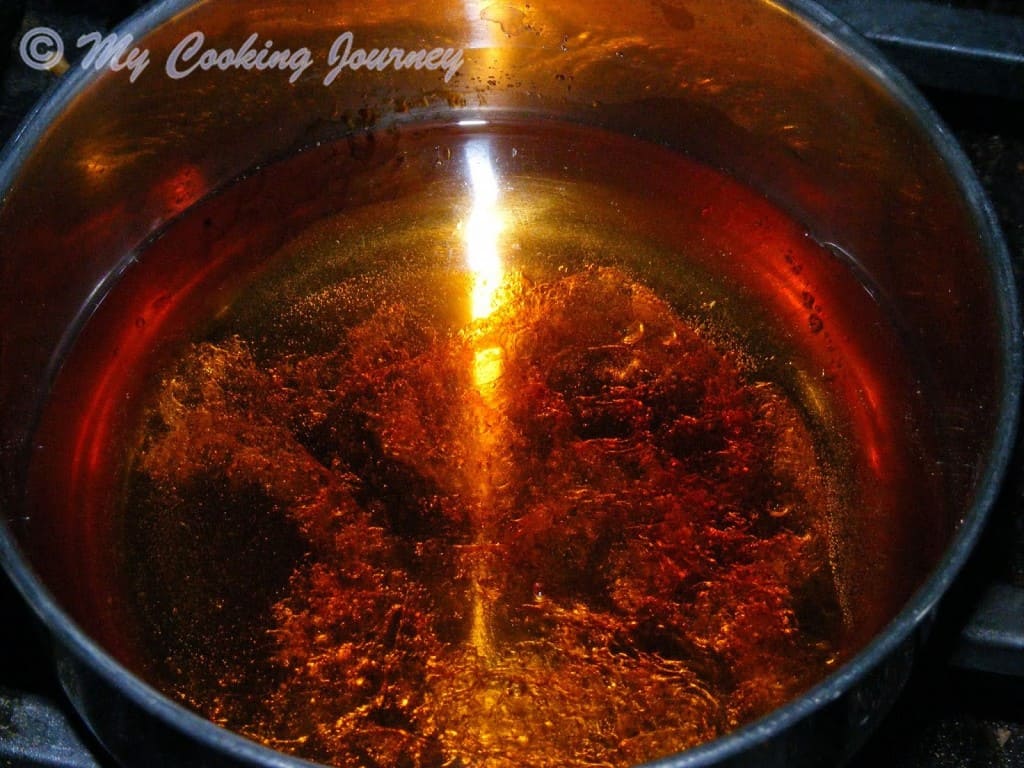 In a pressure cooker or a heavy bottom pan (in which you cook the rice), add 2 tbsp of oil or ghee or combination of both. Add the cinnamon stick and cloves and fry for about 30 seconds. Now add the sliced onions and sauté until golden brown.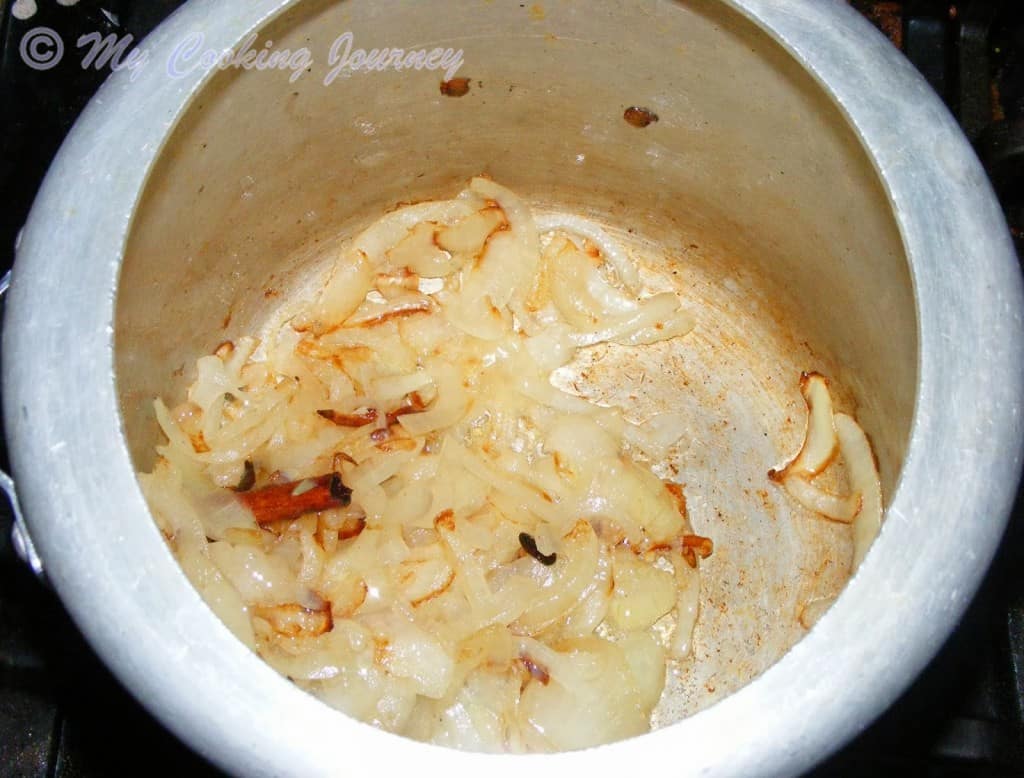 Now add the soaked and drained rice and sauté for about 2 minutes.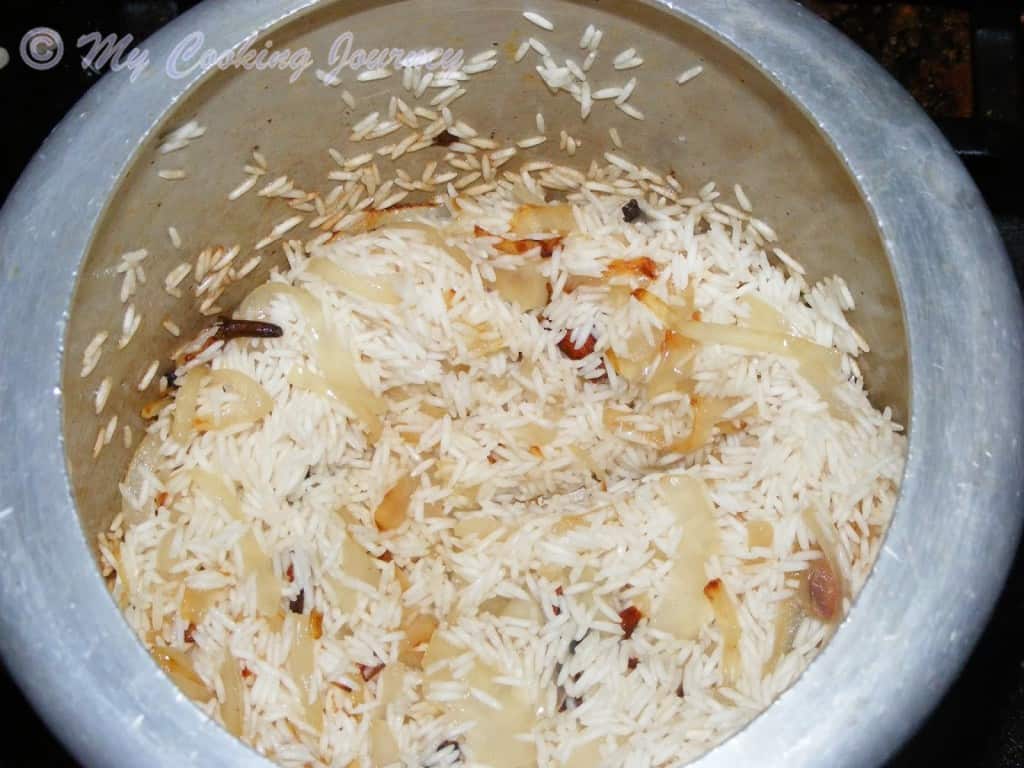 Add the caramel water and 2 more cups of water (I used about 1 ½ cups of water per cup of rice), to the rice and mix well. Add the salt needed and cook the rice until all the water is absorbed and the grains are separate.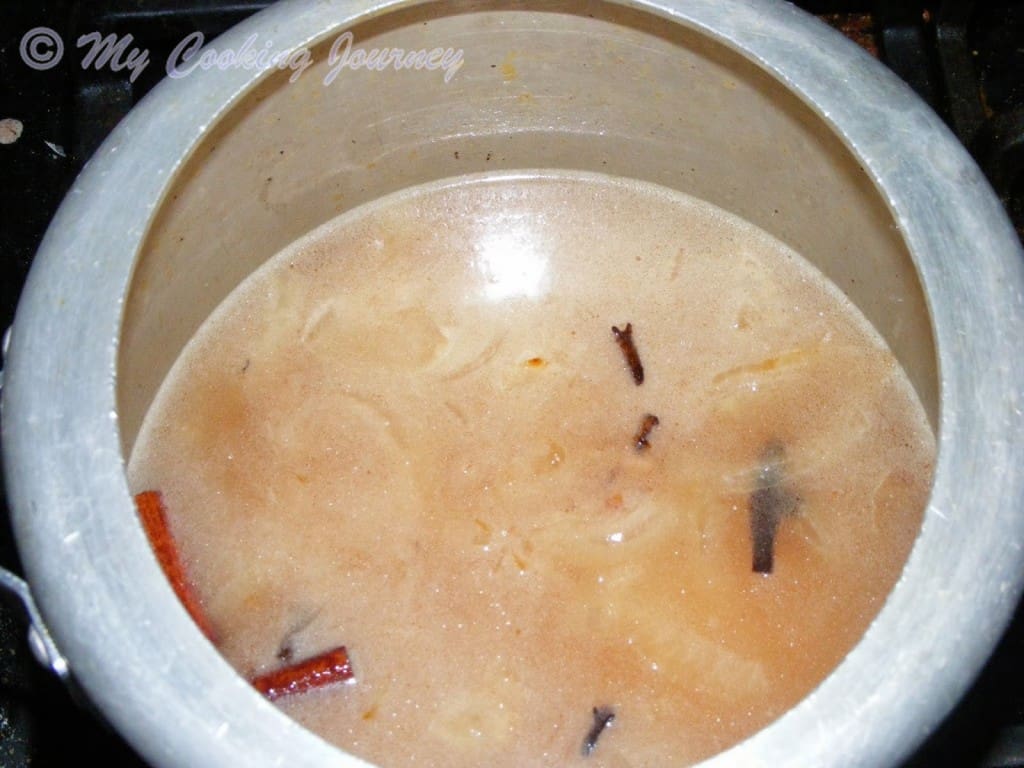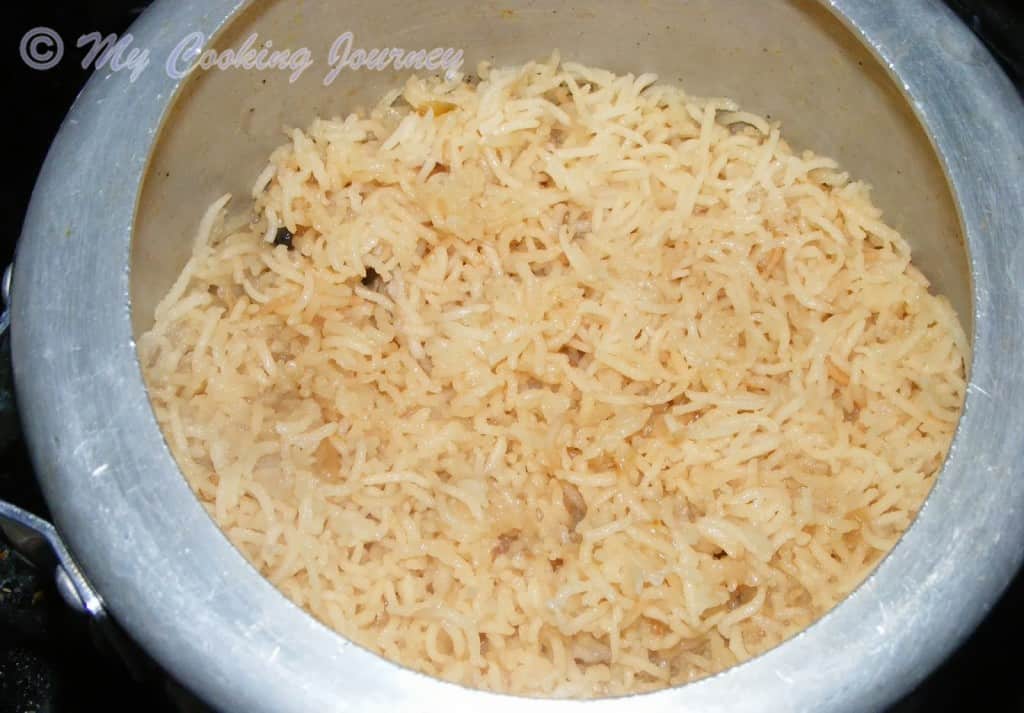 In a small pan, heat 1 tsp of ghee and fry the garnishes. Add this to the cooked rice and gently stir them in.
Serve warm with any curry of your choice. I served the rice with spicy Channa Masala (recipe coming soon)!