26th March, 2014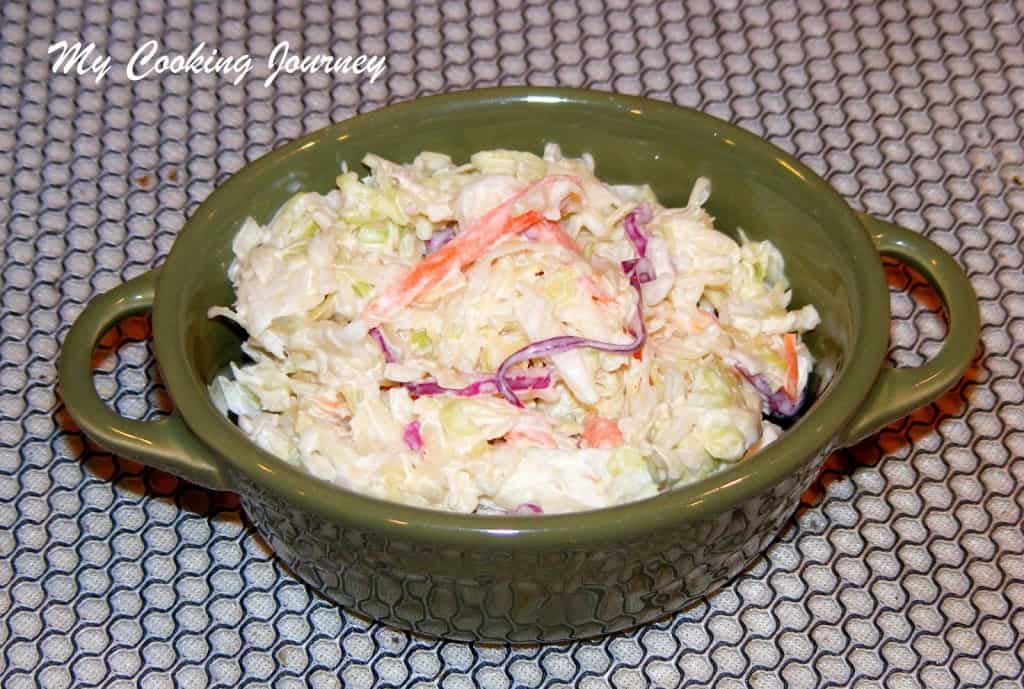 Coleslaw has been one of the recipe that had been in my mind for a long time. Coleslaw is nothing but a very simple shredded cabbage salad with creamy dressing. If I have to explain to someone who has never tasted coleslaw before, I would say that is a very acquired taste and it does take quite a bit of time to get used to it. When I came to US some 14 years back, I could not stand the coleslaw. My husband though had developed a taste for it by then, so every time he had coleslaw, I would taste a bit from him and then say to myself never again. This continued for few years and then it was my turn to fall in love with it.
My oldest son who is a vegetable addict and who loves salad, declared that this is something he does not like. I told him my story and asked him to give it some time. He did keep trying it and recently I had noticed that every time I had a coleslaw on side with my sandwich, he would eat the entire bowl of it. Now when we are eating out and one of us have a coleslaw on side, we ask the server to bring us an extra one, so my son could have his own bowl.
Now that everyone in my family loves coleslaw, it is high time I make it myself. This week was the perfect time for that when Valli announced the theme of cooking from 'How to cook Perfect' series. I saw the coleslaw recipe on it and jumped right away. This is a very simple salad of regular green cabbage, purple cabbage and some carrots. The dressing is made up of Mayonnaise or buttermilk ad has vinegar and few other spices with it. I did not shred my own cabbage but used a bag of coleslaw mix. This was very convenient and made up for a wonderful weeknight salad. This is also a perfect salad when you are entertaining, because they are perfect to be made ahead and tastes great when chilled.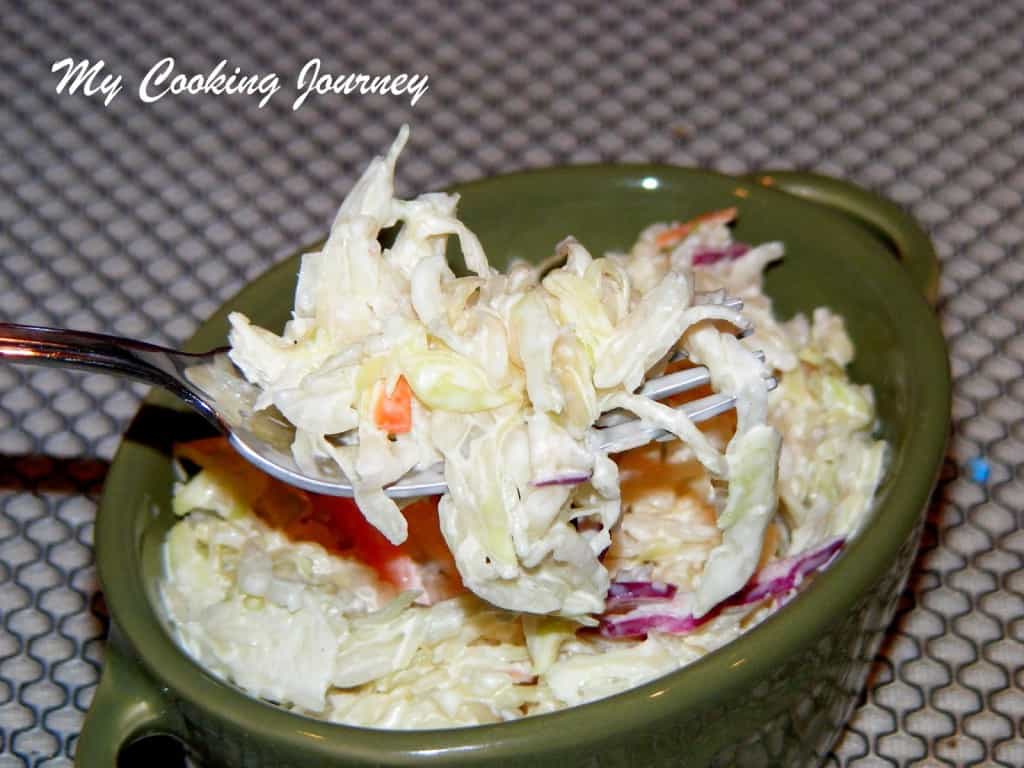 Preparation time – 10 minutes plus an hour to drain the cabbage
Cooking time – none
Difficulty level – easy
Ingredients – serves 4-6
Coleslaw mix – 14 oz package (about 6 cups of shredded cabbage and carrot)
Salt – 1 tsp
Sugar – 2 tsp
Apple cider vinegar or white wine vinegar – 1 tbsp
Mayonnaise – 5 tbsp
Horseradish paste – 1 tbsp
Honey mustard – 1 tbsp
Red onions – 4 tbsp (finely minced) I did not use onions
Milk – 1/4 cup (optional, if you like slightly runny coleslaw)
Black pepper powder – 1/2 tsp (as per your taste)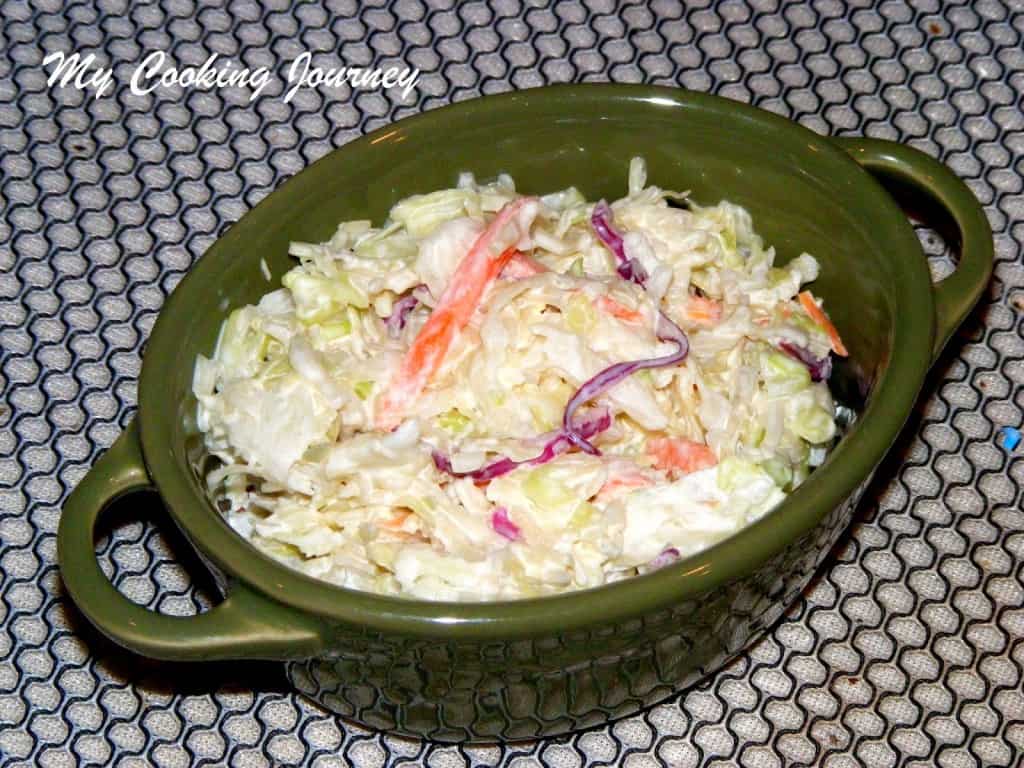 Procedure –
Shred the cabbage and the carrots or open up the coleslaw package and place it in a colander. Add salt, sugar and vinegar, toss them together and leave it aside for about an hour to drain.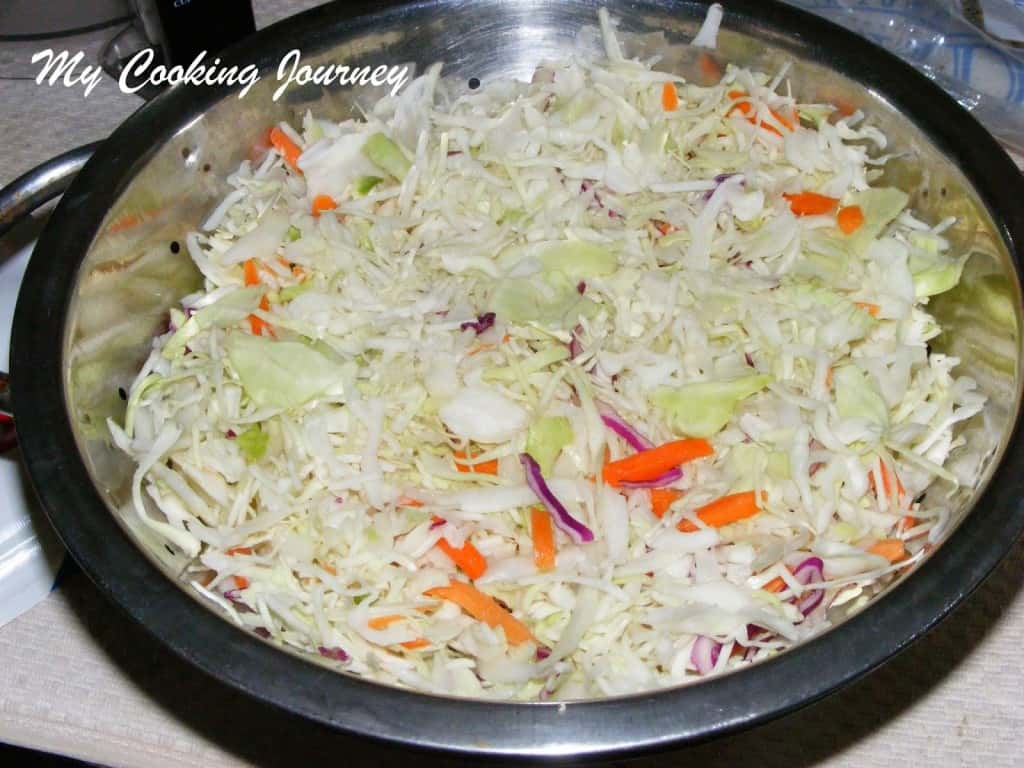 In another bowl, mix together the mayonnaise, horseradish and honey mustard. Whisk them well to blend.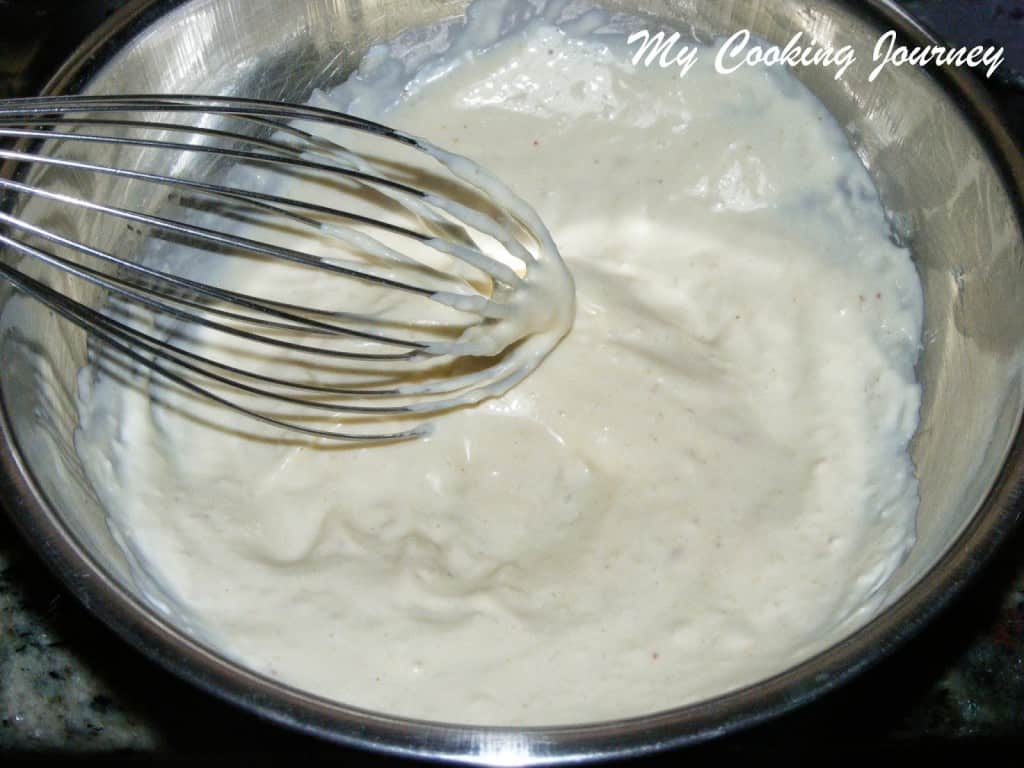 After an hour squeeze the cabbage and place them in a large bowl. Add the mayonnaise dressing and mix it well. At this stage add milk if needed.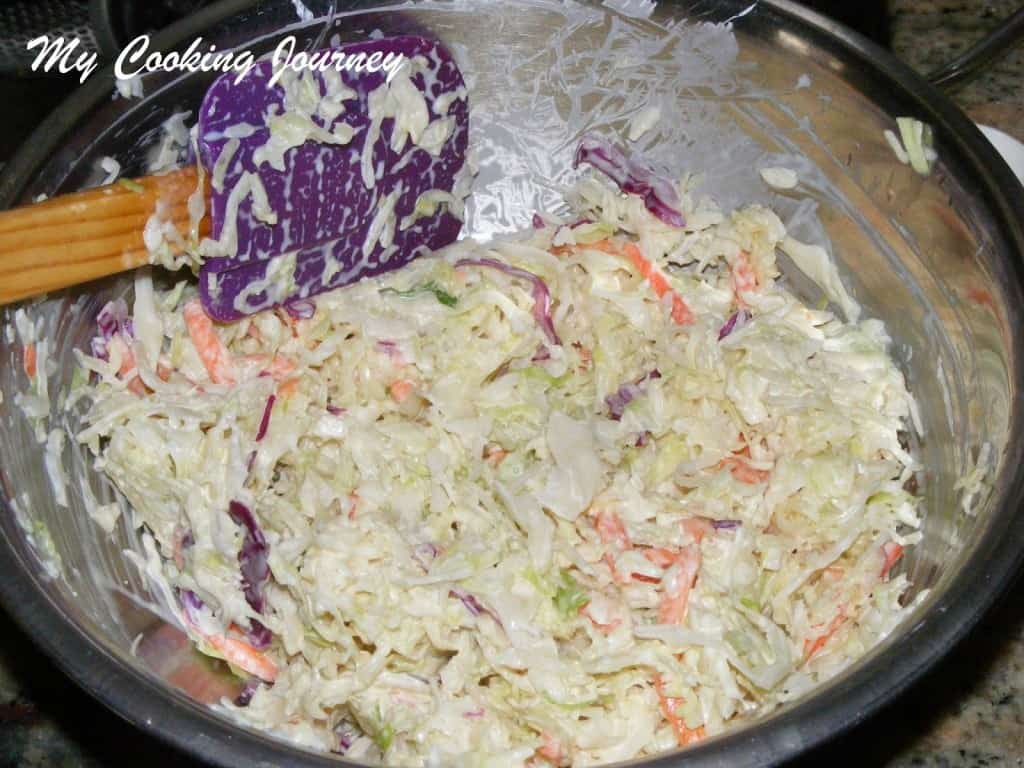 Refrigerate overnight or at least for 2 hours before serving!