2nd Apr, 2012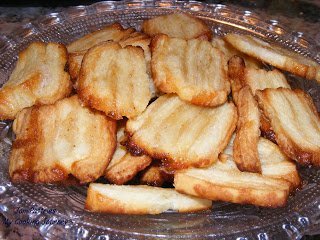 After a rough couple weeks, I was in an urge to bake something. I wanted something simple and when browsing through the internet, came across this recipe that required only 3 ingredients and literally no labor from my side. This is a recipe from Martha Stewart's website (made by some other chef though). He had made the pastries with raspberry jam. I did not have any raspberry jam, so I made them with apple jam. So, if you are looking for a quick desert to please your child or the child in you, do try these for sure. These pastries were not too sweet and the flaky pastries melted right away in the mouth.
Preparation time – 15 mins (15 more minutes in freezer)
Cooking time – 20 mins
Difficulty level – easy
Ingredients (makes around 25 pastries)
Frozen puff pastry sheet – 1
Jam – 3 tbsp
Sugar – 4 tbsp
Procedure
Thaw the puff pastry sheet according to the package instructions. Once thawed, carefully open the sheet and cut it into 5 equal strips.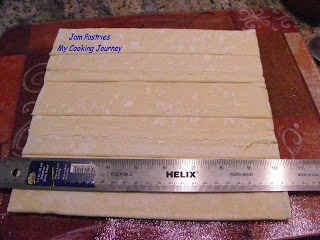 Spread 4 strips with jam and sprinkle about 2 tbsp of sugar evenly on it. Stack the coated strips one on top of another and place the 5th uncoated strip on the top. Lightly pat down so the strips settle well.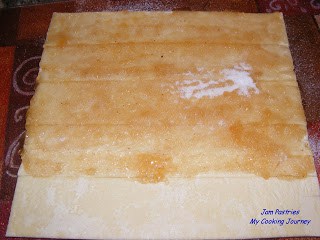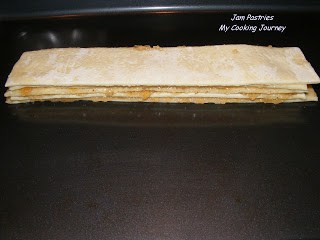 Place the stack on a baking sheet and freeze them for 10-15 mins or until firm
Meanwhile, preheat the oven to 400 F.
Carefully remove the strips from the pan and place it on a work surface. Cut the stack horizontally into ¼th inch thick pieces with a sharp knife and place them on a parchment lined baking sheet about 4 inches apart.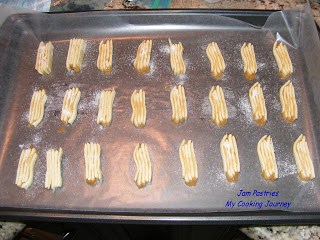 Sprinkle the pieces with the remaining sugar and bake them until golden and puffed (about 15 -20 mins). Cool slightly on the baking sheet and then transfer to a wire rack to cool completely.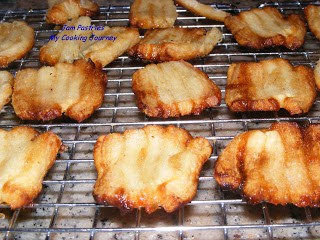 Notes and Observations
I felt that my pastries were somewhat different from what the chef had in the show and that was the color. The raspberry jam's bright red color came through very well in the show, where as my cookies were lacking the colors, but I am sure that the flavors would not be compromised. I will be baking these pastries again with a brighter colored jam and will post pictures for comparison.
Happy Baking!!!