13th June, 2011
The Aroma of this Rasam is so inviting that no one in the house can take a back seat. Talking about aroma, I remember something that my mother always mentions while cooking "Kai Manam". She insists that when making any dish and especially rasam, if one uses his or her hands to break open the tomatoes and green chilies instead of a knife, the dish gets an extra notch of flavor from your hand which is exclusive to that person. I have never had anyone say anything nice about my Kai manam, but I sure cannot forget my mom's. I still have a very big complaint that my rasam never tastes like hers. Maybe the manam (aroma) that she is talking about is licensed to her. If any one of you trying this recipe, get an extra notch of flavor, please write back to me. Please do not slit open the green chilies by hand if you have small children at home. The manam of the chilies sure does stay in your hand for quite some time.

Preparation time – 10 mins
Cooking time – 30 mins
Difficulty level – easy
Ingredients (Serves 6)
Coriander seeds (Dhania) – 1 ½ tsp
Bengal gram dal (Channa dal) – 1 tsp
Black gram dal (Urad dal) – ½ tsp
Red chilies – 2
Coconut – 3 tblsp
Cumin seeds (Jeeragam) – 1 tsp
Cloves (Krambu) – 4
Cooked Red gram dal (tuvar dal) – ½ cup
Tamarind – Fresh (as big as a small lime), Paste (1/2 tsp)
Tomatoes – 1 big or 2 small
Asafetida (Perungayam) – ½ tsp
Salt – to taste
Ghee – 2 tsp
Mustard seeds – 1 tsp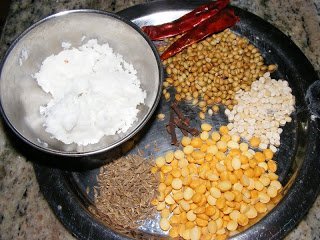 Procedure –
Fry the coriander seeds, Channa dal, urad dal, red chillies, cumin seeds, cloves and coconut in very little oil until reddish brown and grind into a smooth powder.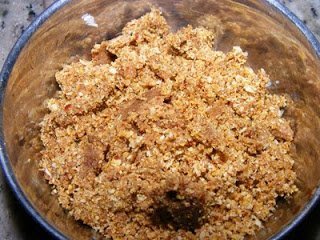 Pressure cook the red gram dal and keep aside.
Soak the tamarind in about 2 cups of warm water and squeeze the juice from it or dilute the paste in 2 cups of water. Add the chopped tomatoes, Asafetida, salt and let it boil well until the raw tamarind smell goes away.
Reconstitute the cooked dal in about 2 cups of water and add this to the boiling tamarind water along with the powdered mixture. Let it come to boil once and then take it off the flame.
Add chopped cilantro and season with ghee and mustard seeds.
Serve hot as soup or mix with rice and enjoy!!