Having a quick and easy snack for the evenings is always a challenge for me. I need something filling and at the same time healthy to feed my boys to keep them sustained for the busy evening. This paneer sandwich recipe is from Harini's blog and I loved the paneer filling. It is sort of a paneer bhurji (scrambled paneer) stuffed inside the bread and it was a lovely treat for my kids that also kept them filled up.
Preparation time – 10 minutes
Cooking time – 15 minutes plus 10 minutes to make the sandwich
Difficulty level – easy
Recipe source – Tamalapaku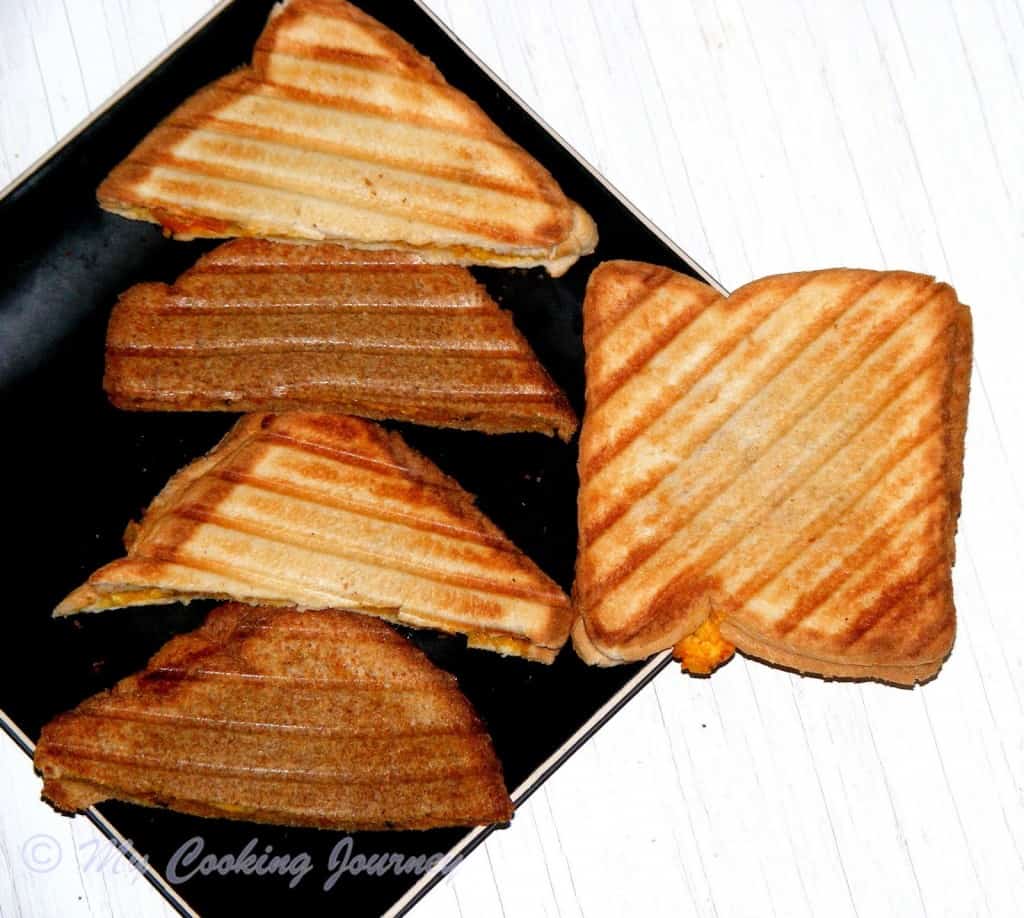 Ingredients – (makes about 5/6 sandwiches)
Paneer – 1 cup (grated)
Onion – 1 (chopped finely)
Tomatoes – 2 small (chopped finely)
Red chili powder – ½ tsp
Dhania -jeera (coriander cumin) powder – ½ tsp
Garam masala – ½ tsp (optional)
Oil – 1 tbsp
Jeera/cumin – ½ tsp
Cilantro – to garnish
Salt – to taste
Bread – 10 slices (to make 5 sandwiches)
Procedure –

In a pan heat the oil and add the cumin seeds. Once the seeds sputter, add the chopped onions and sauté until light brown.
Add the tomatoes along with the salt, chili powder, dhania jeera powder and garam masala and sauté until the tomatoes are cooked and mushy.
Then add the grated/crumbled paneer and cook for few minutes until the mixture is dry (about 4-5 minutes).
Add the cilantro and mix well.

To make the sandwich, spread about a tablespoon of the paneer mixture on one slice of the bread and then top with the other slice. I used a Panini maker to make the sandwich. You could also make it in a sandwich maker or on the griddle.

Serve the  paneer sandwich with ketchup!