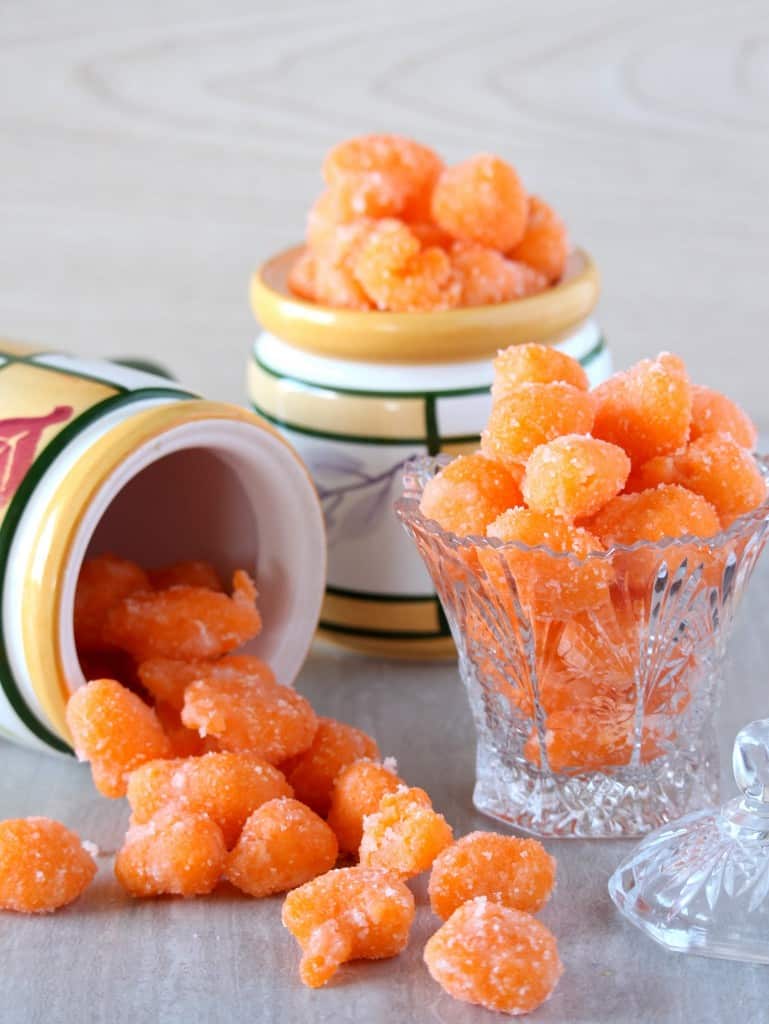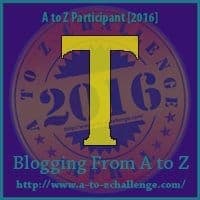 If you grew up in Tamil Nadu, you would have definitely enjoyed these thaen mittai from the potti kadai / tea kadai / tea stalls at least once. For me, the memories are deep rooted and I still hunt for them every time I visit India. It is hardly available in any stores these days and I find them very rarely. The last time I ate them was few years ago in a very remote shop in Coimbatore.
I have to talk about this amazing lady who worked for us ever since I was a new born. We all called her Kizhavi (old lady) and she used to be the house hold help in my grandmother's house. After I was born, she was taking care of me and my mother and moved in with us to be able to help us after my mother came back to her house. We all were in Chennai, but in different places.
As I was growing up I got very attached to her and would spend a long time with her and would await her arrival every day. She would bring many treats for me, to the best of her affordability and I would happily munch on those all day. Couple of things that were my favorite was this Thaen mittai and the yellow colored fryums that we could insert in our fingers and eat.
She went back to working for my grandmother and we moved to North India eventually. Every year when we came back to Chennai for summer break, it became a routine and she would come home every morning with the special treats. Years passed and I got married and came to US. When I went back to India the first year after wedding, my grandmother told me that Kizhavi was not feeling too good and does not come any longer to work. Her daughter was working for us then. When she heard that I have come to India, she came to see me and guess what she bought for me; my favorite thaen mittai and the yellow tubular fryums.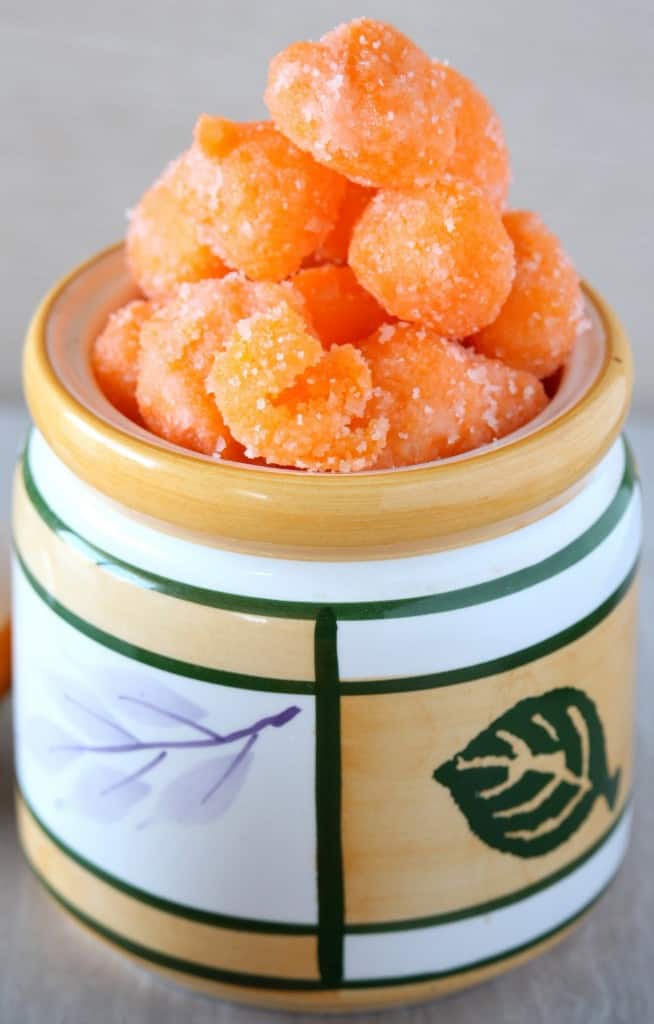 She died a couple of years later and that was pretty much the end of my thaen mittai eating era. I would never forget this lady ever in my life and this post is sort of a tribute to her unconditional love towards my family.
Coming to the recipe, I did a few blunders and learned from that. The sources that I referred the recipe from had used very less sugar and it yielded sort of like a sweetened vadai for me rather than thaen mittai. Make sure you don't use any less sugar than I have mentioned in the recipe. Also I noticed that the fritters absorb the sugar syrup well and easily only when the consistency of the syrup is very thin. So do not make thick syrup (been there, done that!). The sugar syrup is ready when all the sugar dissolves and the syrup comes to a boil and turns slightly syrupy.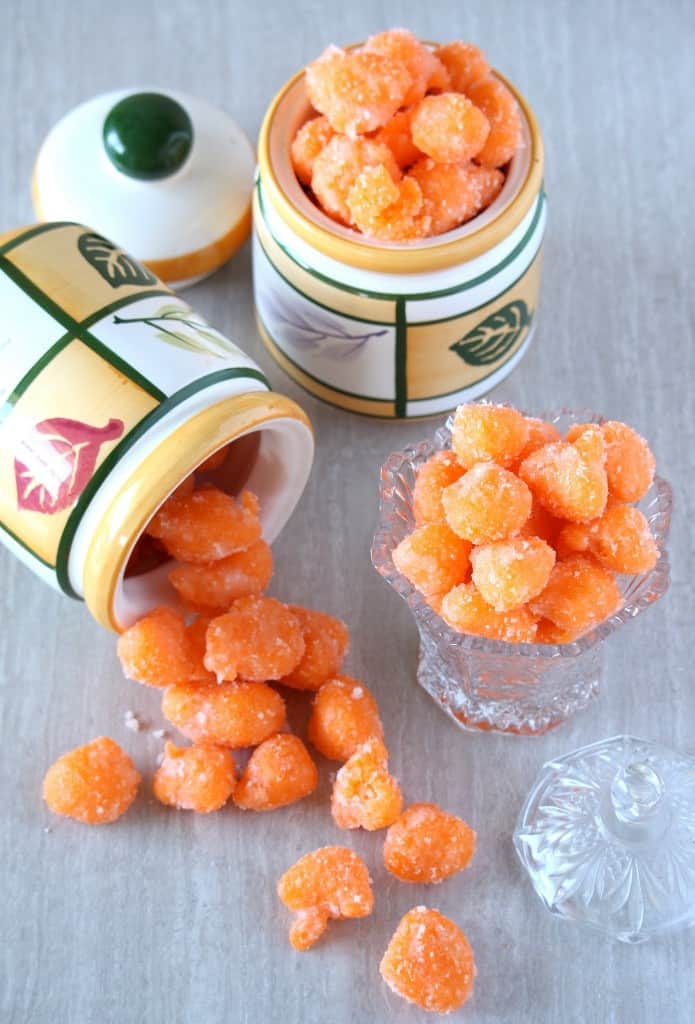 My other recipes from this series –
A – Athirasam
B – Badam Burfi
C – Chettinad Masala Cheeyam
D – Dosai Milagai Podi
E – Ellu Urundai
F – Fruit Kesari
G – Godhumai Rava Pidi Kozhukattai
H – Homemade Rice flour
I – Inji Marappa 
J – Jevvarisi Thengai Paal Payasam
K – Kancheepuram Idli
L – Lemon Pickle
M – Manapparai Murukku
N – Nokkal
O – Oothappam 
P – Pattinam Pakoda 
Q – Quinoa Dosai
R – Ragi Idiyappam / sevai
S – Semiya Pakoda
Preparation time – 10 minutes plus 3 hours of soaking time
Cooking time – 30 minutes
Difficulty level – easy
Recipe adapted from – here and here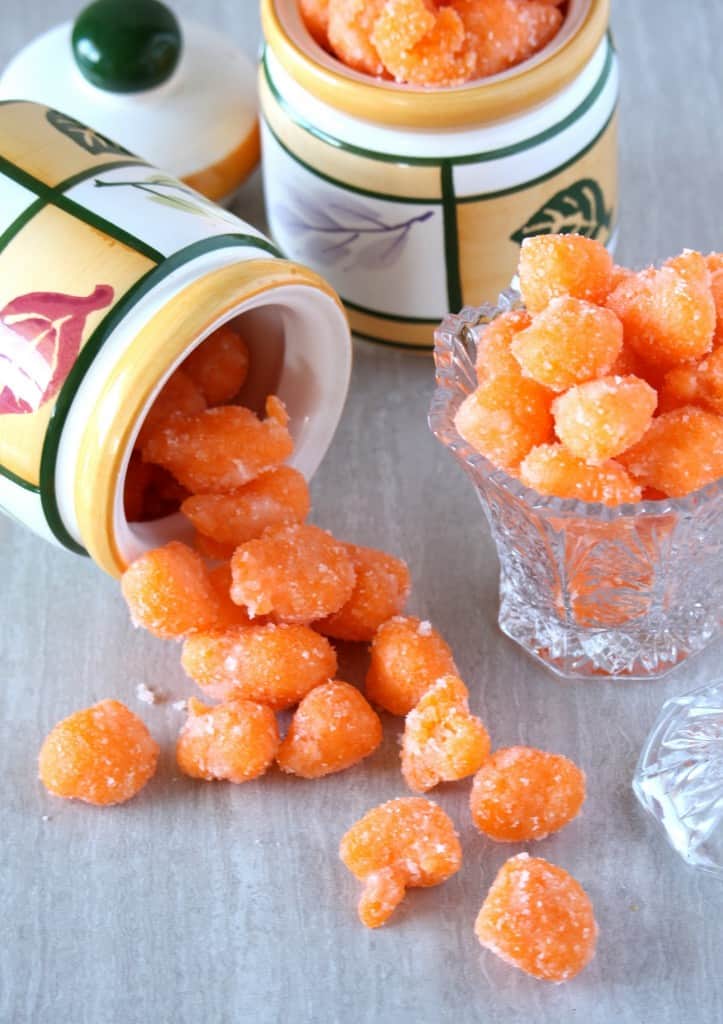 Ingredients – (makes about 30 to 40 pieces)
Idli rice – 1 cup
Ullutham paruppu / Urad dal – ¼ cup
Sugar – 2 cups
Water – 1 cup
Orange food color – as needed
Baking powder – ¼ tsp
Oil – to deep fry
Procedure –
Soak the rice and urad dal together for about 3 hours.
Grind it into a smooth paste using very little water. The batter should be as thick as vadai batter.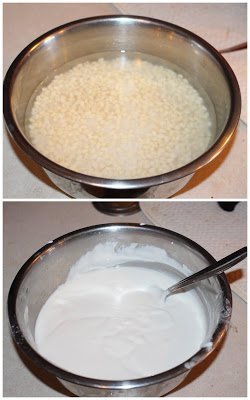 Transfer the batter to a bowl and add the food color and baking powder to it. Mix it up well to combine everything. The color of the thaen mittai is bright orange, so adjust the food coloring until you get the desired color.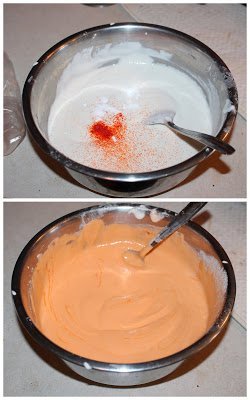 To make the sugar syrup – Combine sugar and water in a wide pan and bring it to a gentle boil. Once all the sugar dissolves and syrup becomes slightly thick, turn the heat to the lowest setting to keep the syrup warm.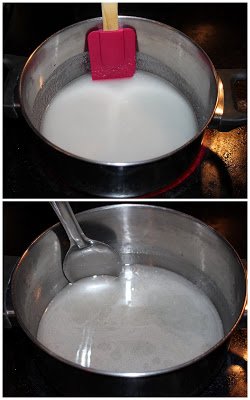 Simultaneously, heat the oil in a pan for deep frying the batter. Using a spoon, drop tiny amount of batter into the oil and fry until they are crisp. It will take about 2 to 3 minutes per batch to fry.
Drain the fried pieces on a paper towel lined bowl and then add them to the sugar syrup. Mix gently and let it sit in the sugar syrup.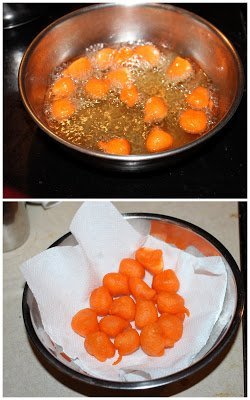 Repeat the same with the rest of the batter and keep adding them to the sugar syrup.
I left the thaen mittai in the syrup until it could take no more and then removed it on a container and added the next batch. Once I was done with all the batter, I added all the fried balls in the sugar syrup and kept mixing them up once in a while to evenly coat. Once the mixture cooled, the top layer crystallized (as I made the sugar syrup too thick).
You could coat it with some sugar crystals after you take it out of the syrup. Mine crystallized naturally as my syrup was thick.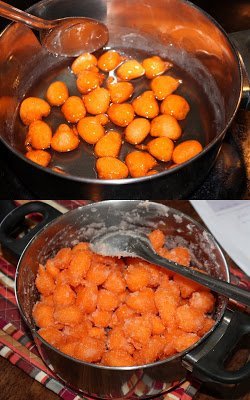 Once they are entirely cool, transfer them to an air tight container and enjoy the burst of sweetness in every bite.
Check out the Blogging Marathon page for the other Blogging Marathoners doing BM# 63