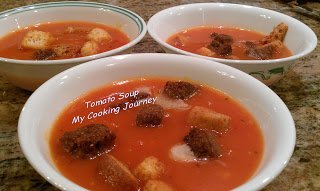 I wanted to make a warm tomato soup for a week night dinner. I read through few recipes (from internet and my collections) and they were quite time consuming. So I tried something simple taking ideas from here and there and voila it turned out into a fabulous recipe. My 20 month old loved the soup as much as my 6yr old did. The texture of this tomato soup is very smooth and you certainly can make it chunky without straining it. I added a pinch of nutmeg to the soup that makes it immensely aromatic and leaves people guessing. Hope the soup warms up everyone's heart. I appreciate your feedback and please keep them coming.
Preparation time – 10 mins
Cooking time – 20 mins to pressure cook and 10 mins
Difficulty level – easy
Ingredients –
Tomatoes (I used vine tomatoes) – about 2 lbs/5 large
Onion – 1 medium
Carrot – 1
Garlic – 1 clove (finely minced)
Bay leaves – 2
Oregano (Dried) – ½ tsp
Basil (Dried) – ½ tsp
Nutmeg – a pinch
Salt – to taste
Freshly ground black pepper – ½ tsp
Butter – 1 tbsp + more to garnish
Corn starch – 2 tsp
Salt – to taste
Procedure –

Chop the tomatoes, onions and carrot into large cubes and pressure cook them with salt and bay leaves until soft and mushy.
Discard the bay leaves and grind the cooked vegetables in a blender/hand blender until smooth. Run the ground mixture through a sieve.
Heat a sauce pan with butter and sauté the minced garlic and corn starch for 2 -3 minutes until the corn starch is foaming and bubbling.
Add the strained soup to the sauce pan and add the rest of the seasoning (oregano, basil, nutmeg and black pepper). Bring it to boil and simmer for about 5 mins.
Ladle hot soup into bowls and add a touch of butter and enjoy as is or with croutons.