18th May, 2011
As a Kid I never liked Biriyani. As I grew old, I sort of tolerated it and now I make it more often than I would like to. Thanks to my son and my Friend Nida (she makes wonderful Biriyani) for making this happen :). This is one of Chellam Aunty's recipes that I saw in the TV. Chellam aunty otherwise known as 'Menu Rani Chellam' has a cooking show on Jaya TV and it is become one of our favorites. When my mother was here last summer, we tried this recipe and it turned out to be a hit. Then I made this for my son's birthday (Had close to 100 people) and it turned out to be a crowd pleaser.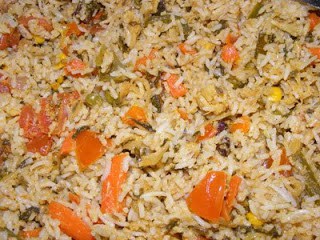 Preparation time – 20 mins and around 3 hrs for marinating
Cooking time – 1 hr
Difficulty level – medium
Ingredients – Serves 6-8
Basmati rice – 2 cups
Yogurt – 2 cups
Ginger garlic paste – 2 tblsp
Turmeric powder – 1 tsp
Chili powder- as needed
Dhania powder (coriander powder) – 2 tsp
Garam masala – 2 tsp
Elaichi (cardamom) – 8
Cinnamon – 2 sticks
Cloves – 6
Bay leaf – 3
Star Anise – 2
Cilantro (chopped) – 1 small bunch (about 1cup)
Mint (Chopped) – 1 small bunch (about 1cup)
Tomato (diced) – 2 cups
Carrot (Chopped) – 1 cup
Beans (Chopped) – 1 cup
Bell pepper (Chopped) – 1 cup
Onions (thinly sliced) – 1 cup
Peas – ½ cup
Fennel seeds (Sombu/Saunf) – 2 tsp
Butter – 4 tblsp
Oil – as needed
Salt – to taste
Procedure –
Make the marinate-
Take the yogurt in a large mixing bowl and add the following ingredients to it – Salt (needed for the marinate only), Turmeric powder, Dhania powder, chili powder, garam masala, ginger garlic paste, fennel seeds (1 tsp), chopped cilantro, chopped mint, Cardamom (4), Star anise (1), Cinnamon (1 stick), Bay leaf (1), cloves (3), chopped tomatoes.
Mix them up well and leave aside for at least an hour. The more it marinates, the better it tastes. If making the biriyani for dinner, I would marinate it around lunch time.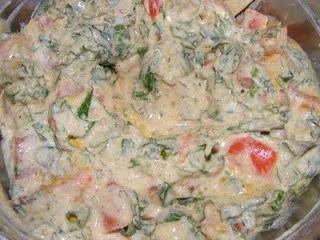 Cooking rice –
Soak the basmati rice for about ½ hr and then drain it and keep aside.
Heat about 1 tblsp of butter in a sauce pan and fry the rest of the masala items (cardamom, star anise, cloves, cinnamon, bay leaf, fennel seeds).
Add the drained rice and fry for about 5 mins in medium heat. Add salt needed for the rice.
Add just enough water and cook the rice.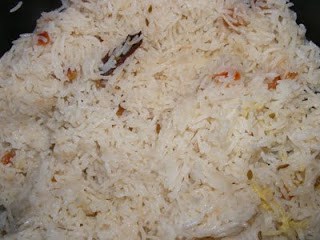 Masala –
Steam the vegetables until they are just tender.
Take oil and butter in a large pan. Add about a tsp of fennel seeds and then fry the onions. Then add the bell pepper and fry until crisp. Now add the rest of the cooked vegetable and salt (needed just for the vegetables) and mix well.
Now add marinate and fry until it thickens and oil separates. Marinate would liquefy once it hits the heat but would eventually thicken as we cook it.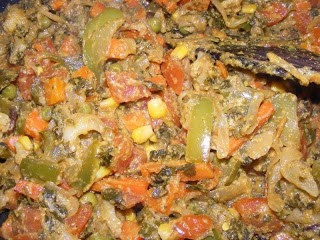 Assembly –
In a large bowl (I use the disposable Aluminum pans), alternate the cooked rice and the masala and mix well until combined. Add some ghee when mixing (enhances the flavor).
Garnish with fried cashews and raisins.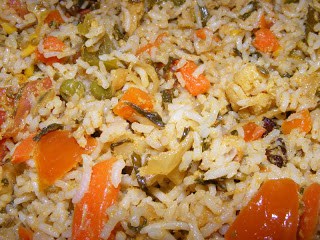 Serve hot with Raita!!!
Observations –
Store bought yogurt works better than homemade yogurt. Homemade yogurt liquefies way too much when it hits the heat and takes longer to come back together. If using homemade yogurt, strain the yogurt in a muslin cloth and then use it.
Marinating the masalas for at least couple of hours is important. If you are living in a warm place, leave marinate in the refrigerator so that the yogurt won't become too sour.