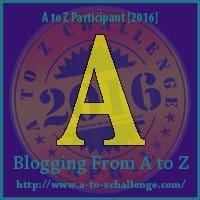 It is April and I am beginning my month long mega marathon with my beloved group Blogging Marathon. If you are first time visitor, this month long marathon happens twice a year where we blog non-stop for the whole month with only Sundays off. There is a lot of prep work done in putting this all together and we as a group get even closer during the mega marathon.

This year few of us from the group have also signed up with another blogging group who do A – Z challenges every year in April. This year incidentally our theme also is A – Z and hence we thought we will link up ours with the 'Blogging with A – Z challenge' group. This group is very varied and has over 2000 blogs that sign up with them.
We had a few options to choose for our 'Blogging Marathon – Journey Through The Cuisines' theme this year. We had to do A – Z recipes which can be regional – One state for the whole month or 4 states for 4 weeks, or countries – one country for the whole month or 4 countries for 4 weeks. I started with choosing 4 states for 4 weeks, as I thought that way I could get a varied set of recipe, but it just was too confusing and I could not come to a proper list.
So I decided to stick to regional – one state for the whole month theme. Choosing the state was a challenge as I wanted to do any other state other than my home state, but in the end, my home state won the votes in my house and so it is going to be A – Z Tamil Nadu dishes for the whole of April.
I also wanted to have a sub theme created for myself to make it a little challenging and hence I decided that I will be only doing bakshanam / snacks / sweets / Tiffin / spice powder for the whole series. So there will not be any side dishes or main dishes, but I have tried making few recipes for the first time which I would not have otherwise.
I wanted to begin the Mega Marathon with a bang and so tried to make Athirsam for the first time ever. Athirsam / Adhirasam is a very important bakshanam / snack in Tamil Nadu that is made for many religious events and festivals. During my mother's ceremony happenings, adhirasam is an important dish to be served and my attais had made perfect ones each day. That is when I decided it is something I should learn to make as it takes quite a bit of practice and experience to perfect this recipe.
I asked my attai for the recipe and in spite of few mishaps I learned to correct it and also rectify it. It is very important to use freshly made rice flour also called eera arisi maavu / rice flour made with wet rice. I will make a detailed post on how to make this rice flour in a few days. This rice flour is very versatile and is also used to make idiyappam / sevai at home. If you have an Indian mixie / blender, it is very easy to make this at home.
My first athirasam disintegrated in the oil and I panicked. I added a little bit of rice flour and wheat flour to adjust the consistency and then it worked perfectly. It is very important to use the correct amount of jaggery. Less is better, but more jaggery can cause the athirasam to break in oil.
Preparation time – 30 minutes plus overnight resting time
Cooking time – 1 hour
Difficulty level – medium
Ingredients to make Adhirasam – makes about 15 medium athirasam
Homemade Rice flour – made from 1 cup of raw rice
Jaggery – ¾ cup
Cardamom powder – ¼ tsp
Sesame oil – to grease
Oil – to deep fry
Procedure to make Adhirasam –
Make the home made rice flour and have it ready. I sieved the flour once, but if you have ground it fine, there is no need to sieve it. Have the flour ready in a wide bowl. Also add the cardamom powder to the flour and mix it well.
Making the jaggery syrup is one another very important step in this recipe. The jaggery syrup should be in a perfect soft ball stage. If it reaches over or under, the athirasam could end up being too hard or could disintegrate in the oil.
Heat the jaggery with about ½ cup of water. Heat it on medium heat to dissolve the jaggery. When it dissolves, filter it to remove any impurities. Now heat the syrup on medium flame and let it come to a vigorous boil. Let it thicken until it reaches the soft ball stage. To test, have a small cup with cold water ready. When the syrup thickens, add a drop of it into the cold water. The syrup should remain intact in the water without disintegrating. Remove this chunk of syrup with your fingers and at this time it should form a soft ball. If this happens, we have the right consistency. Remove it from flame right away.
Now add this syrup carefully to the rice flour. Do not add all the syrup at once. Keep adding little by little and stir the flour with a wooden ladle. Once the rice flour absorbs all the syrups and comes to a dough consistency, stop adding the syrup. Make sure the dough is a little bit on the looser side as it will become hard after some time. Once the mixture cools down a bit, gather everything together and make soft dough. Rest this dough at least for a day to have better flavors. The dough can be left outside for a day or two or refrigerated if kept longer than that. If refrigerating, make sure you bring the dough back to room temperature before making athirasam.
On the day of making athirasam, divide the dough into equal size balls. Heat oil on medium flame to fry the athirasams.
I used two zip lock bags to flatten my dough. Grease two zip lock bags lightly with sesame oil. Place a ball of dough on one zip lock and place the other zip lock on top of the dough. Using a flat bottom bowl, press once over the ball of dough, to flatten it. Make sure you do not flatten it too thin as it will make the athirasam very hard. Keep the dough on the thicker side.
Now carefully drop this into hot oil and fry on low to medium until golden brown and crisp. Drain it using a perforated ladle and then press over the athirasam to remove the extra oil using another ladle. This step is very important as the athirasam tends to soak up quite a bit of oil. Fry one at a time and remove them all on a paper towel lined bowl.
Repeat the process with the rest of the dough and make sure you always have the heat in low-medium when frying.
Let the athirasams cool down to room temperature before storing them. It can remain outside for about a week.
Tips and notes –
My athirasam had disintegrated in oil when I first made them. I had to add a little bit more flour to make it work. So make sure you have extra rice flour in hand. We could also add wheat flour to make it work, but wheat flour changes the texture a little bit.
Always add the syrup little by little. We might not need all the syrup. That was one another mistake I made which is why I needed to add more flour.
Resting the dough for at least a day adds a lot to the flavor of the athirasam. So, do not skip on the resting.