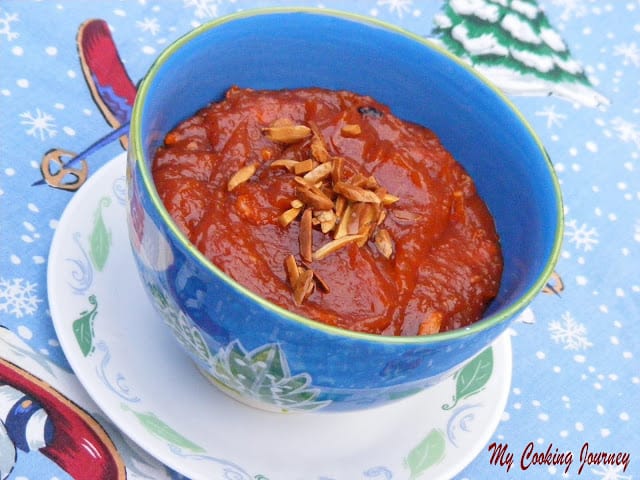 2012 has come to an end and we are welcoming the New Year 2013. Wishing you all a Very Happy New Year 2013! Let me begin this New Year with a traditional South Indian sweet, Ashoka halwa or Asoka halwa. Asoka Halwa is a halwa variety, not very popular for some reason. It is one of the famous halwas served in the South Indian weddings. There is generally so much to eat in the weddings that I have never paid a lot of attention to it until I ate this in my Father's 60th Birthday celebration. I had an opportunity to see the chef making it in our house. So when I was trying to make a sweet that I have never made before, my mom gave me this recipe and I tried it. The recipe is very simple and easy to make with very few ingredients.
Halwa prepared during my father's 60th Birthday
Preparation time – 5 mins
Cooking time – 30 mins
Difficulty level – easy
Ingredients – (Serves 4-6)
Payatham paruppu /Moong dal/Green gram dal – 1/4th cup (1 part)
Wheat flour/atta – 1/4th cup (1 part)
Sugar – 3/4th cup (3 parts)
Ghee/clarified butter – 3/4th cup (3 parts) (* See notes)
Orange food coloring – a pinch
Cardamom powder – ½ tsp
Cashews or almonds – for garnishing
*Note – the recipe calls for 3 parts of ghee, but I used only 2 parts which in this case is about ½ cup. The halwa tasted good and I had no issues with it. If your diet allows you to use more ghee go ahead and use the 3 parts. In this case more the merrier.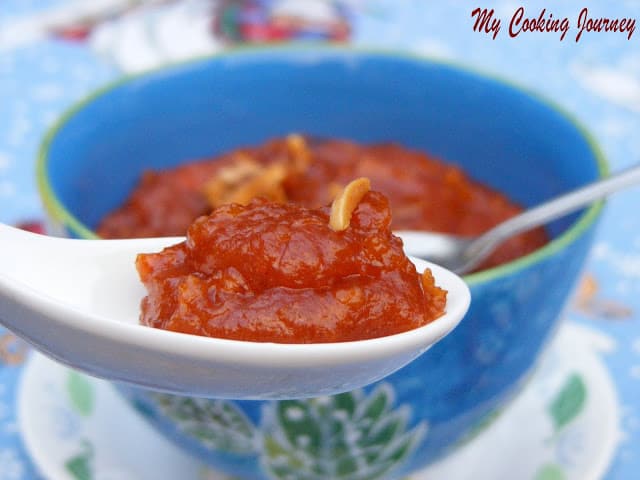 Procedure –
In a pan dry roast the moong dal until golden brown. To this add enough water and cook it until very soft and mushy. This could also be done in the cooker, but it cooks pretty quickly on the stove top. Using a masher, mash the cooked dal to a smooth consistency. If you prefer very smooth halwa, you could use a hand blender and give it quick grind.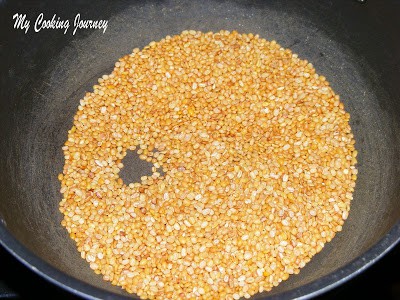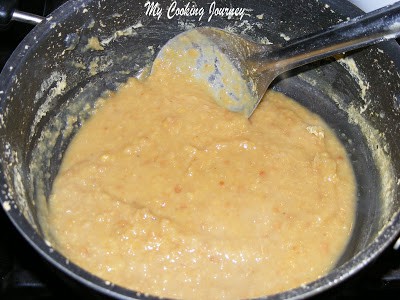 In a wide non stick pan, add 1/4th cup of ghee and add the wheat flour in it. Fry the wheat flour in the ghee until it starts turning color and a nice aroma comes (about 8 mins).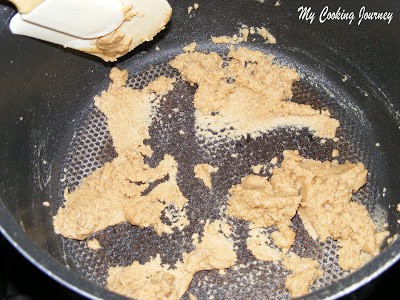 To the same pan, add the cooked dal, sugar and the remaining ghee and cook it over medium heat. Keep mixing the halwa until they all start to come together and begins to leave the sides of the pan. At this stage add the color and cardamom powder and mix it well. Remove it from flame.
Adding all the ingredients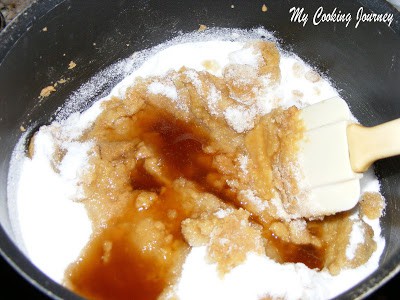 The halwa liquifies a little after adding all the ingredients.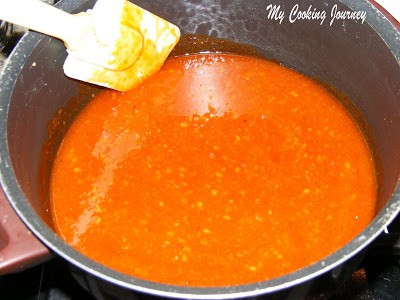 The halwa begins to leave the sides of the pan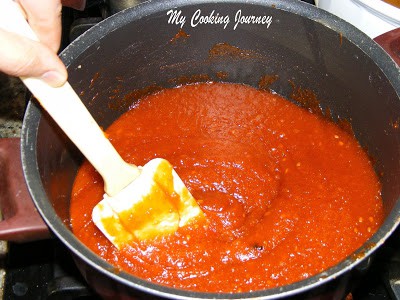 Garnish – heat about a tsp of ghee in a small pan and fry the cashews or almonds and add to the halwa.
Serve the Asoka Halwa warm or at room temperature.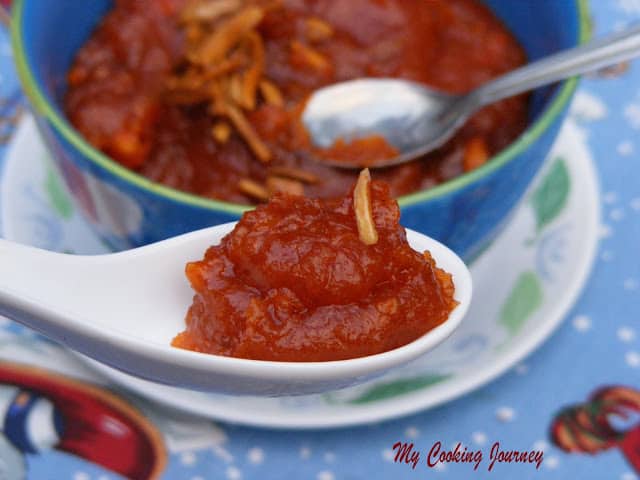 Once again wishing you all a Sweet and Happy New Year 2013! Eat well and be merry 🙂