I love condensed milk, not only in desserts, but just to lick from the can. Most of the time I make sure that I choose recipes that does not need the whole can of condensed milk, so that I will have some to lick from the can. My husband is my biggest competition when it comes to condensed milk, so today when I tried to make my own condensed milk; I made it when it was out of the house.
Until I chose this theme for this week's blogging marathon, I would have never thought of making my own condensed milk. There is a long way to do it and then there is a shorter way. Do you want to guess which one I tried out? Of course it is the quick one. The whole process took me like 10 minutes. I would definitely be making the elaborate one soon, but this came very close to the ones in can.
It needed 4 ingredients and a blender. I always have some dry milk powder in the pantry to use in case of emergency. I have never run out of milk, but I am very paranoid that I might one day and hence there is a pack of carnation milk powder always in the pantry.
I wanted to use my hand blender to blend the ingredients, but then realized that the quantity might be too little for the blades to work its full capacity. I am very scared of using blenders to grind hot ingredients, but I braved it out today thankfully without any disaster.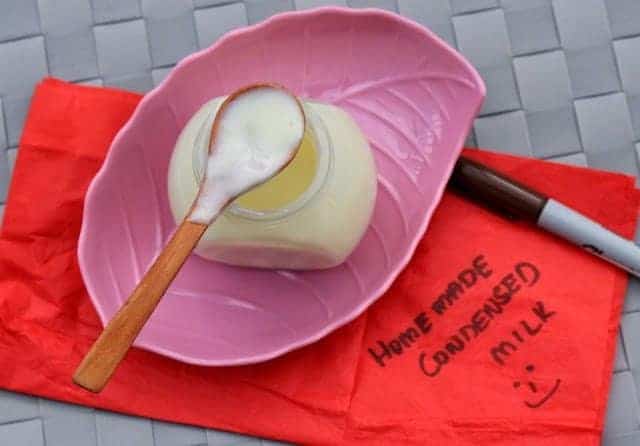 Preparation time – 5 minutes
Cooking time – 2 minutes
Difficulty level – very easy
Ingredients to make Condensed Milk – (makes ½ cup)
Milk powder – ½ cup (I used carnation)
Powdered sugar – ¼ cup
Butter (unsalted) – 1 tbsp
Water – ¼ cup
Procedure to make Condensed Milk –
Place the milk powder, sugar and butter in a blender jar.
Boil the water and add it to the blender jar. Mix once using a spoon.
Blend for a minute on high until the mixture is creamy. Be careful as it could splash when blending. Start at low speed and then go up to high. Blend for about a minute and then carefully open the lid.
You will notice that the mixture is nice and creamy. That is it! Your condensed milk is ready. Use it right away or store it in an air tight container in the refrigerator.
Always use a clean moisture free spoon when taking out the condensed milk from the jar.
And not to forget, please have your kids or the kid in you lick the condensed milk remaining in the blender jar.