Kulfi is a very popular dairy desert from India. It is similar to ice cream except it is much denser and creamier than ice cream. This famous desert is often flavored with cardamom, saffron and pistachios. I remember my childhood days when we buy this desert from the Kulfi wala (kulfi vendor) who sells it in his tricycle. When I go to my grandparents place for summer vacations, this is often our after dinner desert. We patiently wait outside for the kulfi wala to make his daily rounds. What a lovely time it was chatting with cousins and snuggling with grandmother.  The kulfi wala keeps the kufi's frozen inside a huge matka (clay pot) filled with ice and salt. My mom likes the kufi that has the falooda (vermicelli) in it. I prefer the creamy plain kulfis.
When Shruti came up with this recipe for the kulfi as a challenge for the South members, I was very excited. The kufi's were very creamy and delicious and everyone in my house enjoyed it very much. I am very thankful to the South North challenge run by Divya Pramil that gives me the chance to learn some very specific North Indian food.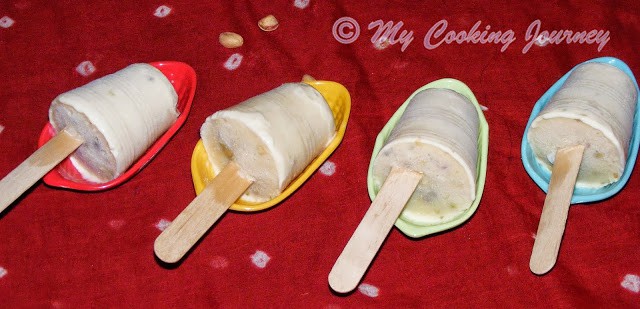 Preparation time – 10 mins plus 6 hrs to overnight for freezing
Cooking time – 30 mins
Difficulty level – easy
Ingredients – (makes 10 large kulfis – 6 oz cup size)
Milk – 5 cups (I used 2 % milk)
Sweetened condensed milk – 1 – 14 oz can
Sugar – ½ cup
Corn flour – 1 ½ tbsp
Chopped pistachios – 1/3 cup
Saffron strands – ½ tsp
Cardamom powder – 1 tsp
Rose water – ½ tsp (optional)
Procedure –
In about ½ a cup of milk, dissolve the corn flour and keep it aside. Make sure to whisk well to dissolve completely.
In a heavy bottom sauce pan, combine the remaining milk and the condensed milk. Using a whisk, mix them well. Also add the sugar and then bring it to a gentle boil.
Simmer it for about 30 mins, stirring frequently. Make sure to mix the cream formed on top into the milk to make it nice and creamy. Simmer until the milk reduces to 3/4th of the original quantity.
Now add the corn flour dissolved in milk and whisk well, so that no lumps form. Stir it well until the mixture thickens.
Add the cardamom powder, saffron strands and the chopped pistachios.
Mix it well and leave it aside to cool down. Make sure to cover the sauce pan when cooling, to avoid the cream layer from forming on top.  Once cooled down a bit, add the rose water and stir well.
Pour the mixture to individual plastic or foam cups and cover them tightly with aluminum foil.
Make a tiny slit on the foil and insert the Popsicle stick through it.
Freeze for at least 6 hrs or overnight (preferably).
To serve, carefully remove from the mold or cup and then serve immediately topped with more nuts (optional). To help remove from the mold or cup easily, slightly immerse them in warm water for about 5 – 10 seconds and then slowly ease it out.