Mercimek Koftesi, Vegan Turkish kofte that is made with red lentils and bulgur and the best part is,
these are not deep fried. Stuff it inside some crisp lettuce to enjoy as an appetizer or lunch.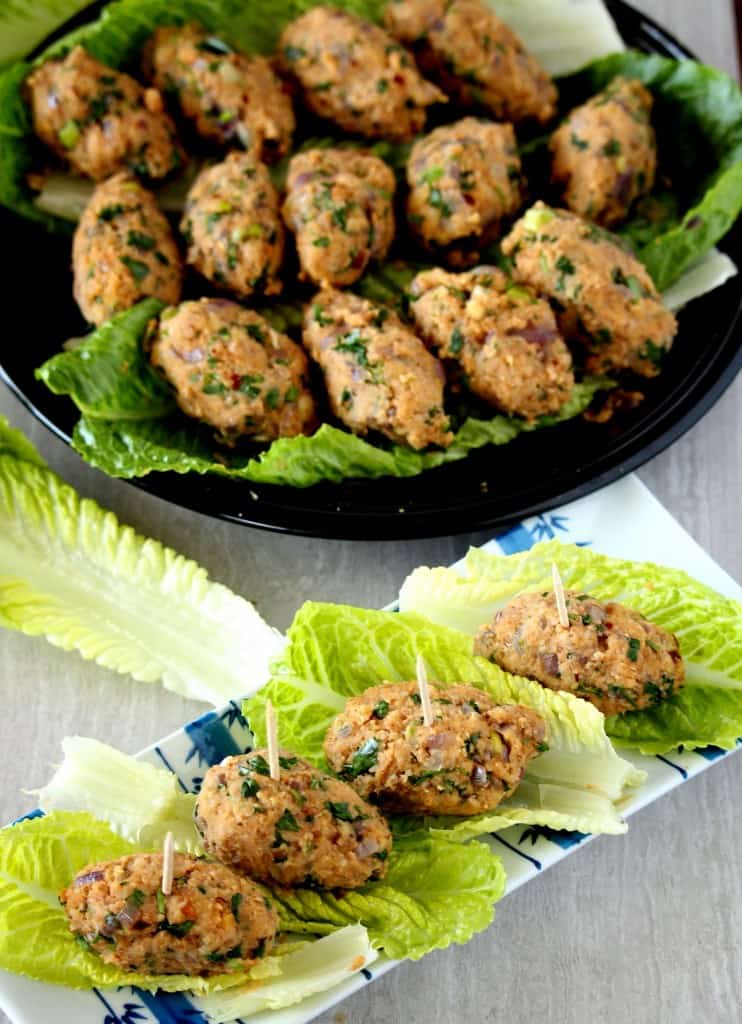 This recipe for the Mercimek Koftesi totally took me by surprise as it was so simple to make and absolutely delicious. When the name of the recipe says kofte, you would assume that it is a deep fried recipe. I did exactly the same and skipped past it couple of times and then when I took a look at it, I realized that this was the healthiest way to serve the koftes and was amazed by how simple and easy it was to make.
I had everything I needed to make this recipe except the parsley and once I had that ready; it was a breeze to put it together. The recipe calls for fine bulgur and I did not have any. I did have some quick cooking bulgur which I pulsed a few times in the blender and made it small. You do need bulgur that are fine as we don't cook the bulgur on the stove, but it rather just cooks in the remaining heat after the lentils have cooked.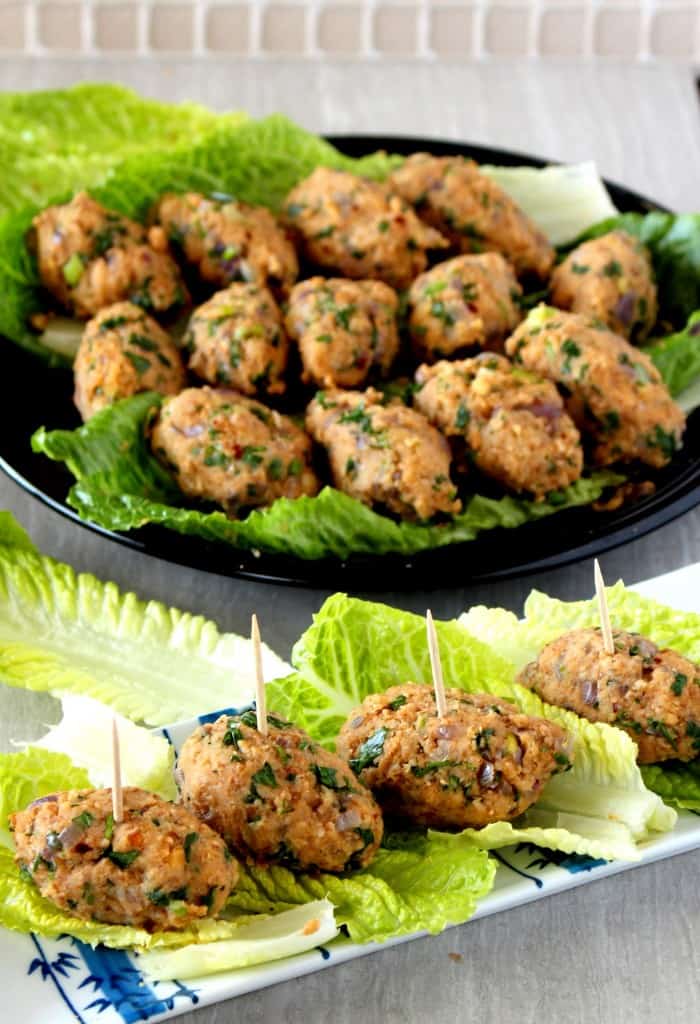 Red lentil is nothing but the Masoor dal that I use often in adai and to make dal. If I have not told you before, I love the flavor of Masoor dal and absolutely love the Turkish Lentil soup that I make with it.
The best way to serve the kofte is to wrap it up in crisp lettuce leaves. If looking for something substantial and to serve as meal, the kofte can be stuffed inside pita as well and serves. Think of it as a non fried falafel.
This is my second recipe that I chose under Turkish cuisine for this week's Blogging Marathon.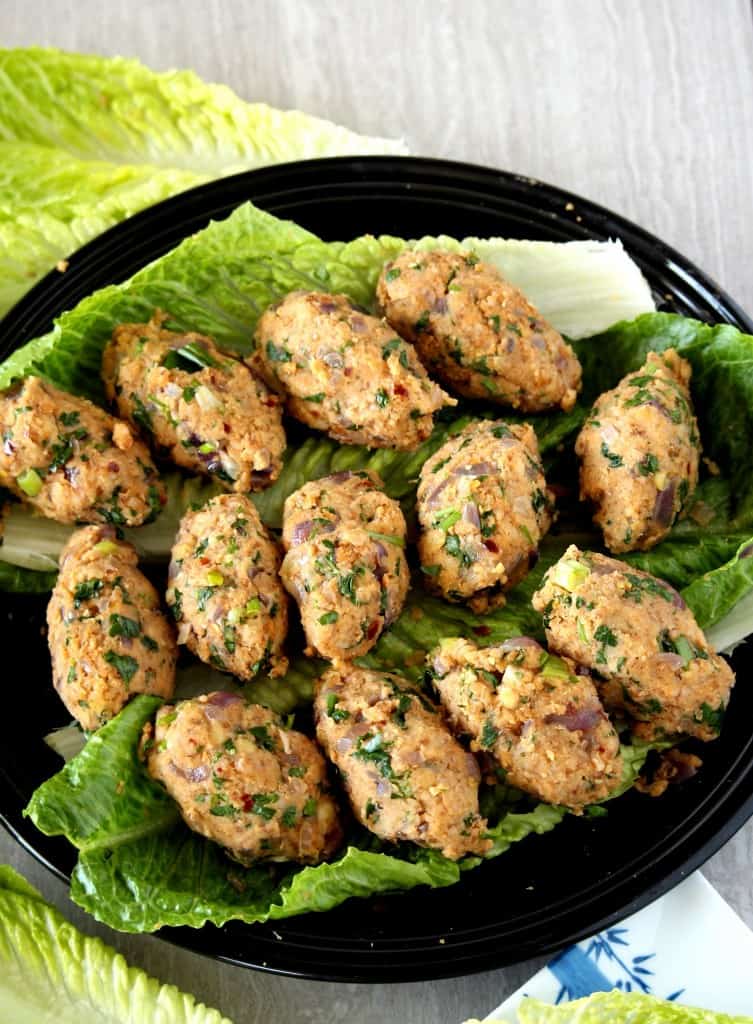 Preparation time – 10 minutes
Cooking time – 40 minutes
Difficulty level – easy
Recipe adapted from – here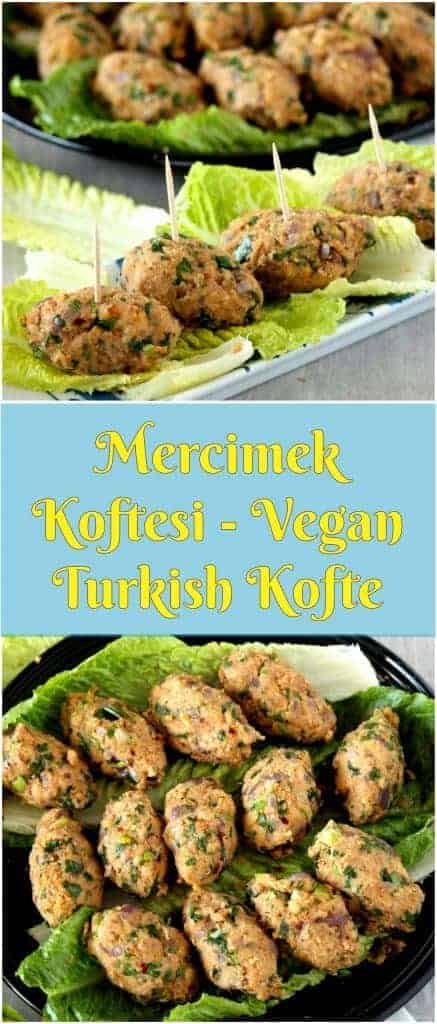 Ingredients to make Mercimek Koftesi – (makes about 20 Koftes)
Red Lentil / Masoor Dal – 1 cup
Bulgur (fine) – ¾ cup
Onion – 1 medium (finely chopped)
Parsley – 1 cup (finely chopped)
Spring onions – 4 (whites and greens chopped)
Tomato paste – 2 tbsp (substitute ketchup)
Cumin powder – 1 tbsp
Crushed red pepper – 2 tsp (adjust based on liking)
Salt – to taste
Olive oil – 4 tbsp
Lettuce leaves – to serve
Procedure to make Mercimek Koftesi–
Wash the lentils well and place them in a large pot along with 3 cups of water. I started with about 2 ½ cups of water and when the lentils were cooked and appeared a little on the drier side, I added about ½ more cup of hot water.
Cook the lentils in medium heat until they are soft and cooked. At this stage the lentils should still have a little water left in them that would allow the bulgur to cook.
Add the fine bulgur to the pot and mix well. Turn off the flame and cover the pot and let it sit for about 30 minutes until the bulgur cooks up in the leftover heat and absorbs the extra water. I did not have fine bulgur and had quick cooking bulgur in my pantry. So, I just ground it a bit in the blender and then used it in the recipe.
After 30 minutes, you will notice that the bulgur has soaked up all the liquids and also has cooked. Let this mixture cool down a bit.
Meanwhile in a pan, heat the oil and sauté the finely chopped onions until translucent.
Add the crushed red pepper, tomato paste (I used ketchup) and cumin powder and cook further for 2 more minutes.
Turn off the flame and add this to the cooked lentil mixture.
Add the finely chopped parsley, spring onions and salt to the lentil mixture and mix well. I found that using my hands to mix was easier than using the ladle.
Take a handful of the mixture and shape it into kofte shape and place them in serving platter.
To serve – Serve room temperature or cold koftes wrapped in lettuce.
Check out the Blogging Marathon page for the other Blogging Marathoners doing this BM#64