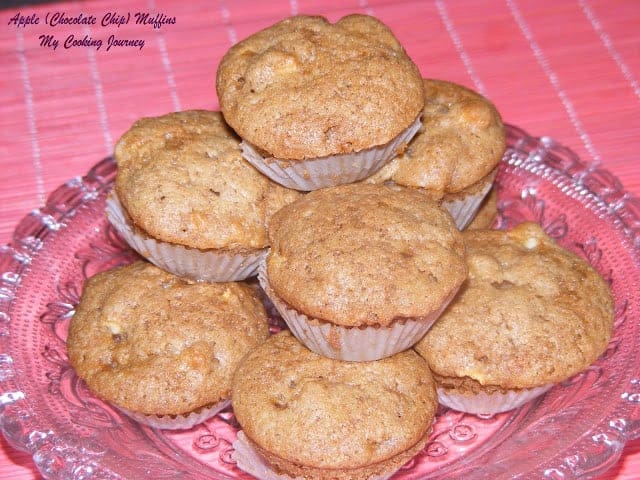 This is one more of my attempt to bake with apples. Instead of making the usual Apple pie, I wanted to make something that would make my boys happy. When I was talking to one of my dear friend, she mentioned that she has a very good recipe for Apple cake. She mailed the recipe to me right away and here I am couple of weeks later, made her recipe and awfully happy with it. Thanks Marybeth for the awesome recipe.
I made half the muffins with just the apples and to the other half I added the chocolate chips, only to please my dear husband. It was job well accomplished. He loved the muffins with the chocolate chips. This Apple - Chocolate Chip Muffins recipe also called for nuts, which I did not add.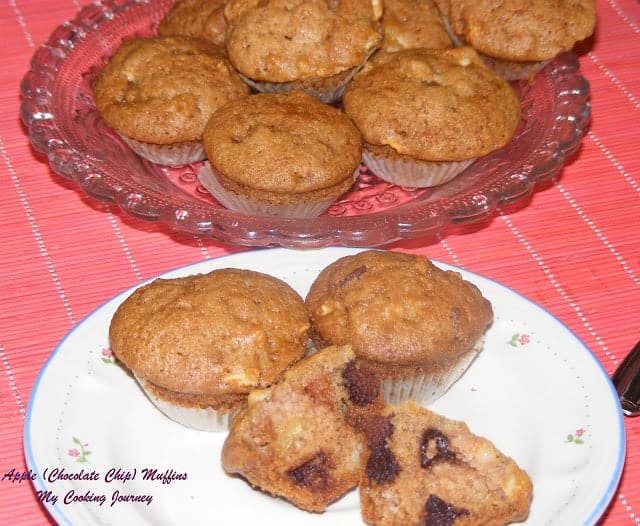 Ingredients to make Apple - Chocolate Chip Muffins - Makes about 18 large or 36 mini muffins
Apples (any cooking variety) – 3 cups (chopped)
All purpose flour – 2 cups
Vegetable Oil – 1cup
Eggs – 2
Sugar – 1 cup
Baking soda – 1 tsp
Cinnamon – 2 tsp
Salt – ½ tsp
Vanilla – 2 tsp
Chocolate chip – 1 cup (optional)
Nuts (walnuts, pecans or any nut of your choice) – ½ cup (optional)
Procedure –
Preheat the oven to 325 F.
Sift the flour with baking soda, salt and cinnamon. Keep aside.

In another bowl, beat the eggs well and then add the sugar, vegetable oil and the vanilla to it. Mix well.

Now add the flour mixture to the wet ingredients and stir until well blended.

Fold in the chopped apples, chocolate chips and nuts. In my case, I added the apples first, then filled half of my muffin pans and then added about ½ cup of chocolate chip to the remaining batter and then filled the remaining molds.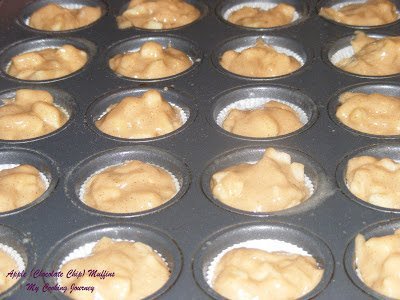 Bake for about 35 mins at 325 F.
Check if done by inserting a tooth pick to the center of the muffins. If the tooth pick comes out clean, then the muffins are done.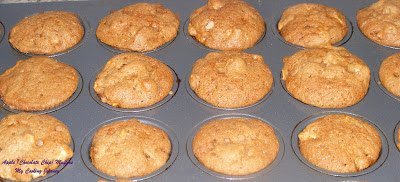 Remove them from the muffin pans and cool the Apple - Chocolate Chip Muffins completely on a wire rack.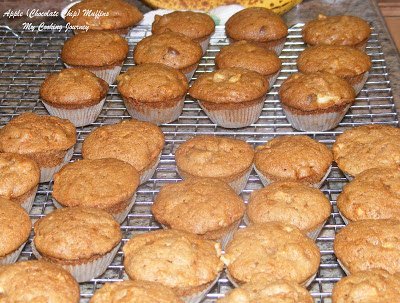 Variations-
To make the recipe low fat, you could use this substitution instead of 1 cup of oil.
½ cup oil
Less than ½ a cup of yogurt
3 tbsps of applesauce.