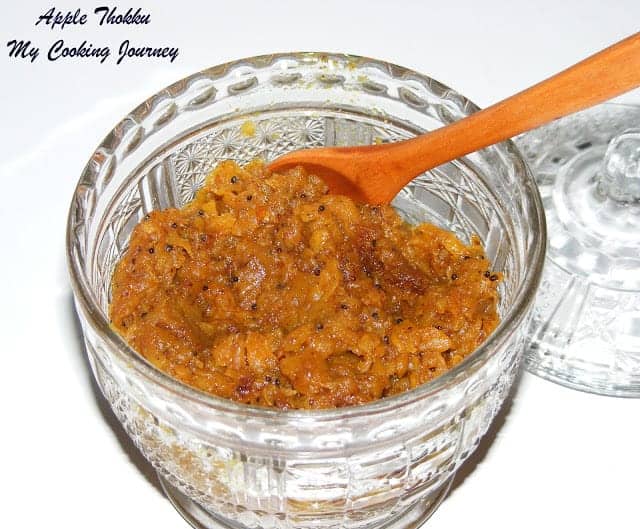 It is fall in the Northeast and fall here means, Apples. We spent a wonderful afternoon in a local farm picking apples and we came home with around 25lbs of apples. Now you know what is going to come in the next few days. It is going to be recipes involving apples. Stay tuned to apple recipes.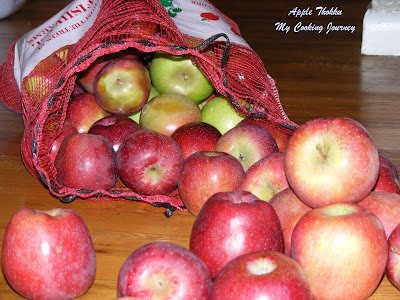 As soon as we came home, I had this urge to make something right away. I wanted to make Apple pie, apple this and apple that. Now to make all these I needed a long list of ingredients and I was in no intention to go out. So came out with the Apple thokku idea and here it goes. I treated the apples just like raw mango for this recipe.
Preparation time – 10 mins
Cooking time – 45 mins
Difficulty level – easy
Ingredients – (makes a pint)
Apples (any tart variety) – 3
Nalla ennai/sesame oil – 5 tbsp (can be substituted with olive oil)
Mustard seeds – 1 tsp
Turmeric powder – ½ tsp
Fenugreek powder – 1 tsp
Red chili powder – 1 ½ tbsp
Asafetida – ½ tsp
Salt – as needed
Procedure –

Dry roast the fenugreek seeds and grind it into powder. Keep it aside.
Clean the apples, core it, peel the skin and grate it using a grater.

Heat oil in a kadai or a non stick pan. Add the mustard seeds and once the seeds splutter, add the turmeric powder, red chili powder, asafetida and the fenugreek powder. Fry it for about 30 secs and then add the grated apples.

Mix well and cook it in low flame. Cover the pan to allow the apples to cook. Keep stirring once in a while to prevent the apples from burning.
After about 30 mins, you would see that the apples are cooked and they are mushy in appearance. Cook it for 10 mins or so with the lid opened. Keep stirring. At this stage the oil will start to float and the thokku will start leaving the sides of the pan.

Turn off the flame and let it cool down. Store the apple thokku in an airtight container. Refrigerate for longer shelf life.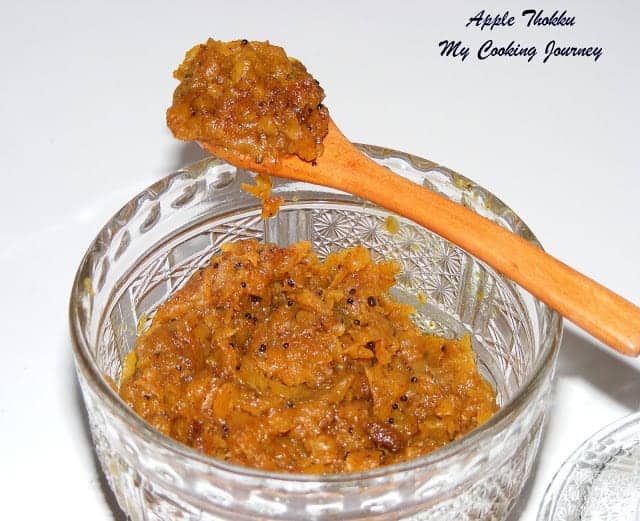 Sending this recipe to