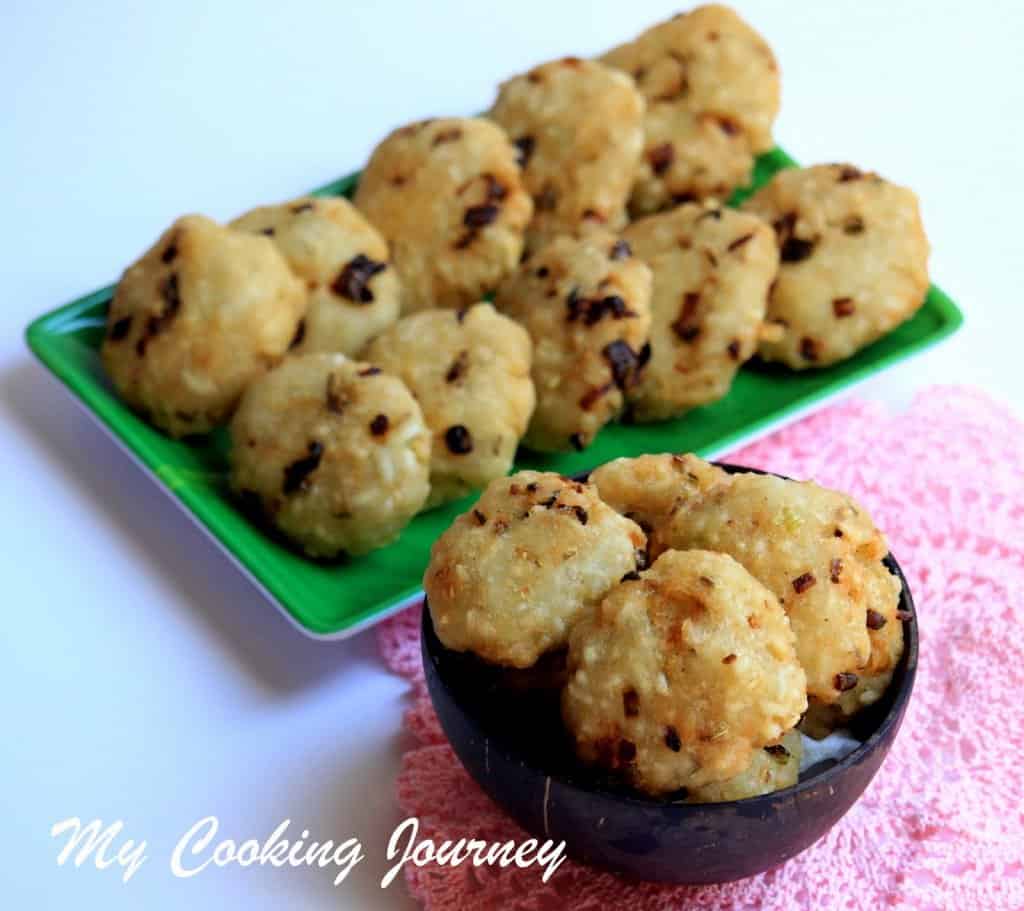 Next on my aval/poha dishes comes a savory snack. These vadai made with aval were so crisp and they remained crisp even after a while. This makes it a perfect choice as starters/appetizers for parties. These Aval Vadai – Aval Masala Vadai – Poha Vadai are a good change from the regular masala vadai or paruppu vadai and needs no soaking of the dals or any advance preparations. So if you are looking for something crisp and hot to eat, this would be a perfect choice.
When making the first batch I was a little concerned about the texture after seeing that the vadais were not browning. Then when tasted some the texture was perfectly crispy. So do not look for the golden brown color we get in regular vadais. This vadai would be a little lighter in color but that does not compromise the texture or the flavor.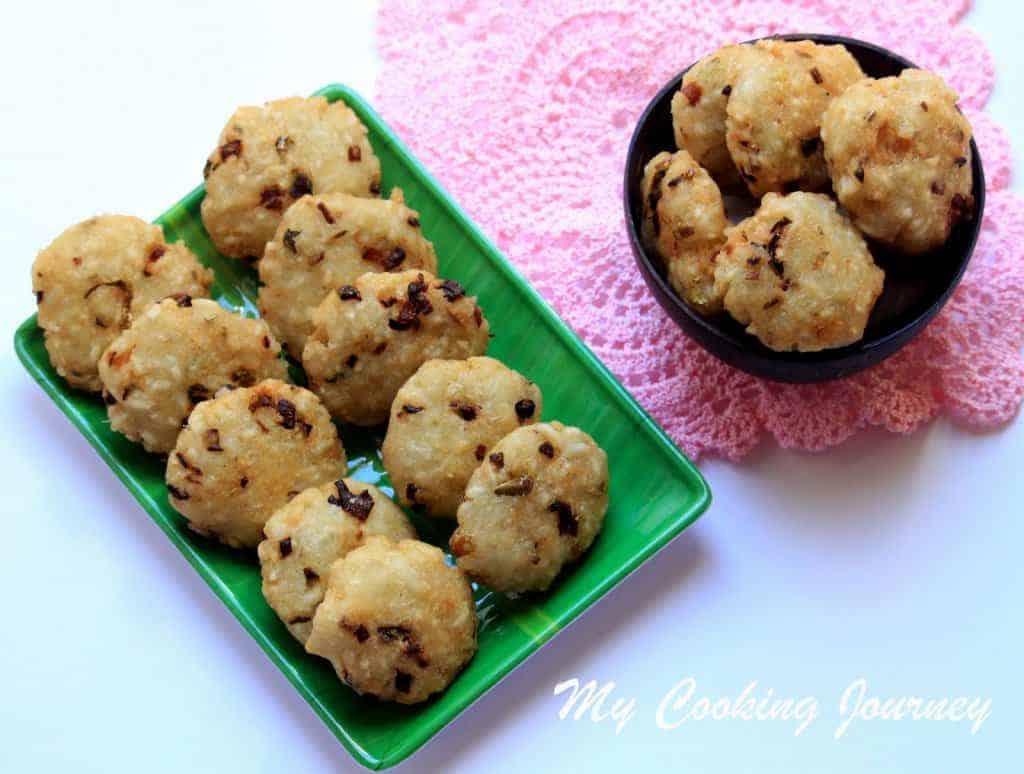 I was going to add regular onions to make it as masala vadai, but then my eye fell on spring onions that I had. So for a little color and different flavor, I added spring onions. If you don't have spring onions, just use regular onions.
My Other Vadai Recipes – 
Aama Vadai
Lobia Vadai / Karamani Vadai
Moong Dal Vadai / Payatham paruppu vadai
Masala Vadai
Pudina Vadai
Thavala Vadai 
Ullundhu Vadai
Preparation time – 10 minutes plus about 20 minutes to soak the aval
Cooking time – about 30 minutes
Difficulty level –easy
Ingredients to make Aval Vadai – makes about 20 vadai
Aval / Poha – 1 cup (I used medium thick variety)
Spring onions – ½ cup (chopped with the greens)
Rice flour – 2-3 tbsp (more or less to make tight dough)
Green chilies – 3 (finely chopped)
Ginger – 1 tsp (finely grated)
Fennel seeds – 1 tsp
Salt – to taste
Oil – for deep frying
Procedure to make Aval vadai –
Wash the aval well under running water for couple of times and drain. Sprinkle a little water about (1/4 cup) over the aval and let it soak for about 15 minutes. The aval should become quite soft and mushy. If the aval appears dry, sprinkle some more aval and mix. Let it soak for 10 more minutes. The aval should mash easily when pressed between fingers and also should hold the shape when you squeeze it with your palm.
Now add the rice flour and the rest of the ingredients, except oil and mix well. If your dough appears dry, then sprinkle few more teaspoons of water and mix. If the dough appears to be moist and does not hold shape, then add couple of more teaspoons of rice flour.
Make small patties with the dough and keep it aside. I found that making patties with wet hands worked quite well.
Heat oil in deep pan and once the oil heats up, slide 4 or 5 patties into the oil. Let it cook on both sides until light brown and appears cooked. Drain it on paper towel lined dish. Remember that this vadai would not become deep brown.
Serve hot with ketchup or any chutney!