Jackfruit; the name is enough to bring back pleasant memories from my childhood and I consider this the king of the fruits. Jackfruit is a tropical fruit with rough exterior and sweeter than the sweetest flavor any fruit could have. After coming to US, eating a good jackfruit was totally out of reach until we moved to the South. Here we get pretty good jackfruit (year around) and we have been busy trying out the fruit from different stores. Yes, the local Indian store has them, but the flavors are far better in other Asian stores around the region and are also cheaper than the Indian stores.
We buy the jackfruit from the local Vietnamese grocery store and they usually sell it for 99 cents a pound. But we have to buy at least 10 pounds to get some decent yield of the fruit as there are not many fruits. This time when we shopped, we got a little overboard and got about 22 pounds of the fruit, which was about half of the fruit.
The fruit was in perfect ripeness and we had to remove the fruit pieces right away. We ate more than we could that day and then realized we had way too many left over and they would become overripe soon. So I froze half of the remaining fruit and the remaining half was made into this chakka varatti. I was totally clueless as to how to make it, but was adamant on making it as my husband loves it a lot and talks frequently about it. I did not grow up eating the chakka varatti, but my husband did. He is from Coimbatore which is closer to Kerala and has quite a bit of influence on the food culture. I also managed to make this jackfruit flavored semolina muffins with a little bit of the fruit.
I did not struggle a lot to get an authentic recipe as I knew that my blogging buddy Swathi would have this recipe in her blog. She is from Kerala and she has many amazing authentic recipes from Kerala in her space. She did have a recipe for the chakka varatti and I followed it to make mine and it came out great.
The recipe is quite time consuming as we have to stir the jackfruit pulp along with jaggery until it reaches jam like consistency. Chakka varatti can be stored for quite a while in the refrigerator and can be stored in the freezer for months. We can just thaw it and then use it later. If you have lot of jackfruit to be used right away, this is the best recipe to make and store.
I am ending the September Mega Marathon with this traditional sweet from Kerala. Thanks all for following us through the marathon.
My other recipes this Marathon –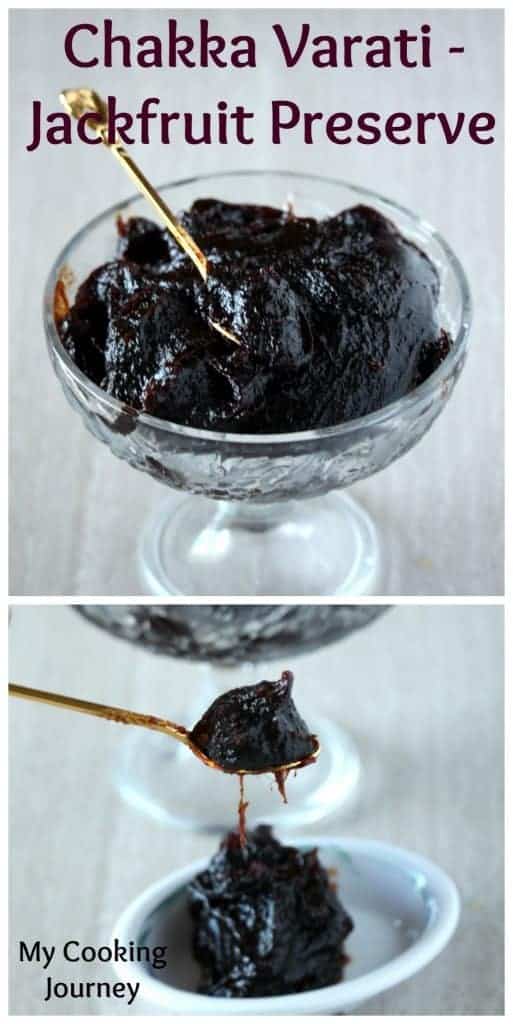 Preparation time – 20 minutes
Cooking time – about 3 hours
Difficulty level – medium
Recipe adapted from – Zesty South Indian Kitchen
Ingredients – Makes about 2 cups of chakka varatti
Jackfruit – about 5 cups of finely chopped ripe jackfruit
Jaggery – 1 ½ cups
Ghee – 3 to 4 tbsp
Cardamom powder – ½ tsp
Ginger powder – ¼ tsp (optional)
Procedure –
Remove the jackfruit pieces and clean them. Make sure you take the seed out and also the thin membrane that is around the seed. Chop the jackfruit into fine pieces and measure out the chopped pieces.
Add the chopped jackfruit pieces in a vessel and add about ½ cup of water to it. Cook the fruit in the pressure cooker for about 4 to 5 whistles or until it is very soft and mushy.
Using a hand blender, grind the cooked jackfruit to a smooth puree.
In a pan, melt the jaggery along with 1 cup of water and filter it to remove any impurities. Now return the jaggery syrup to the pan and let it boil well.
Add the ground jackfruit puree to the boiling syrup carefully and mix well.
Add about 1 tbsp of ghee and then keep cooking the mixture in medium flame. Keep stirring every now and then and continue this until the mixture thickens.
Add about ½ tbsp of ghee in equal interval to avoid sticking to the bottom of the pan. Keep cooking and stirring until the whole thing becomes very thick and starts to roll into a ball. At this stage you will notice that the color would have changed to dark brown, almost black and it will turn into a ball like consistency.
Add the cardamom powder and ginger powder at this stage and mix to combine.
Turn off the flame and let it cool in the pan.
Store in an air tight container and refrigerate or freeze if intending to use at a later stage.
Check out the Blogging Marathon page for the other Blogging Marathoners doing BM# 68