This Energy Bar Made With 3 Ingredients is an absolute fun to make during summer months. This is a No Cook recipe and is ready in under 10 minutes.
Summer breaks are fun and tiring! Summer breaks are fun for kids and tiring for parents! It has been only 2 weeks since they are out of school, but it already feels like couple of months. One side of me is so enjoying the relaxed mornings and the fun day outs with the boys but the other side of me is ready to get them back to school.
Mom, can I have something to eat? This is the only other thing I hear from there apart from the constant fights between them. When choosing recipes for the 3 ingredients theme, I came across this energy bar recipe which sounded very fun. My boys do not like dates but my husband loves it. So this recipe would be a win-win situation for me as in it will be eaten up even if the boys did not eat it.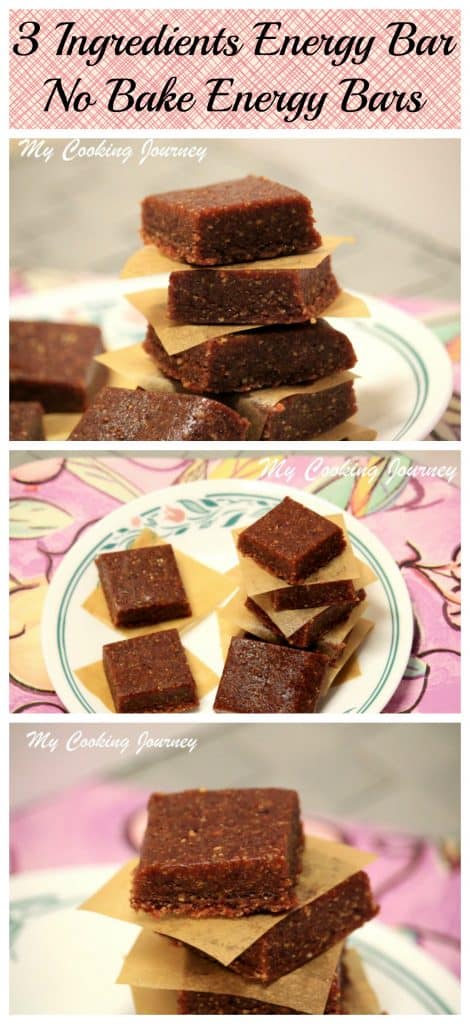 My dad had bought lot of dates from his recent trips to Middle East and they worked perfectly for this energy bar recipe. We do need the dates because it becomes the binding factor in the recipe. Apart from the dates, we can pick any dry fruits of our choice. I used cranberries as the dry fruit component and almonds for the nut component in this no bake energy bar recipe.
You could use the nuts as is or toasted. I personally like the toasted nuts as it has a lovely nutty flavor to it. Once you toast the nuts, make sure that they cool down to room temperature before grinding it.
Preparation time – 15 minutes
Cooking time – none
Difficulty level – easy
Recipe adapted from – The Kitchn
Ingredients to make 3 Ingredients Energy Bar – Makes 16 small bars
Dates – 1 cup
Almond – 1 cup
Dry fruits (your choice) – 1 cup (I used cranberries)
Procedure to make 3 Ingredients Energy Bar –
You can use the nuts as it is in the recipe or toast it. If toasting the nuts, place them in a baking sheet and toast for about 10 minutes in a 350 F oven. Remove from the oven and let it cool down to room temperature before continuing to the recipe.
Once the nuts have cooled down, gather all the ingredients and place them in the food processor bowl.
Pulse the ingredients to get them to combine. The dates might start to clump up, but make sure you separate them. Keep pulsing until the ingredients are all chopped down to small pieces.
Now run the food processor for about 2 minutes to combine them together.
Run the food processor for another minute or so until they come together as a ball.
Place a sheet of wax paper or plastic wrap on the work surface and drop the mixture on to it. Pat them to form a neat square and then wrap it up and chill overnight or at least for couple of hours.
Remove it from the refrigerator and cut them into desired size pieces.
Wrap them in plastic wrap or wax wrap and refrigerate. They can be eaten straight out of the refrigerator. They can also be placed outside. If placed outside the texture will be a little soft and chewy. The bars can also be frozen for up to 3 months.
Check out the Blogging Marathon page for the other Blogging Marathoners doing BM# 53