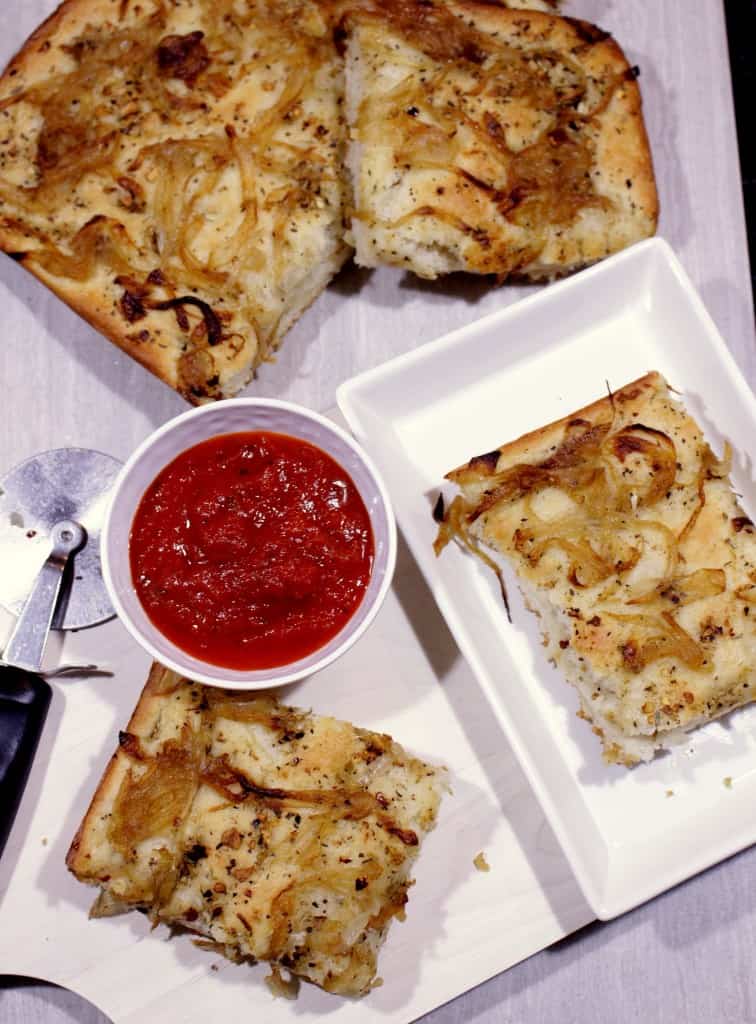 Bread baking does not limit to baking just the loaves and the rolls. Pizzas and focaccias also fall in the bread category as they are yeasted and use similar ingredients and baking techniques. I bake pizza often at home and it just feels so good to roll the dough out and shape them. Focaccia though is our favorite as it is slightly thicker, chewier and more bread when compared to pizza. If I have not said before, I will go crazy without my bread. The more bread there, the merrier I am.
Focaccia is quite different from traditional pizza as it has thicker crust and hence more bread than topping, whereas pizza is thinner and crisper. Traditionally, focaccias did not have any topping and had just herbs and oil. But these days we can find focaccia with many different toppings. The most common focaccia is the Focaccia Caprese which has tomatoes, basil and mozzarella, taken after the famous salad, Insalata Caprese.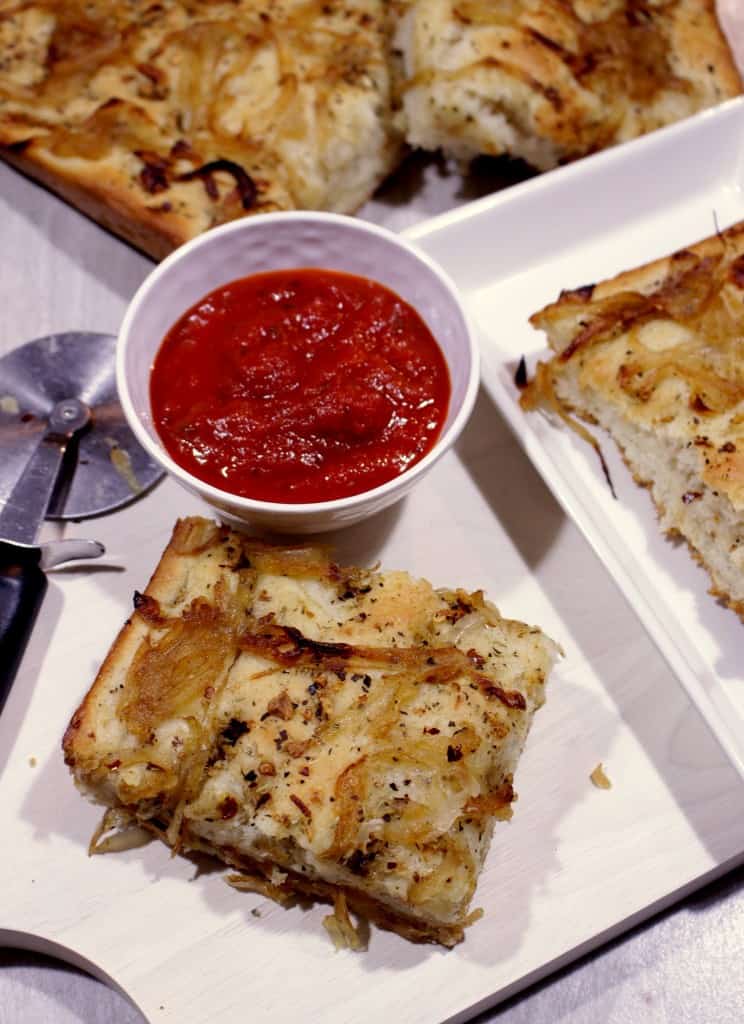 I wanted to keep the cheese away and wanted to make herbed focaccia for dinner, but that is when I thought, why not use some caramelized onions. I am a big onion lover and caramelized onion is one of the favorite ways I love to have onions. Slow caramelization of the onions makes it just so sweet and delicious.
Focaccia uses quite a bit of oil in the dough and also as a topping. I was thinking of using fresh herbs, but I just loved the herbed oil that I make with Focaccia Caprese and hence thought of using the same here as well. The herbed oil goes really well with some plain Italian bread as well. When I make it for the focaccia, I make a little extra to dunk.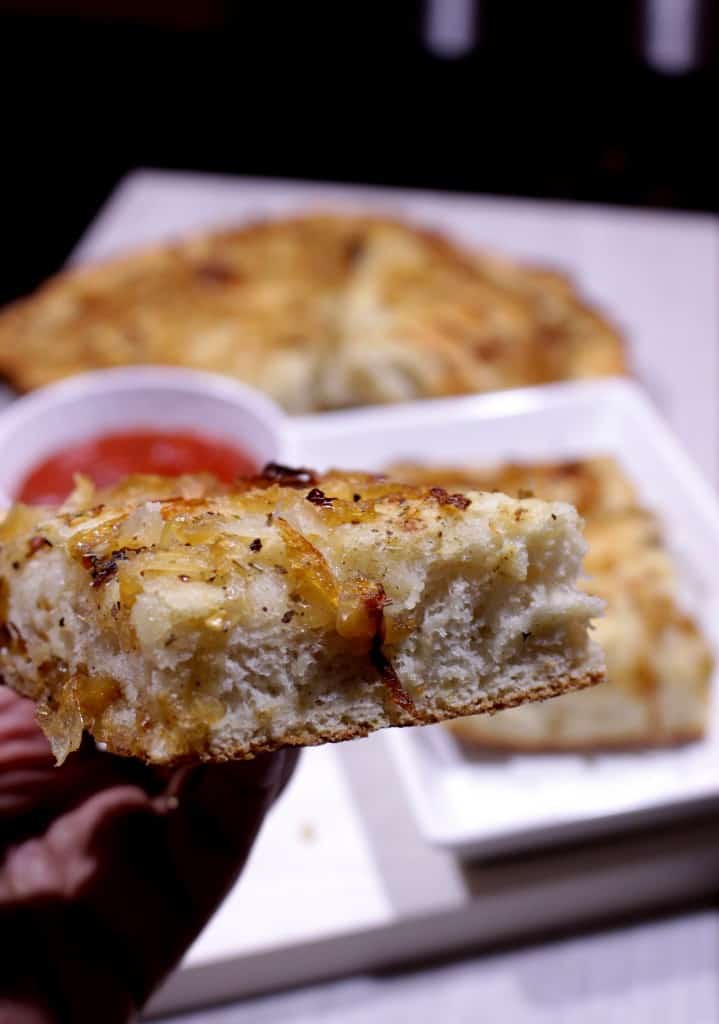 My other recipes this Marathon –
Soups
Appetizers / Snacks
Breads and Rolls
Preparation time – 20 minutes + 2 ½ hours of rising time
Cooking time – about 30 minutes to caramelize the onions
Baking time – about 25 to 30 minutes
Difficulty level – medium
Ingredients – Makes one jelly roll pan focaccia (serves 4-6)
For the dough –
Bread flour – 3 cups (can substitute All purpose flour)
Instant yeast – 2 tsp
Salt – 1 ½ tsp
Sugar – 1 tbsp
Warm water – 1 cup (might need a little more or less)
Olive oil – ¼ cup (plus more for drizzling)
For the herbed oil –
Olive oil – ¼ cup
Oregan0 – 1 tsp
Garlic – 1 tbsp (finely minced)
Dried basil – 1 tsp
Salt – to taste
Red pepper flakes – ½ tsp
For the Caramelized onion topping –
Yellow onion – 1 large (sliced thinly)
Olive oil – 1 tbsp
Salt - to taste
Pepper – to taste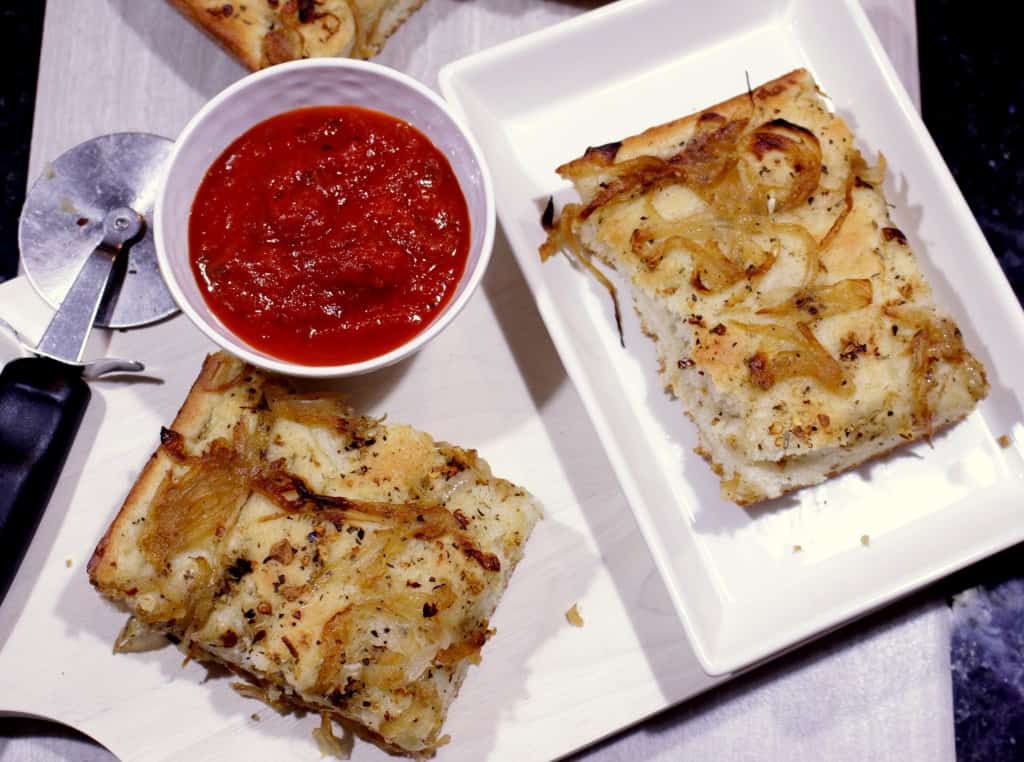 Procedure –
To make the dough –
In the bowl of the stand mixer or in a large bowl; add the flour, instant yeast, sugar and salt. Give it a stir and then add the oil.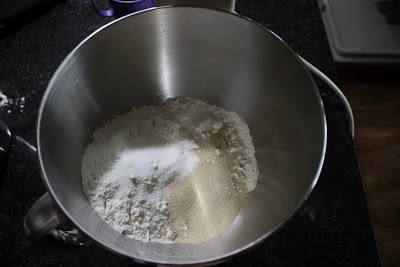 Now with the machine running, add the warm water until everything comes together.
Knead the dough until it is smooth and elastic. If kneading by hand, add enough water to bring everything together as dough and knead for 8 to 10 minutes until it is smooth and elastic.
The dough will be slightly on the sticky side. Do not be tempted to add more flour.
Form a ball with the kneaded dough and then place it a greased bowl. Cover with plastic wrap and then a kitchen towel and leave it in a warm, draft free place until it is doubled in volume (about 1 ½ hours).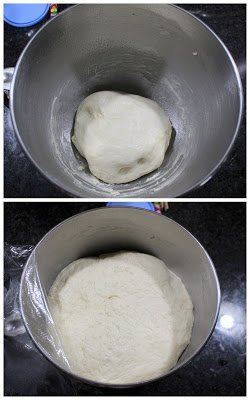 To make the herbed oil –
In a bowl, add all the ingredients and mix well. Keep it aside for at least an hour for the flavors to combine. I usually make it in the morning and let it infuse.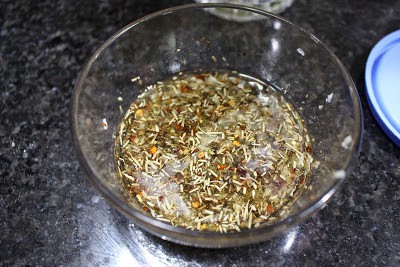 To make the caramelized onion topping –
Slice the onions lengthwise into thin strips.
In a heavy bottom pan, heat the oil and then add the sliced onions.
Add salt needed and pepper to taste and let it cook in low to medium flame until softened.
Stir once in a while and let the onions cook until they are light brown and aromatic. Make sure you caramelize the onions in low flame. This increases the flavor of the onions. It takes about 25 to 30 minutes to caramelize.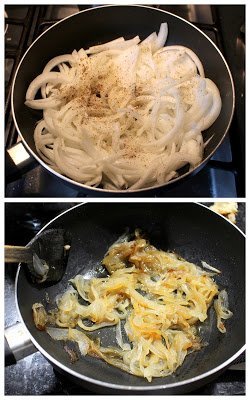 To make the focaccia –
Grease a jelly roll pan well. Drop the proofed dough on to the pan and with oiled hands; stretch the dough to cover the pan. The dough tends to shrink, but keep doing it until it fills up the whole space. Stretch it as evenly as possible.
Now with your fingers, make indentations all over the dough. This gives the focaccia its classic look.
Spread the herbed oil evenly over the stretched dough,
Place the caramelized onions evenly on the dough and then cover it with plastic wrap and then a kitchen towel.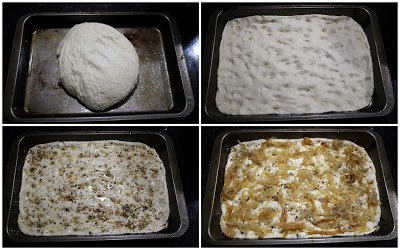 Let it rise for another 45 minutes or so until puffy.
At the end of the rising period, pre heat the oven to 400 F.
Bake the focaccia at the lower rack until golden brown.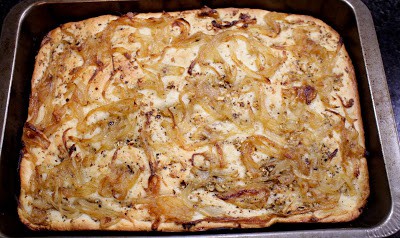 Remove and let it cool for few minutes before slicing.