I love hash browns! Not necessarily for breakfast as I am not used to eating potatoes for breakfast but as a snack. Having said that, I don't mind eating hash browns for breakfast as well. Who can resist potatoes anyways? Not me at least.
When looking for recipes to make with 3 ingredients, I came across this recipe that I found very interesting. I found it interesting not for the recipe, but for the suggestion of using readily available shredded potatoes from the store. But, I was not aware that they sold hash brown potatoes that are shredded and all ready to go. I bought the frozen ones and all I had to do was let it sit outside for few minutes to get the freeze out and then add the rest of the ingredients and make the hash browns.
We had breakfast for lunch yesterday and I made pancakes and hash browns. This time though, making hash browns was a breeze as I had baked them in the oven in muffin tins and I did not have to stand next to it. The texture was something my kids loved; it was crunchy on the outside and soft inside. Apart from the seasoning, all this recipe had was potatoes, spring onions and parmesan cheese.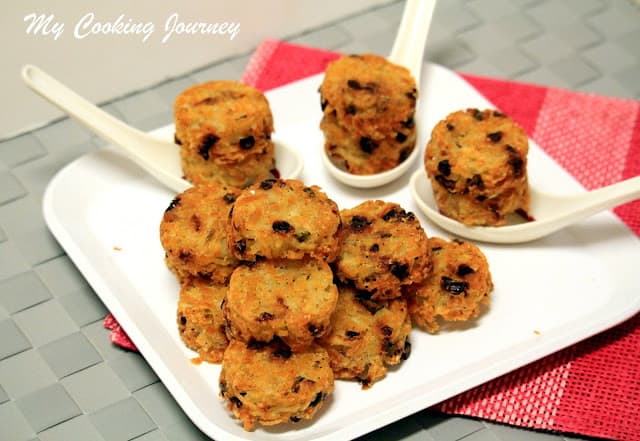 Preparation time – 10 minutes
Cooking time – about 60 minutes
Difficulty level – easy
Recipe adapted from – The Yummy Life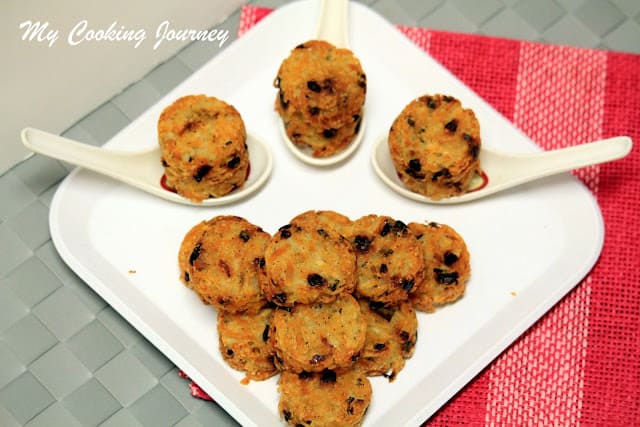 Ingredients to make Hash Brown Cups – (makes 20 mini hash browns)
Shredded potatoes – 3 cups (frozen or freshly shredded russet potatoes)
Spring onions – 3 or 4
Parmesan cheese (grated) – 1/3 cup
Salt – to taste
Black pepper powder – as needed
Olive oil -2 tbsp plus more to grease the muffin tins
Procedure to make Hash Brown Cups –
Preheat the oven to 350 F.
If using frozen potatoes, thaw it, squeeze the extra water out and measure the potatoes. If using fresh ones, wash and peel the russet potatoes. Shred the potatoes and measure.
Add the finely chopped spring onions along with the seasonings and cheese and mix gently using a fork or hands.
Grease the muffin tins. I made them in mini muffin tins, but you can use the regular muffin tin as well. Place a heaped tablespoon (for mini muffin tin) of the potato mixture in each cup.
Press down gently with the back of a spoon and bake in a preheated oven for about 50 – 60 minutes.
Once the hash browns have browned well in the bottom and the sides, remove from the oven and let it sit for about 5 minutes. Gently ease the potatoes from the tins and serve them with the brown side up.
Check out the Blogging Marathon page for the other Blogging Marathoners doing BM# 53