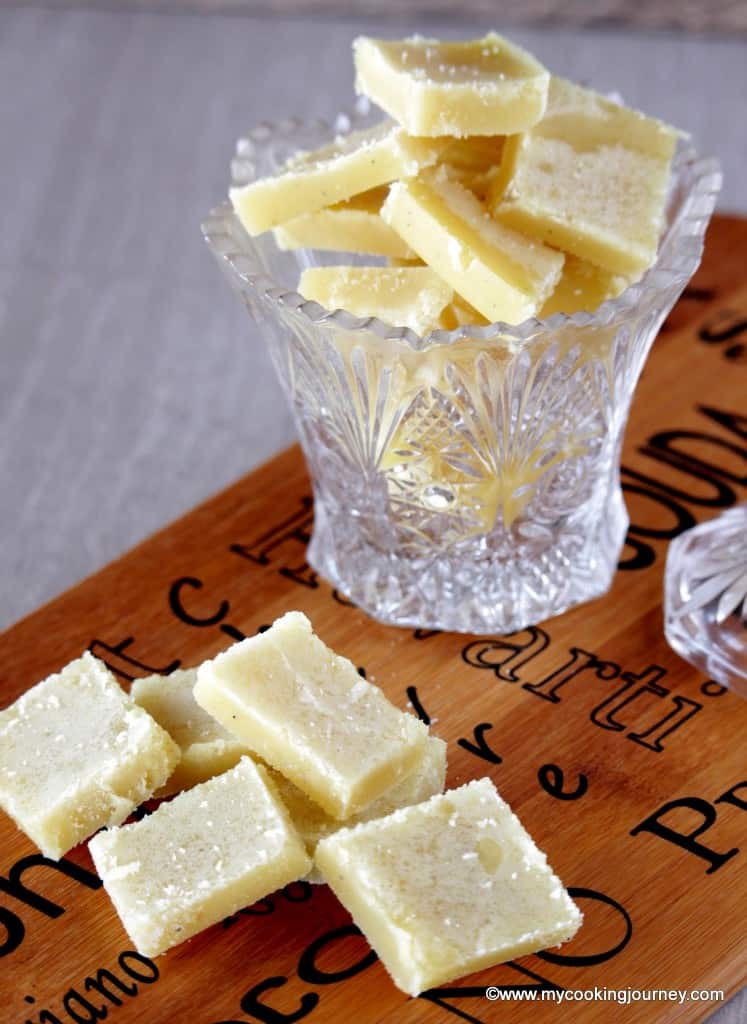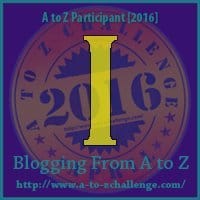 Inji marappa or ginger candy is a very famous road side candy that is very common in Tamil Nadu. Many times when traveling on long distance bus, you hear the vendors see these candies. I was never a fan of the ginger candy and as a child never wanted to even touch it with my hands. My grandmother and mother would always insist how it settles down the stomach when we are traveling and how good it is for us. None of that mattered those days and I just wanted nothing with it.
When thinking of recipes to make for the alphabet I, I decided that I wanted to make something with ginger / inji. I was thinking on lines of ginger pickle, but when looking online I saw this recipe on Gayathri's blog and I talked to my husband about it. He immediately said that he loves ginger candy and always has and he said that it was ages since he had eaten any. So now that I knew I had a sure candidate in the house who would eat the inji murappa, I finalized it for the alphabet.
Soon after, one day when I was chatting with few ladies in the Tamil class, one of them had a bag of ginger candy and offered it to us. When I asked her where she had bought it, she mentioned that our local farmers market carried them. That candy though had chunks of ginger in it and I was not too fond of having a ginger piece in my mouth.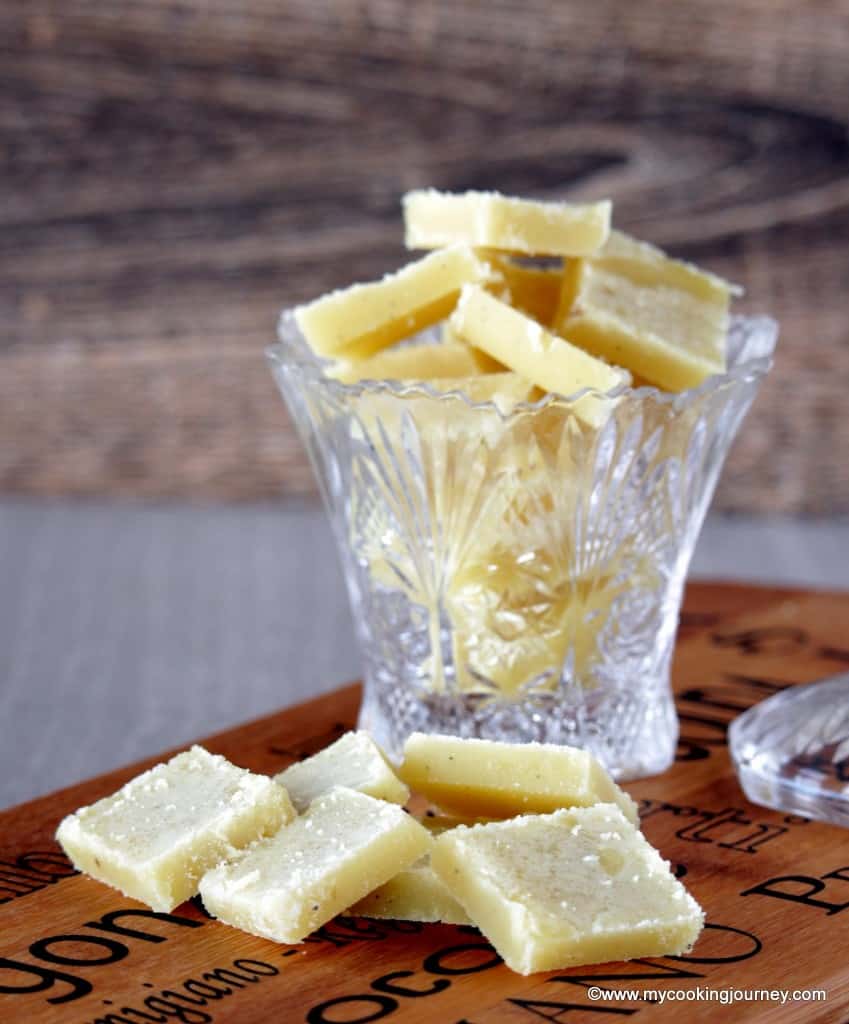 That is when I really decided that Gayathri's method of making this ginger candy would work for us as she had used ginger juice to make the candy and not ginger pieces. Making it was a breeze and it was ready in less 30 minutes. The texture of the home made ginger candy is far better than the ones that we get in the stores.
When choosing ginger, make sure you find tender ones. Clean the ginger well and scrape the skin entirely before grinding it. Ginger is a root and it can have lot of dirt and hence it important to clean it well. If preferred, you could use raw sugar instead of white sugar to make it healthier. I was not thinking that far ahead and I just used white sugar this time. Next time though, I will be using raw sugar to make this.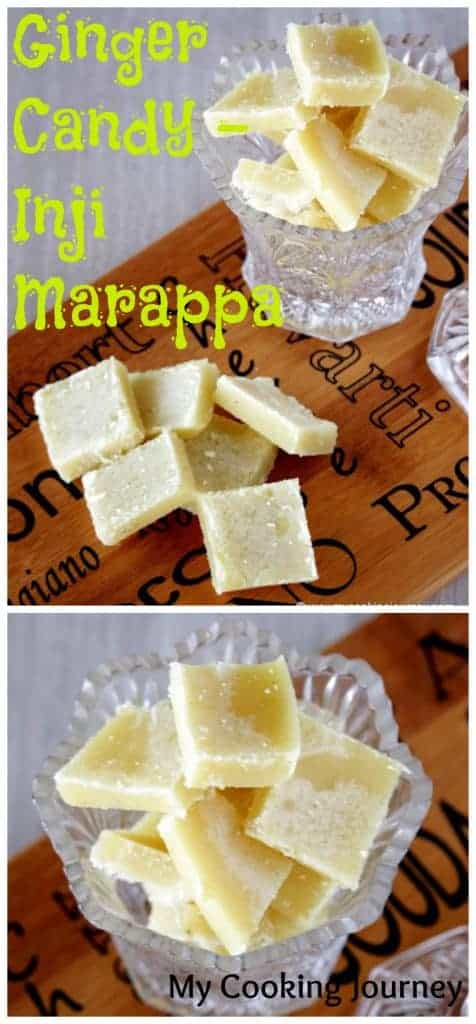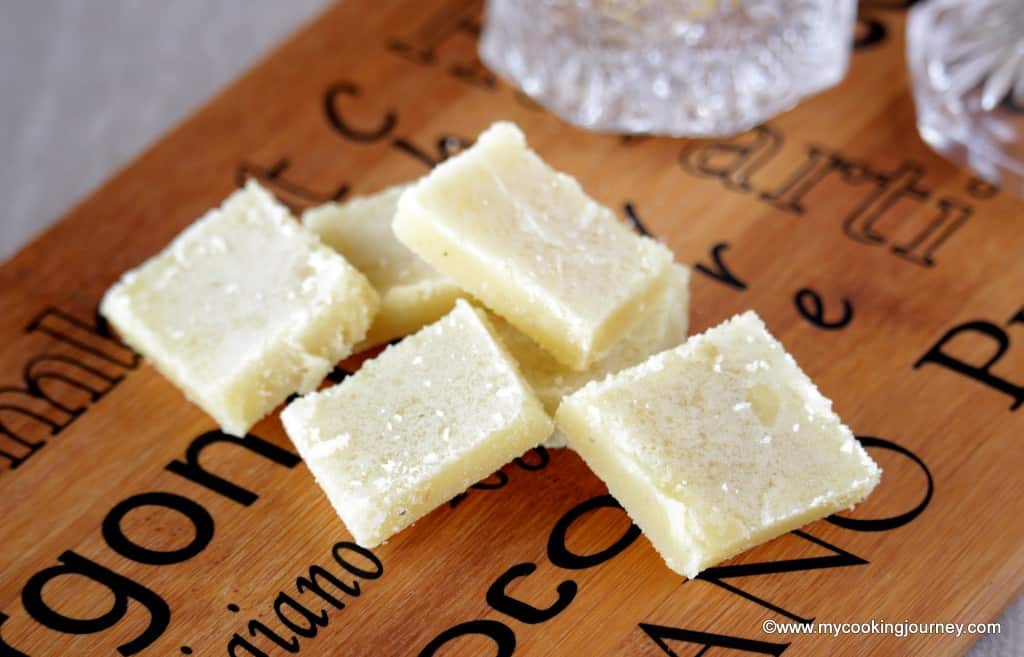 Preparation time – 10 minutes plus 30 minutes resting time
Cooking time – 20 minutes
Difficulty level – easy
Recipe adapted from – Gayathri's Cook Spot
Ingredients to make Inji Marappa – (makes about 20 small pieces)
Ginger – 150 gms (select tender ginger roots)
Sugar – 1 ¼ cups
All purpose flour – about 3 tbsp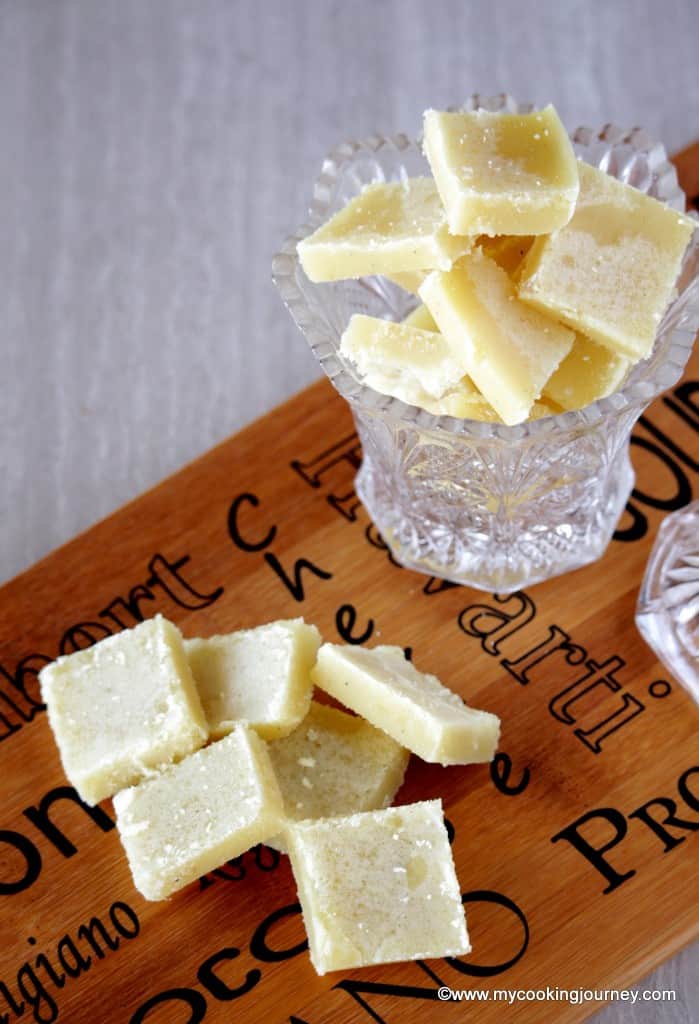 Procedure to make Inji Marappa –
Clean the ginger well and scrape the skin. Chop the ginger into 1 inch pieces.
 Then use about half a cup of water and grind the ginger into a smooth paste. Strain the juice from the ginger using a fine mesh strainer.
Use about ¼ more cup of water and grind the ginger solids again and strain once again. Squeeze the ginger well and take out as much a juice as possible. Discard the solid part.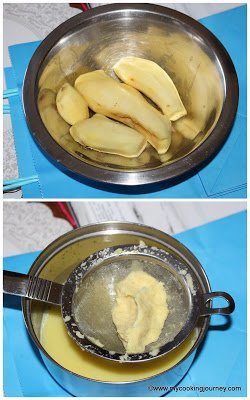 Keep the strained juice, undisturbed for about 30 minutes.
Now slowly pour the juice into another bowl. You will notice a thick layer of white sediment in the bottom. Do not use that and just use the juice.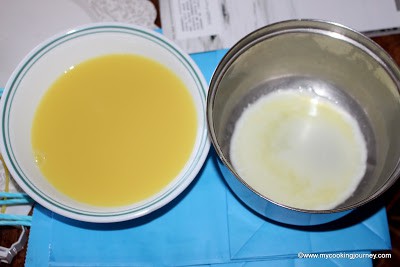 In a pan, add the sugar along with the ginger juice and heat it up. Bring it to a gentle boil. Keep cooking this mixture until the sugar syrup attains a two string consistency. This means that when you touch the syrup using your forefinger and thumb, it should form two threads between the two fingers.
Make sure that it forms more than one string, as that determines the texture of the candy. If you take it out too soon, the candy will be like burfi and soft in texture. If you let it go further beyond too much it will be too hard. If I was doing a mistake in the recipe consistency, I would rather let it go beyond in consistency than under.
Now add the flour to the sugar syrup and mix it well so that there are no lumps. Now cook for one minute, stirring well and then turn off the flame.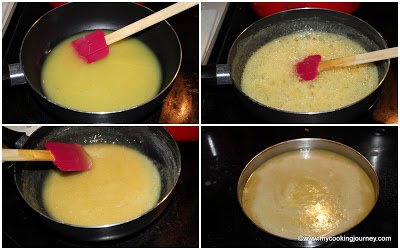 Grease a plate well with ghee and pour the mixture into the greases plate. Leave it aside for few minutes and when it has partially set, use a sharp knife to cut the candy. If you don't do it when it is still warm, it might become too hard to make clear cuts.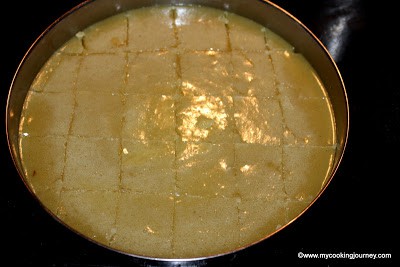 Let it cool down completely and then remove the candy from the plate and store in an air tight container.
Check out the Blogging Marathon page for the other Blogging Marathoners doing BM# 63