Koshari or Kushari is a very popular Egyptian Street Food that is made with Rice, lentils
and Pasta which is then topped with a spicy tomato sauce and caramelized onions.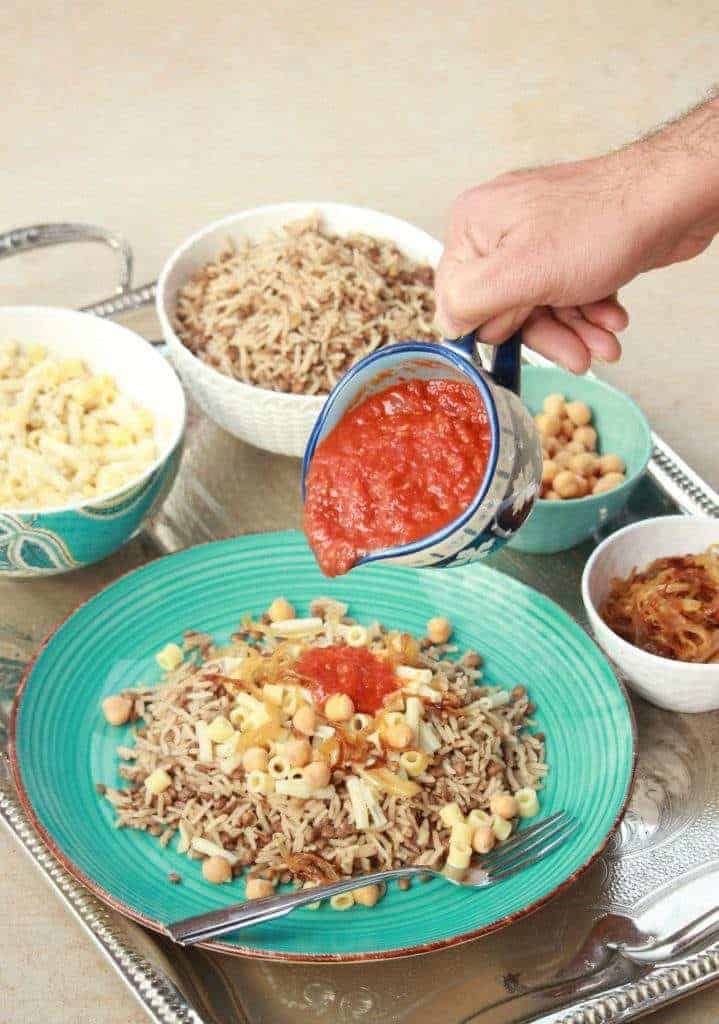 Koshari or Kushari is a very popular Egyptian dish made of rice and lentil, served with a spicy tomato sauce and caramelized onions. We first ate this dish in one of the local Middle Eastern restaurant. I was amazed to find many vegetarian dishes on their menu and this one in particular caught my eye. I have never eaten a dish that has the rice and also the pasta. Once we ordered it we fell in love with it. The dish was layers and layers of flavors. I tried to mimic the flavors that I ate in the restaurant and came up with this recipe. If you are looking for a one pot meal, this one sure should make your list.
I also want to share a little bit of information that I found about the history and origination of this dish. Koshari originated in the mid 19th century, during when Egypt was a multi cultural country and was economically a developing country. Lower class people's pantry which is usually very limited, at the end of the month, always has little of many different ingredients like rice, lentils, pasta, tomato sauce, garlic and onions.
Someone came up with the idea of putting all these ingredients together in one dish and thus originated the Koshari, which eventually became very famous among the laborers and the working class people. It is often found as a street side food apart from also being made at home. This dish is usually entirely vegetarian.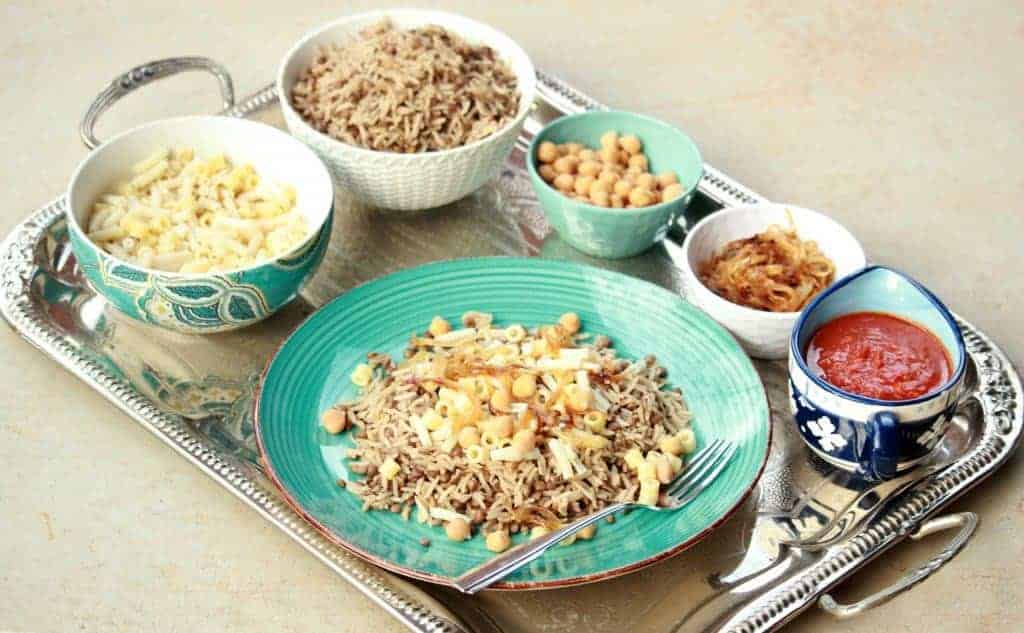 I have made this dish with regular masoor dal (orange lentil) and have seen that it cooks a little too soft for my liking. Lately I have been using whole masoor dal with skin and it works perfect. This is the perfect lentil to use for the dish. The restaurant I ate this first at has a very spicy tomato sauce. I make mine spicy as well but to the extent that the boys can eat it and enjoy.
Caramelized onion is very vital for the dish and hence make sure you make them. It is a time consuming process to make the caramelized onion, but the sweetness from the onion is just delicious in the dish. Make sure you make enough as people will definitely come for more onion.

Also check out my other Middle Eastern recipes – 
Preparation time – 20 mins
Cooking time – 1 hr
Difficulty level – easy
Ingredients to make Koshari / Kushari – (serves 4)
To make Koshari –
Rice – 1 cup
Lentils (brown) – ¾ cup (I used Masoor dal with skin)
Elbow pasta or any small pasta – ¾ cup
Onions – 2 large (thinly sliced)
Cumin powder – ½ tsp
Nutmeg powder – ¼ tsp
Oil – 4 tbsp
Salt – to taste
To make the tomato sauce –
Tomato sauce – 1 can (15 oz)
Onion – 1 small (chopped finely)
Garlic – 2 cloves (finely minced)
Cumin powder – 1 ½ tsp
Cinnamon – ½ tsp
All spice – ¼ tsp
Nutmeg – ½ tsp
Red chili powder – 2 tsp (or adjust based on your spiciness level)
Vinegar – 2 tbsp
Salt – to taste
To serve –
Caramelized onions
Boiled chickpeas – 1 cup (optional)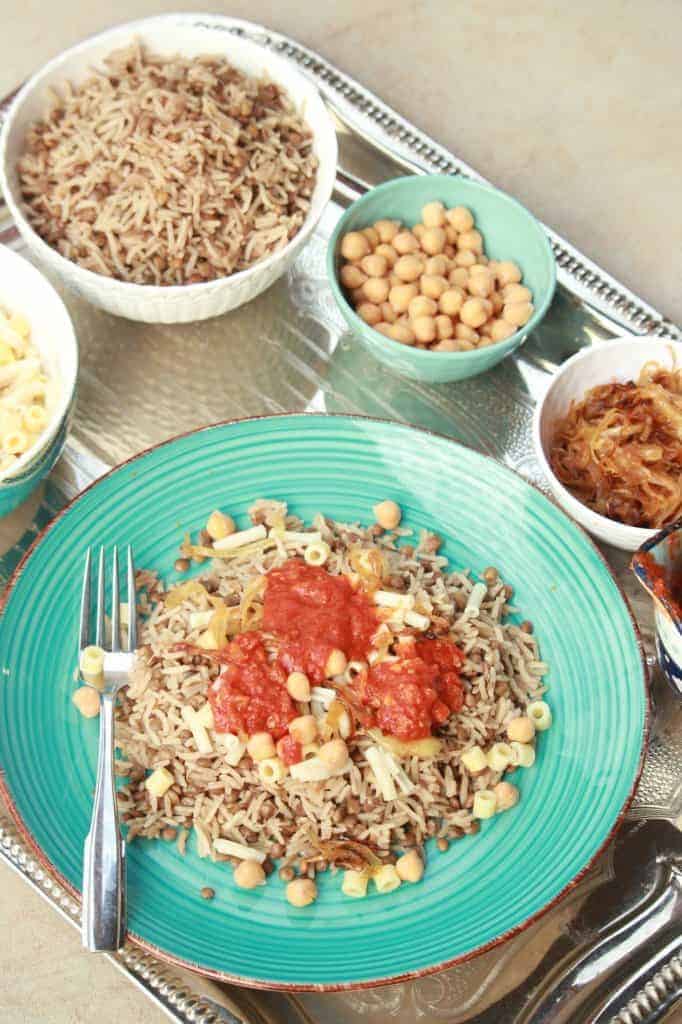 Procedure to make Koshari / Kushari –
Heat a wide pan and add about 3 tbsp of oil. Sauté the onions until well caramelized and dark brown.
Remove almost 3/4th of the caramelized onions and drain it on a paper towel and keep aside.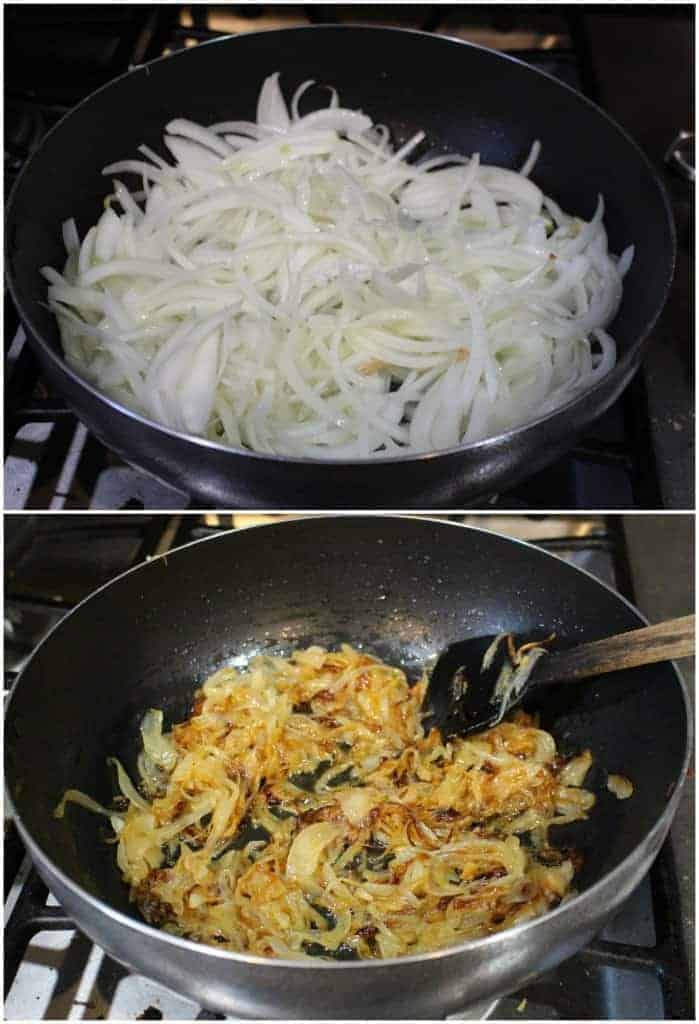 To the remaining onions in the pan, add about 3 cups of water and bring it to boil.
To this add the washed and drained lentils.
Once the lentils are ½ way done, add the rinsed and drained rice.
Add the cumin powder and nutmeg powder to the boiling rice and lentil along with salt.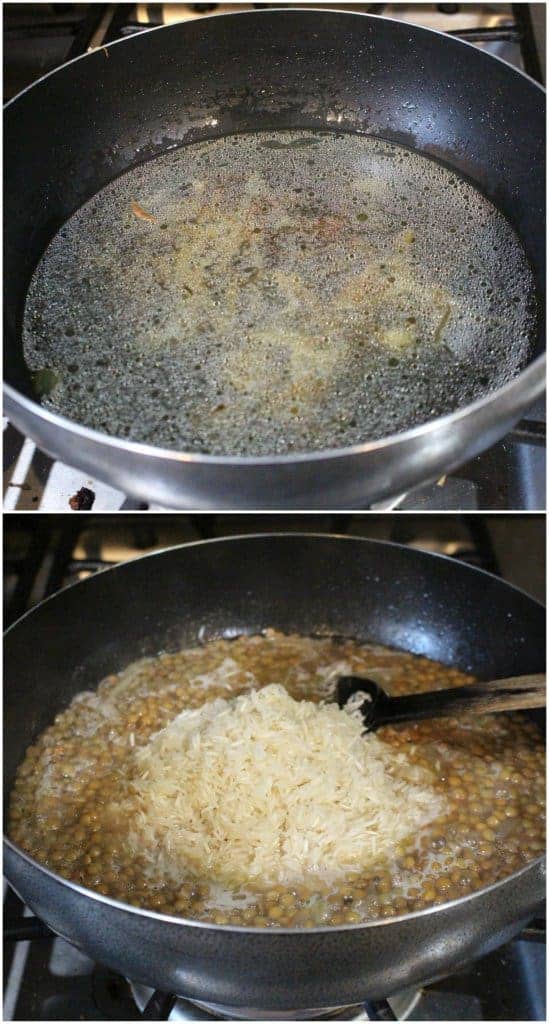 Cook them until done (about 30 mins). Keep aside.
In another pan boil about 3 cups of water and cook the elbow pasta until al dente. Drain and keep it aside.
To make the sauce –
Heat a pan with about a tbsp of oil. Add the chopped onion to it and sauté until translucent.
Now add the garlic and sauté for 2 more mins.
To this add the vinegar and bring it to a boil. Once the vinegar boils, add the canned tomato sauce along with salt and rest of the seasonings.
Let the sauce boil and then simmer and reduce until it is thick (about 20 mins).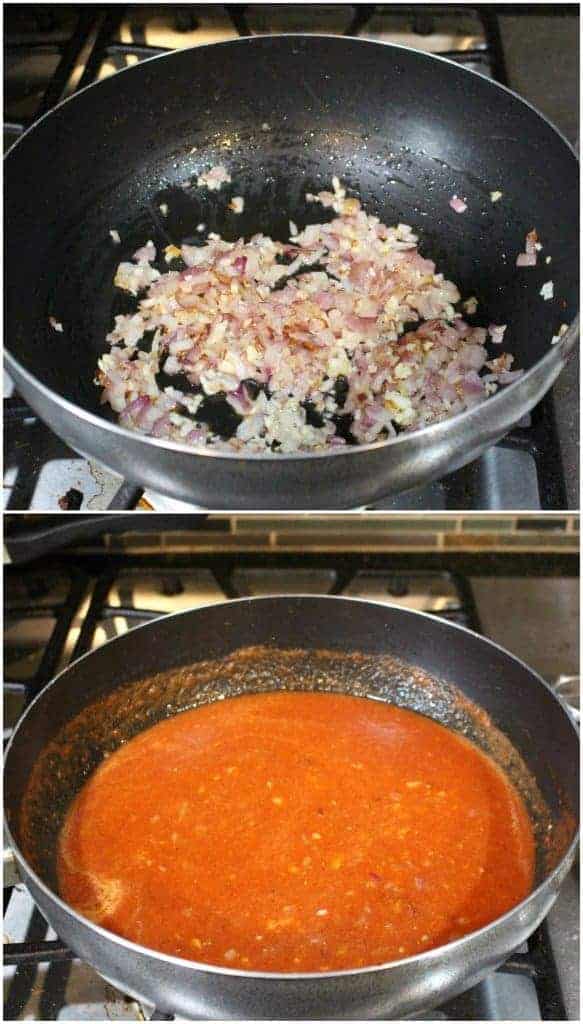 To assemble –
Layer the rice and lentil on the bottom of the plate.
Then add a layer of pasta.
Add a layer of spicy tomato sauce.
Top with caramelized onions and boiled chickpeas.
Scoop a big spoonful of everything together and enjoy this tasty and delicious dish!!!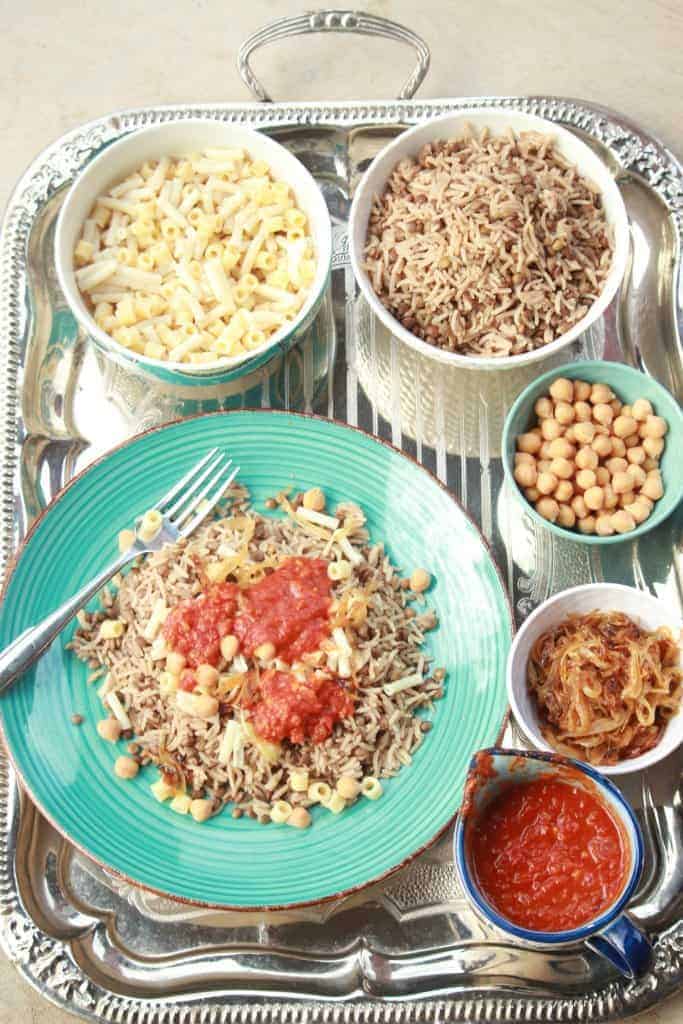 Check out the Blogging Marathon page for the other Blogging Marathoners doing this BM#83