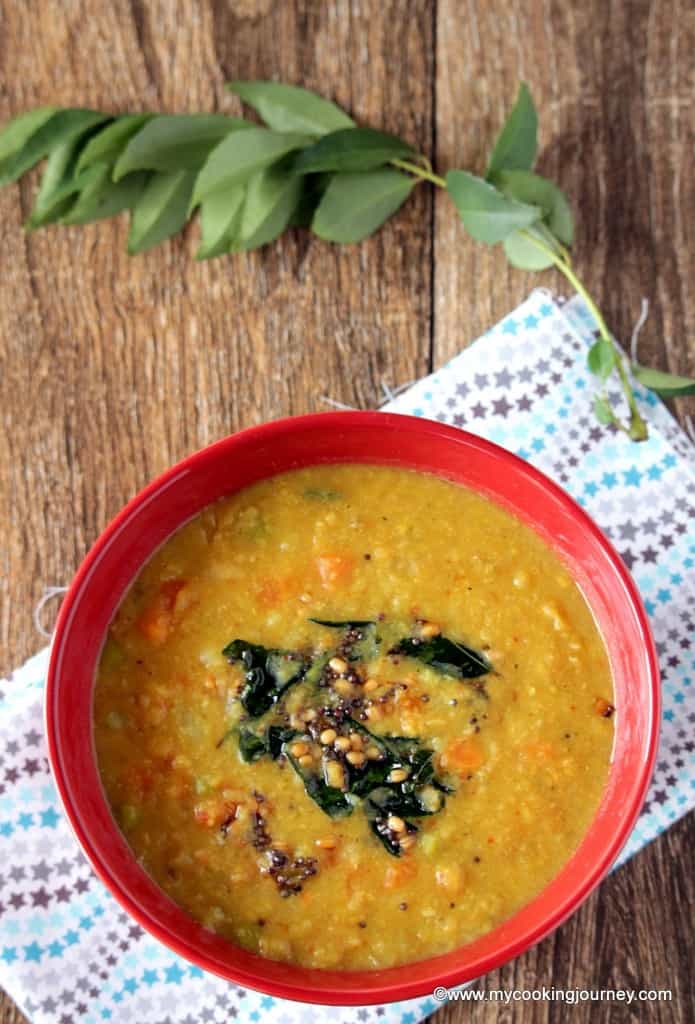 I love Poricha kuzhambu and the most frequent vegetable that I use is podalangai (snake gourd). Recently after marriage, I made a recipe note book in which I wrote all the recipes given by my mother. They are written so beautifully by me and I can't believe I had that kind of hand writing back in my early (read very early) twenties. Now when I write recipes, I make sure to re-read it right away as there are instances when I come back to it in few days and I can't understand what I wrote.

Amma had a different set of ingredients to grind when making poricha kuzhambu with just one vegetable and when doing it with mixed vegetables. I already have podalangai (snake gourd) poricha kuzhambu recipe in the blog, so thought I will also write about the mixed vegetable Kootu.
Amma usually plans to make idli or dosai on the nights when she makes poricha kuzhambu as they pair really well. I really like the mixed vegetable version as I can use any leftover vegetable I have in the refrigerator.
Preparation time – 10 minutes
Cooking time – 30 minutes
Difficulty level – easy
Ingredients to make Mixed Vegetable Poricha Kuzhambu – serve 4
Potato – 2 medium (chopped finely)
Carrot – 2 (chopped finely)
Cabbage – 1 cup (chopped)
Peas – ½ cup
Tuvaram paruppu / Toor Dal – ½ cup
Sambhar powder – ½ tsp
Turmeric powder – ½ tsp
Salt – to taste
To fry and grind –
Oil – 2 tsp
Ullutham paruppu / urad dal – 2 tbsp
Red chili – 4
Black pepper corn – 1 tsp
Cumin seeds – 1 tsp
Coconut – ½ cup (grated)
To season –
Oil (preferably coconut oil) – 2 tsp
Mustard seeds – 1 tsp
Ullutham paruppu / urad dal – 2 tsp
Curry leaves – few
Asafetida – 1/8th tsp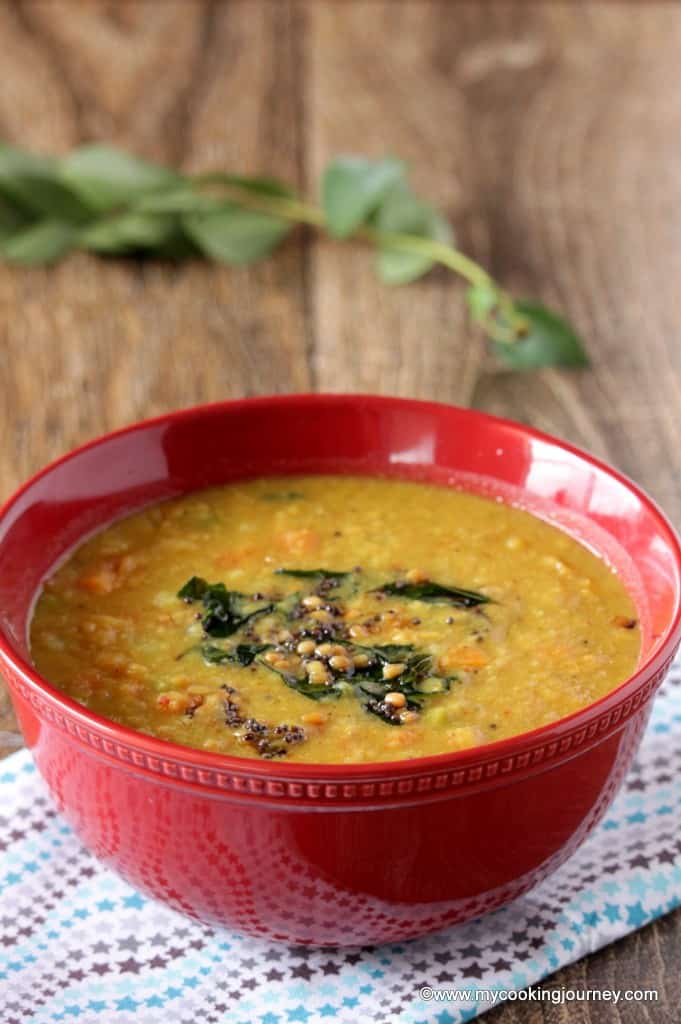 Procedure to make Mixed Vegetable Poricha Kuzhambu –
Wash and cook the toor dal until soft and mushy. Keep it aside.
Chop all the vegetables and place them in a pot. Add enough water to cover the vegetables.
Then add the turmeric powder and sambhar powder and cook until the vegetables are soft.
Add salt and let it cook for about 5 more minutes.
In the meantime, fry all the ingredients mentioned under the table and grind it to a smooth paste when it cools down.
Once the vegetables are cooked, add the ground paste along with the cooked toor dal and mix well. Adjust the consistency of the kootu based on your preference.
Let it simmer for about 5 to 7 minutes.
Fry the seasonings in coconut oil and add it to the kootu.
Serve with rice, idli, dosai or chapatti.