This is one the accompaniments that I looks forward to sip one when I go to Indian restaurants. We usually choose to go only for buffets when eating at an Indian restaurant. The aroma of this soup just is so inviting that you have to take a sip before proceeding further. This soup is very close to (almost like) South Indian Rasam, but yet there is something in there, that is different. When browsing through the internet for this soup, I came across many versions that were heavy on lentils or vegetables. I was looking for the recipe that was really spicy and almost rasam like.
The whole house smelled heavenly when the rasam, err the soup was boiling. My 4 year old came around and asked me, Amma are you making jeera rasam. It is very close to the Milagu jeera rasam that we make, but had a little bit of shallot and garlic in it. I adapted this recipe from Mallika Badrinath's book and added my own touch of ingredients as I went.
I had just made this soup and bread for dinner and was worried what if my little one does not like it. The minute he asked me if I was making jeera rasam, I kept a little bit of rice and thought that would feed him rasam rice with the soup, if he does not drink it as a soup. It did happen like that and the rice came in handy. The rasam was a little too spicy for him, but he enjoyed it with rice and yogurt.
Preparation time – 10 minutes
Cooking time – 20 minutes
Difficulty level – easy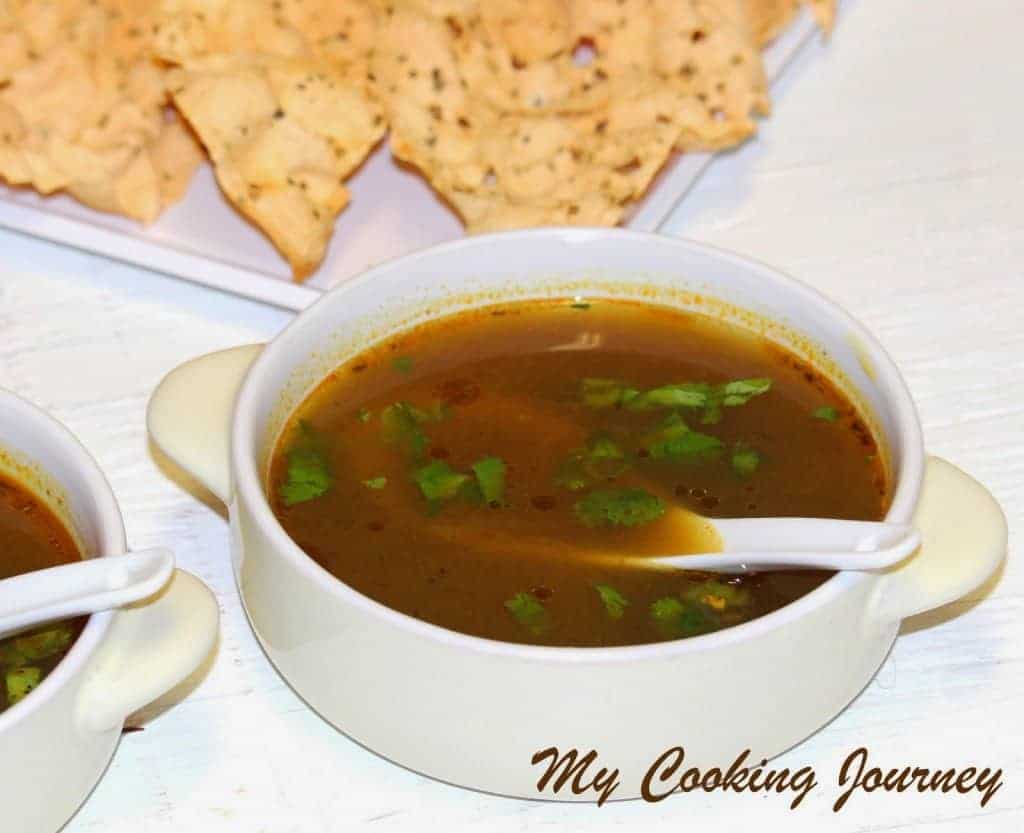 Ingredients – serves 4
Tamarind – small lime size
Water – 5 cups
Garlic – 3 cloves
Shallot – 1
Mint leaves – about 10 to 15
Curry leaves – about 10
Coriander seeds – 2 tsp
Cumin seeds – 1 tsp
Pepper – 1 tsp
Red chilies – 2
Asafetida – a pinch
Turmeric powder – ½ tsp
Salt – as needed
Cilantro – a handful (finely chopped)
Ghee – 1 tsp plus more when serving
Procedure –
Soak the tamarind in about 2 cups of hot water. Extract the juice and then add 2 more cups of water and extract the juice again. Add one more cup of water and do the same.
In a small pan heat about ½ tsp of ghee. Gently fry coriander seeds, cumin, and red chilies until they are light brown. Now add the shallot, garlic and fry for a minute more. Turn off the flame and then add the curly leaves and the mint leaves. Mix once and let the mixture cool down a bit. Now grind it to a coarse mixture and keep aside.
Place the tamarind water in a soup pot and add salt, turmeric powder and asafetida. Bring it to a boil and then add the ground mixture.
Let it come to a boil again and then simmer for about 5-7 minutes.
Add the cilantro and a little bit of ghee and cover the pot.
Serve it hot with a small dollop of ghee and some appalam/papad on side.