20th Sept, 2011
The schools are open and the need for snacks is more than ever. This is an all time favorite Indian snack that is sure to satisfy every age group child in your family. My 18 month old loves to eat something crunchy. This recipe guarantees crunchy and smooth thenkuzhal. Thanks to my Husband's aunt (lalitha Mami) for sharing this recipe o. With Navarathri around the corner, this would work very well as a snack to be served or packed for your guest.
Preparation time – 15 mins
Cooking time – 30 mins
Difficulty level – easy
Ingredients – (makes around 20 -25 medium Thenkuzhal)
Rice flour – 2 ¼ cup
Moong dal (Payatham Paruppu) – little over ½ a cup
Channa dal (kadalai Paruppu) – little less than ½ a cup
Butter – ½ stick or around 4 tblsp
White sesame seeds (Ellu) – 2 tsp
Asafetida – ½ tsp
Chili powder – 1 -2 tsp (Depending on how hot you want it)
Salt – to taste
Vegetable oil or sunflower oil – for frying
Thenkuzhal achu
Procedure –
Fry both the dal separately without adding any oil until it is golden brown. Let it cool down to room temperature and then grind them together into smooth powder. Sieve the flour, measure and then keep aside.
For 2 ¼ cup of rice flour, you need 1 cup of the ground dal powder. Measure out the flours and then add the rest of the ingredients and add just enough water to make it into smooth dough.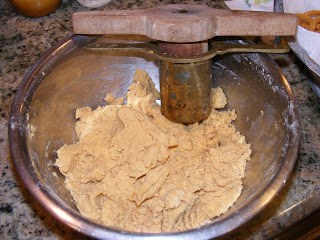 Place a handful of dough into the thenkuzhal achu and fry the thenkuzhal in the oil until golden brown. Drain in a paper towel and once they cool down to room temperature, store them in an airtight container. It can be stored for at least 2-3 weeks.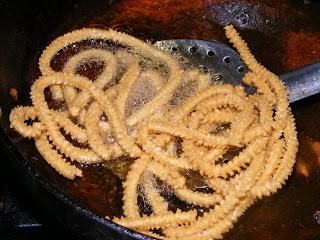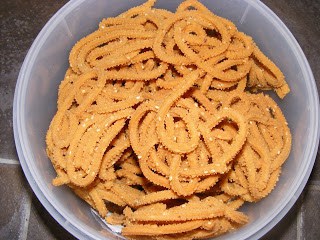 Notes and tips –
When frying the dal, I usually fry twice the quantity, take out the needed and then store the remaining dal powder in the freezer. This way it is very easy to make it the next time.
Happy Snacking !!!