On school days we have snack once or maybe twice a day. On vacation days, we have snacks every hour from the time we wake up until we get back to bed. It is quite challenging to feed them with healthy snacks as we are filling our tummies mostly with snack.
When looking for ideas to make something different, I came across this recipe here and made it right away. It took me 10 minutes to make this and couple of hours to set in the refrigerator. The boys had fun measuring out the ingredients and mixing and licking as they helped me make the peanut butter bars.
This peanut butter bar is also a wonderful recipe to use up any leftover cereals in the pantry. We are big time cereal eaters and at any given time, have about 6 or 7 varieties of cereal. Some are hit and some are flop. This recipe is a great way to use up those flop cereals. I used rice krispies cereal to make this bar, but you could use any kind of cereal that you have in pantry.
Preparation time – 10 minutes
Cooking time – none
Difficulty level – Easy
Recipe adapted from – Smiling Notes
Ingredients to make No Bake Peanut Butter Cereal Bar – Makes 12 small bars
Cereal – 2 cups (I used Rice krispies)
Peanut butter – ½ cup (smooth)
Chocolate chips – 2 tbsp + 2 tbsp
Honey – 2 tbsp
Almonds – ½ cup (coarsely chopped)
Coconut flakes – for garnish
Procedure to make No Bake Peanut Butter Cereal Bar –
In a large bowl, combine the cereal, chopped almonds and 2 tbsp of chocolate chips.
In a microwave safe bowl, add the peanut butter, honey and the remaining 2 tbsp of chocolate chips. Microwave on high for 1 to 2 minutes, stirring once in between until they are melted.
Add the peanut butter mixture to the cereal bowl and mix gently with a spatula.
Transfer this to a lightly greased 8 x 4 pan and press it down firmly. Garnish with grated coconut and let it set in the refrigerator for couple of hours before slicing.
Cut them into bars and serve. I kept mine in the refrigerator as the weather is quite warm here. In cooler temperatures, the bars can be stored outside.
Pin it here –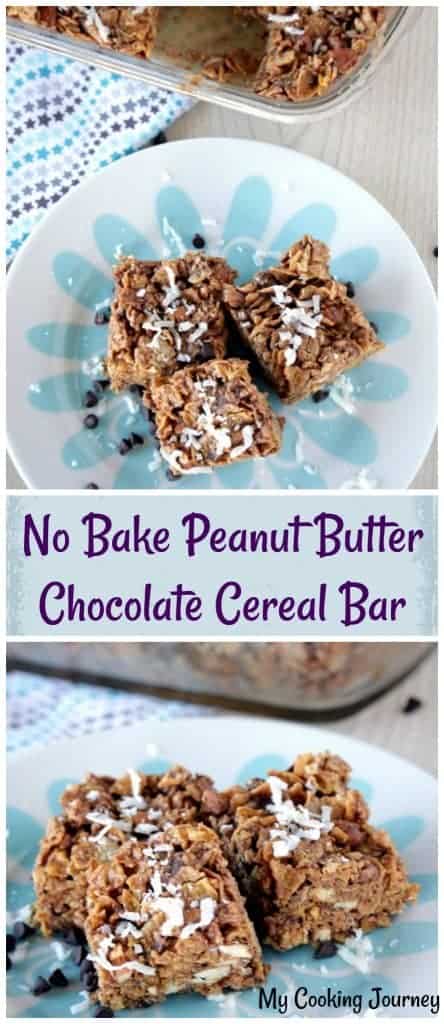 Check out the Blogging Marathon page for the other Blogging Marathoners doing this BM#62