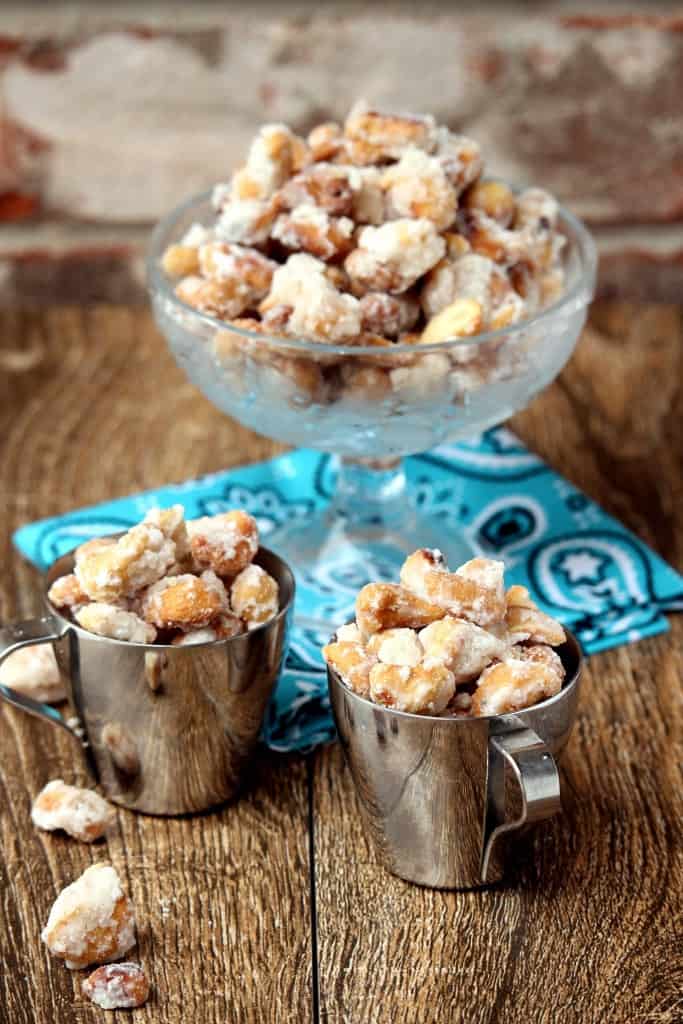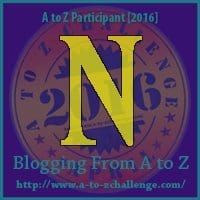 This month's marathon has helped me learn the names of the traditional Tamil Nadu dishes that I have eaten in the past but never knew what they were called. This particular one, for example, is something I have seen a lot inside the paruppu thengai koodu (the traditional cone) in weddings and functions, but never knew that it had a different name when made as a snack of its own. My husband absolutely loves this Cashew nut Nokkal and whenever amma goes to a function and sees this as a sweet in paruppu thengai koodu, she would make sure to get some for him.
I clearly remember that she made this cone when she came from India for our seemantham. We did not eat this after that. When looking through Meenakshi Ammal's book for recipe, I came across this name Nokkal and out of curiosity went in to see. So there are two kinds of Nokkal. One is called the sugar Nokkal, which is made out of sev made from kadalai maavu (besan), kind of like manoharam, but made with sugar instead of jaggery.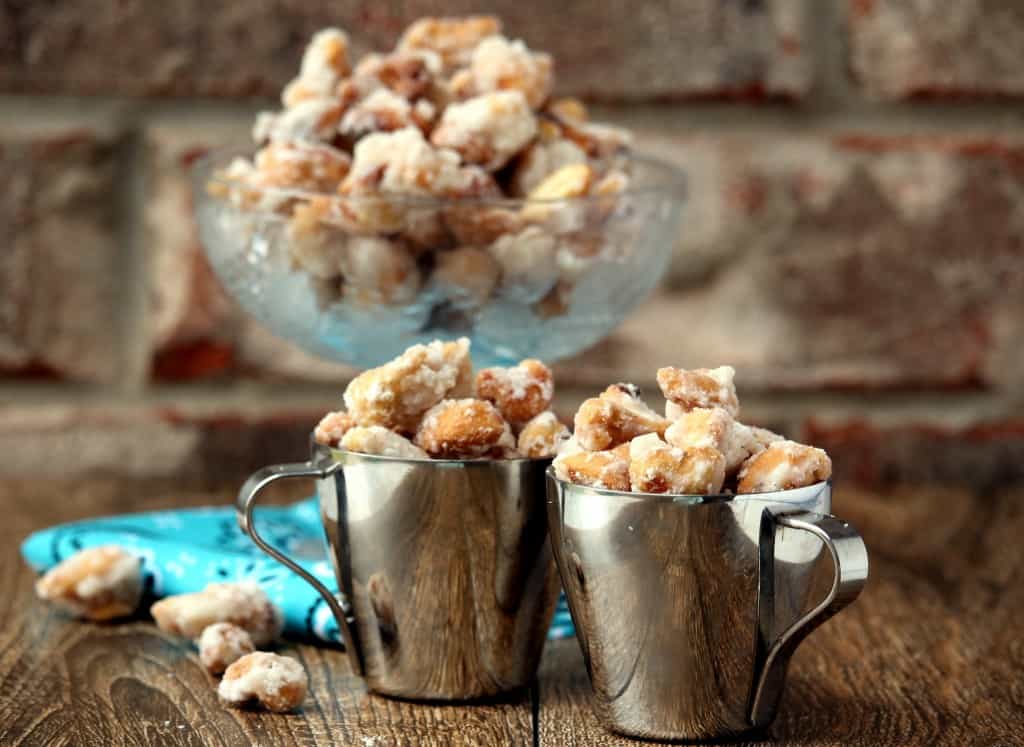 The other kind is the cashew nut Nokkal that is made with cashew nuts and sugar. The recipe was so simple and it was ready in absolutely no time. I also bought some roasted unsalted cashew nuts and that made the process even easier. If making with raw cashews, we just have to fry the cashews in ghee until golden brown. The recipe in the book suggests to deep fry the cashews. We can just use couple of teaspoons if ghee and pan fry the cashews. Only thing to remember is to entirely cool down the roasted cashews or else the end product would become soggy instead of crunchy.
My other recipes from this series –
A – Athirasam
B – Badam Burfi
C – Chettinad Masala Cheeyam
D – Dosai Milagai Podi
E – Ellu Urundai
F – Fruit Kesari
G – Godhumai Rava Pidi Kozhukattai
H – Homemade Rice flour
I – Inji Marappa 
J – Jevvarisi Thengai Paal Payasam
K – Kancheepuram Idli
L – Lemon Pickle
M – Manapparai Murukku
Preparation time – 5 minutes
Cooking time – 20 minutes
Difficulty level – easy
Recipe adapted from – Cook and See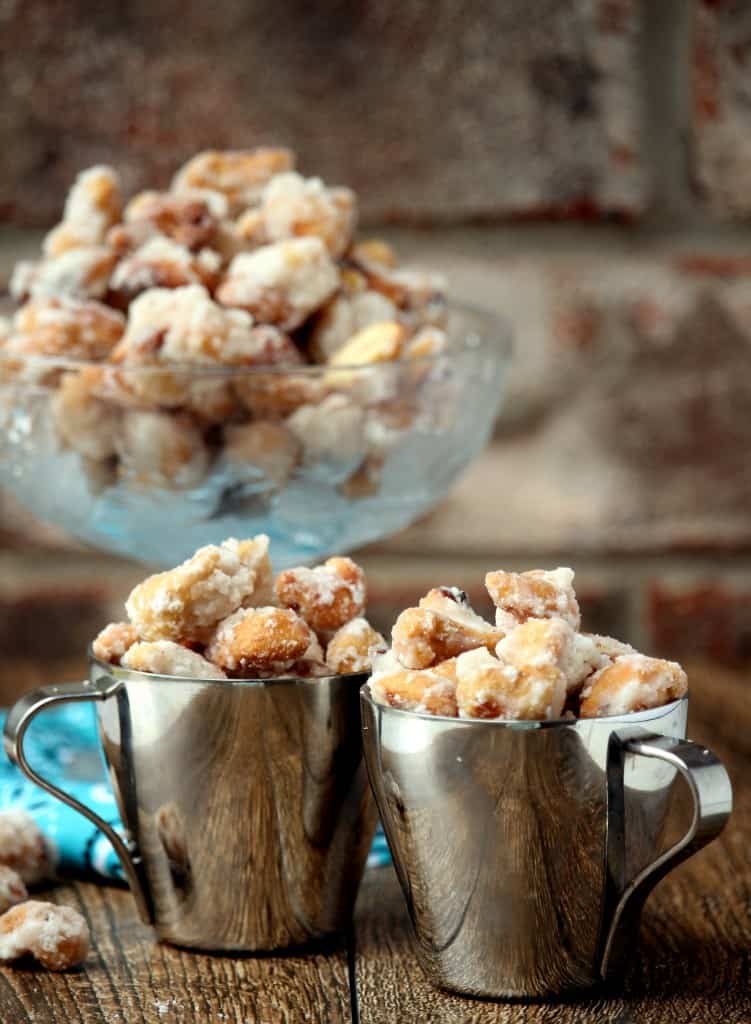 Ingredients to make Cashew Nut Nokkal –
Whole Cashew Nuts – 1 cup (1 measure)
Sugar – 1 cup (1 measure)
Cardamom powder – ½ tsp
Nei / Ghee – 2 tsp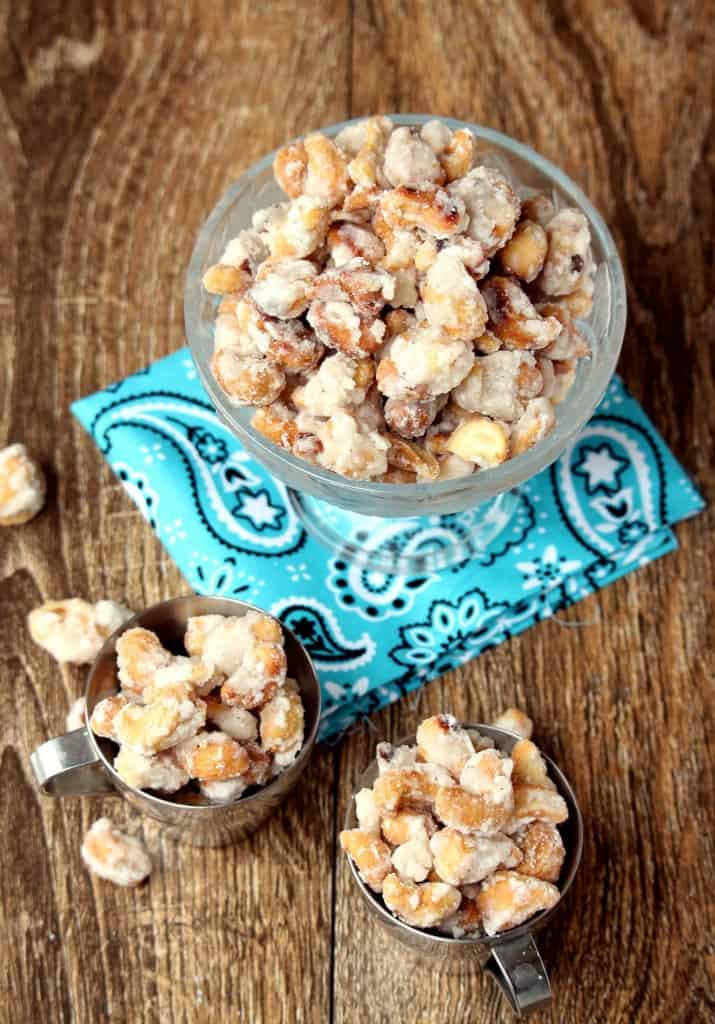 Procedure to make Cashew Nut Nokkal –
Fry the cashew nuts in batches in ghee until golden brown. I used roasted unsalted cashew nuts and hence just used a little ghee to fry the cashews until warm and aromatic. If using raw cashew nuts, make sure you fry the cashews until golden brown. Drain the roasted cashews and keep it aside until it has completely cooled down.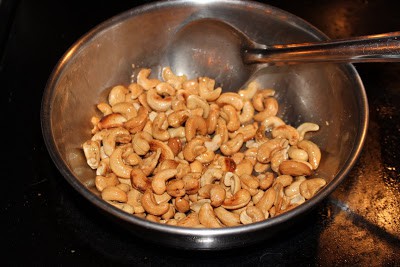 Once the cashews have cooled down, heat the sugar with just enough water to immerse. Boil the sugar until it reaches one string consistency. This is when you take a drop of syrup in between your index finger and thumb and it forms a single thread when stretched.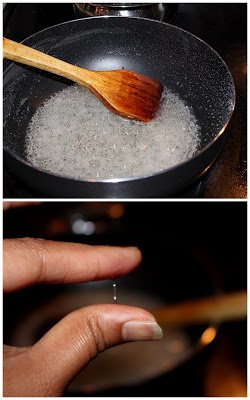 At this stage, add the cardamom powder followed by fried and cooled cashew nut. Turn off the heat.
With a wooden handle keep stirring the mixture, gently without breaking the nuts. This step is very important as it helps the sugar syrup to coat the nuts evenly when cooling down. If you do not stir, the sugar will solidify and settle in the bottom and the nuts will not have the coating over it.
Keep stirring for about 10 minutes and by them all the nuts would have been coated evenly with the sugar. Now keep the nuts separated in the pan or on a plate and let it cool down completely. I have the pictorial showing how the syrup solidifies in the 10 minute duration.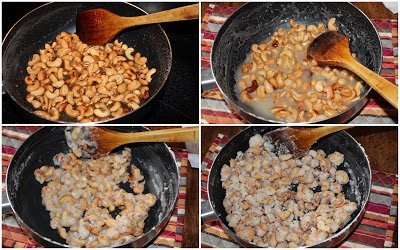 Store it an airtight container and enjoy!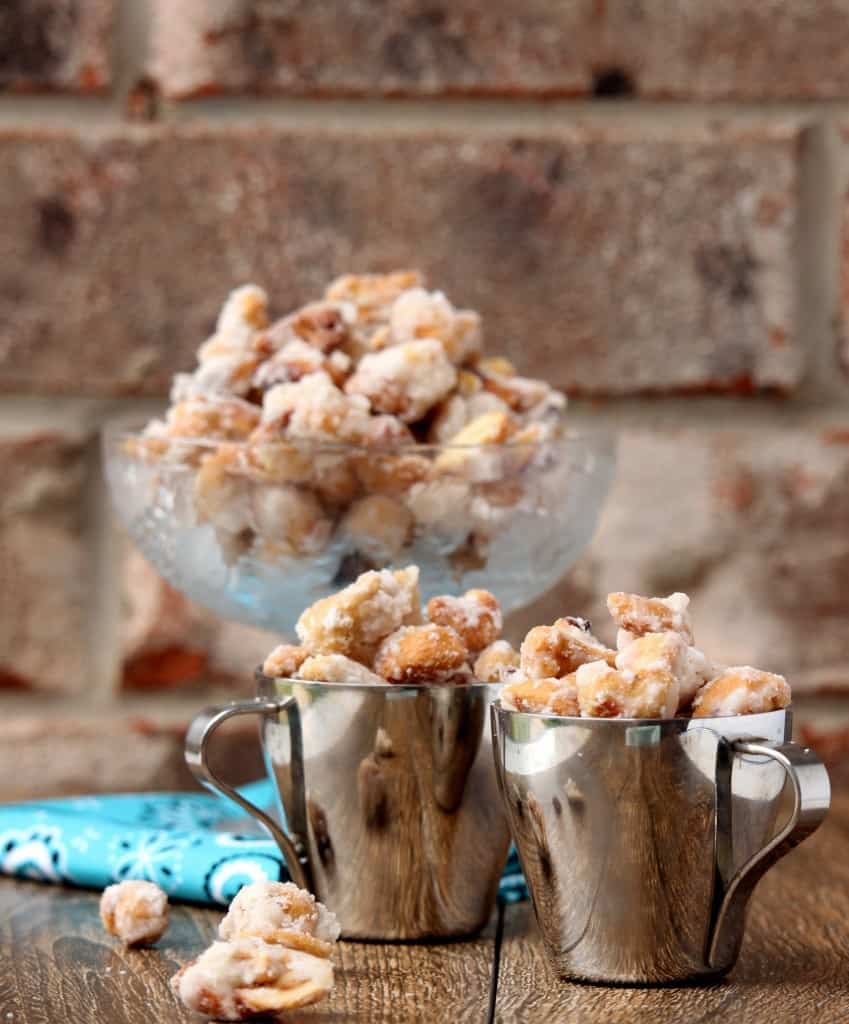 Check out the Blogging Marathon page for the other Blogging Marathoners doing BM# 63