My husband always orders oothappam/Uthappam when eating out at an Indian restaurant. I am more of a rava dosai person and that is what I end up ordering most of the time. Oothappam can be made with idli / dosai batter, but they don't turn up as fluffy and crispy as this batter. Amma always grinds a batch of oothappam batter when she grinds her regular idli batter and always insists me to do the same. Being as lazy as I am, I never got around to grinding mine until now.
This time, instead of making the oothappam with leftover batter, I made sure to grind the batter with my mother's given proportions and it indeed was a great success. The oothappams were very fluffy, porous and yet crispy on the outside. I kept it quite basic this time and used only onions as the topping, but you could get fancy using any vegetable of your choice as toppings.
Most of the times, the mistakes we do is making the oothappam with the leftover idli batter. When we do that with the leftover, the batter is already mixed few times and it loses all its airiness. When the batter does not have that fluffiness or airiness, it makes the oothappam flat and chewy. If you are planning on making the oothappams from idli batter, make sure you remove some batter separately to avoid over mixing.
My other recipes from this series –
A – Athirasam
B – Badam Burfi
C – Chettinad Masala Cheeyam
D – Dosai Milagai Podi
E – Ellu Urundai
F – Fruit Kesari
G – Godhumai Rava Pidi Kozhukattai
H – Homemade Rice flour
I – Inji Marappa 
J – Jevvarisi Thengai Paal Payasam
K – Kancheepuram Idli
L – Lemon Pickle
M – Manapparai Murukku
N – Nokkal
Preparation time – 10 minutes plus about 6 hours soaking time plus 24 hours fermenting time
Cooking time – about 3 minutes per oothappam
Difficulty level – easy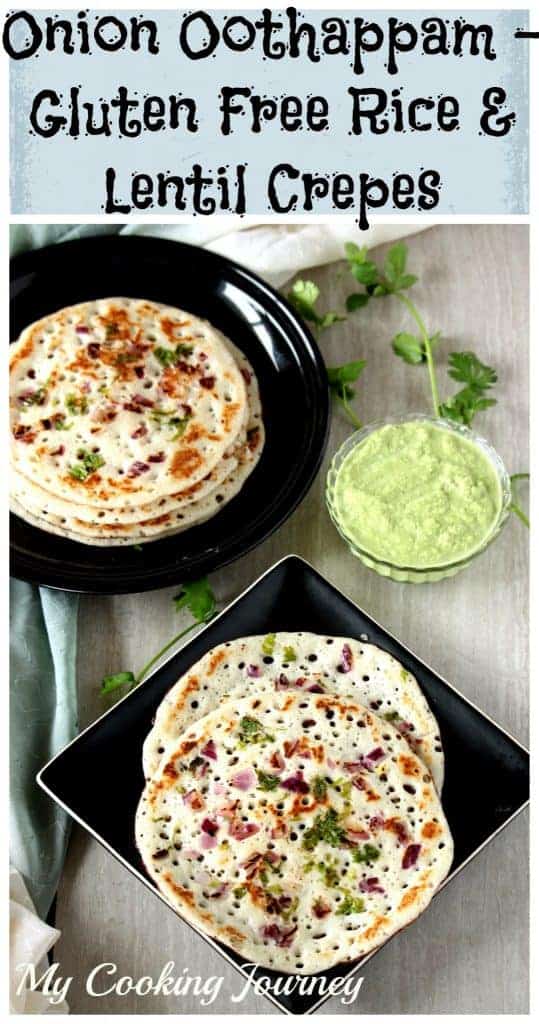 Ingredients – Makes about 15
For the Oothappam batter –
Raw rice / Pachai arisi – 1 cup (I used Sona Masoori)
Idli rice – 1 cup
Ullutham paruppu / Urad dal – ½ cup
Tuvaram paruppu / Toor dal – ¼ cup
Vendhayam / Methi seeds – 1 tbsp
Salt – to taste
For the Oothappam –
Onion – 1 cup (finely chopped)
Green chilies – as per taste (finely chopped)
Cilantro – finely chopped
Carrots – finely grated (optional, I did not use them)
Oil – to cook the oothappam (preferably sesame seed oil)
Procedure –
To make the batter –
Wash and soak the both the rice, both the dals and methi seeds in enough water for about 6 hours or overnight.
When ready to grind, drain most of the water and grind it in wet grinder to a smooth batter. Make sure that the batter is on the thicker side, like idli batter as that makes the oothappam fluffy and crisp. You could also grind the batter in blender in batches.
Remove the batter in a large container. Add salt needed and mix well using your hands. My mother always says that mixing the batter with hands help promote the fermentation process. Make sure that the container is at least twice as big as the amount of batter as the batter will double in volume when fermented. Depending on how warm it is, it might take anywhere from 12 to 24 hours for the batter to ferment. It took about 24 hours for mine to ferment.
To Make the Oothappam –
Chop the onions, green chilies and cilantro finely and keep it ready. Grate the carrots if using.
Mix the batter gently after fermentation. Don't over mix it as the oothappams will becomes hard.
Heat a griddle / tawa and pour couple of ladleful of batter. Spread it into a thick circle. Make sure that you spread the oothappam batter in a thick circle and don't make them thin. Also keep the flame in medium heat when making the oothappam as we want to allow them to cook on the inside as well.
Sprinkle the chopped onions, cilantro, green chilies and carrots evenly over the surface of the batter. Pour a spoonful of oil around the oothappam and let it cook for about a minute or until it is golden brown.
Carefully flip over and let it cook over on the other side until light brown.
Remove and serve hot with chutney and/or sambhar.
Check out the Blogging Marathon page for the other Blogging Marathoners doing BM# 63