2nd April, 2014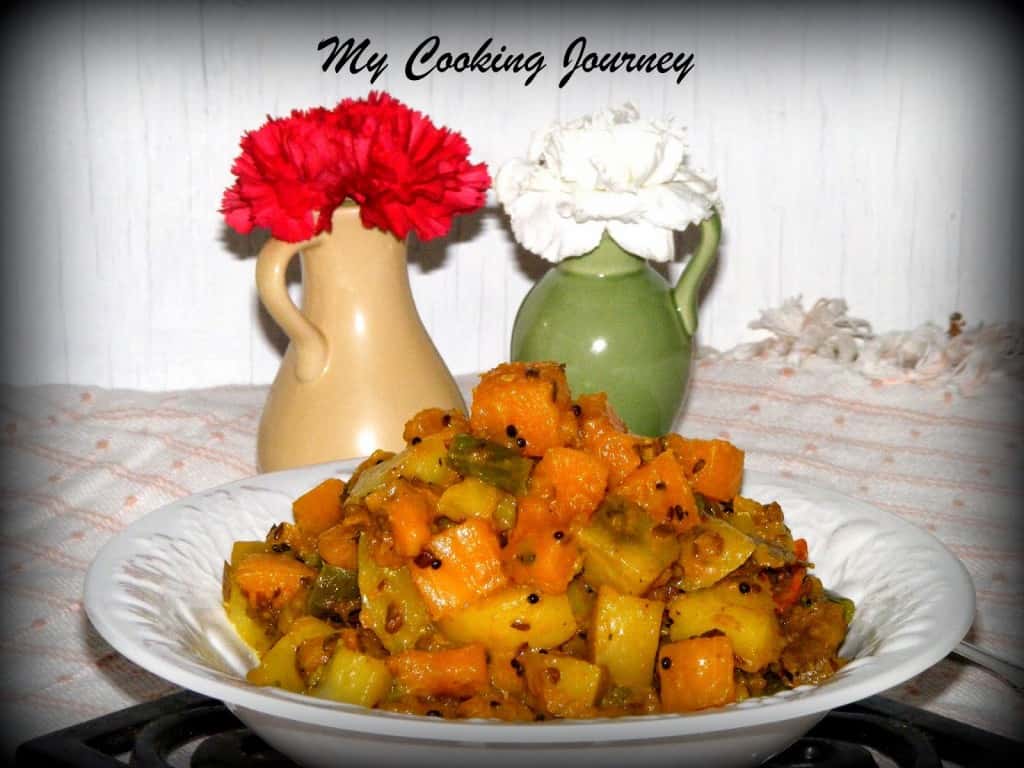 Arunachal Pradesh is a state in Northeast India, which borders with Assam, Nagaland, Bhutan, Myanmar and China. Arunachal Pradesh, which means 'Land of the Dawn-lit mountains', is also known as the 'Orchid state of India' or the 'Paradise of the Botanists'. Arunachal Pradesh is the largest state among the Northeast states, that are also known as the Seven Sister States. As with the other states of the Northeast, the origin of the population of Arunachal Pradesh can be traced to Tibeto-Burman or the  Mongoloid race. Itanagar is the capital of the state.
Northeastern states were the biggest challenge, when looking for recipes to make from these regions. Majority of the population are meat eating and it was almost impossible to find a very specific vegetarian dish that was specific to the particular state.
The panch phoron tarkari is a vegetable curry made with a blend of five spices. The name literally means five spices. Unlike many Indian spice blends, where they are ground and are in the powder form, this one has the blend of spices in its whole form. This is very famous in the Eastern regions and almost every dish is flavored with this spice. The five spices are – Mustard seeds, Nigella seeds, Fenugreek seeds, Cumin seeds and fennel seeds. The spices are mixed in equal quantities and then stored.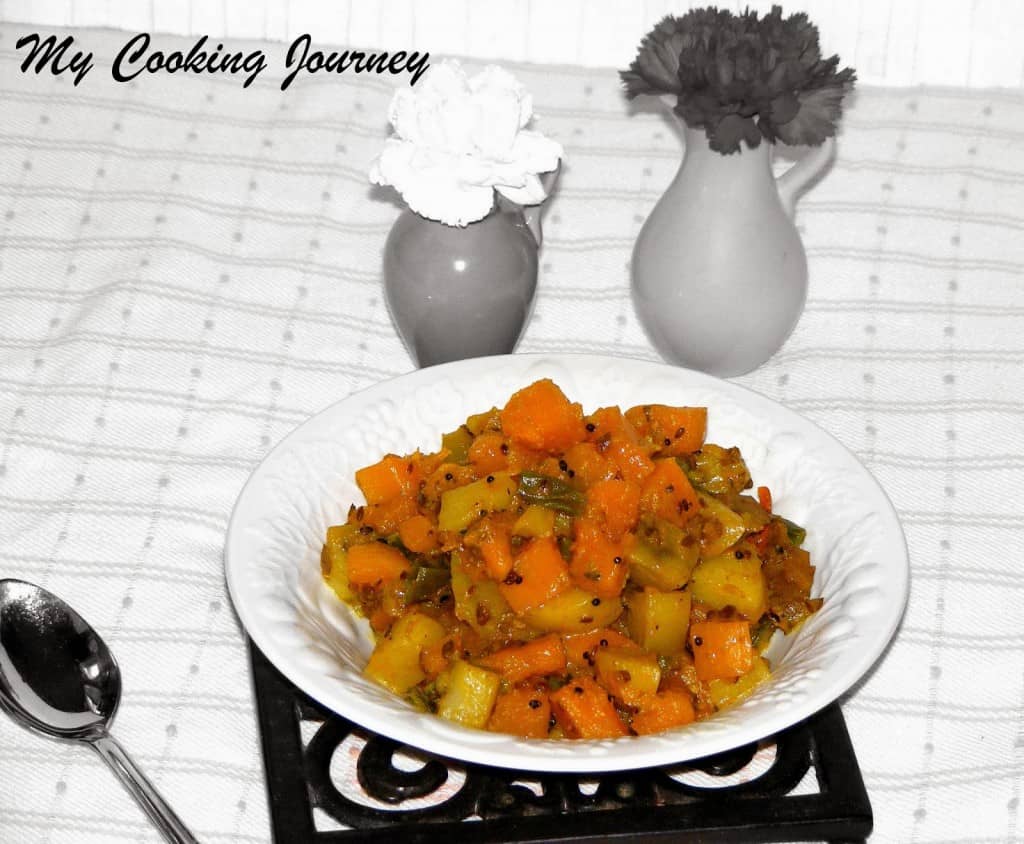 I found this recipe from here and I was laughing out loud when the author here also mentioned that this was the only vegetarian dish that she could get from Arunachal Pradesh. When looking to make the Panch phoron, the only spice that I did not have was the Nigella seeds. When I went to the Indian stores to get the seed, I found that they have the panch phoron spice blend readily available. This spice was something I learned doing this marathon and also very thankful since we all loved the tempering.
I made this dish predominantly with butternut squash. The butternut squash pictured is the one that we harvested from our backyard in the fall. It has almost been six months since we harvested it and I had couple more left. I stored them in my basement kitchen (I have 2 completely functional kitchen in my house) and they remained intact. We had a large yield of the butternut squash and I am so happy that they stay well after almost 6 months with absolutely no fuss. Now that it is spring, I already have big plans for the garden and butternut squash would be something that will be there for sure.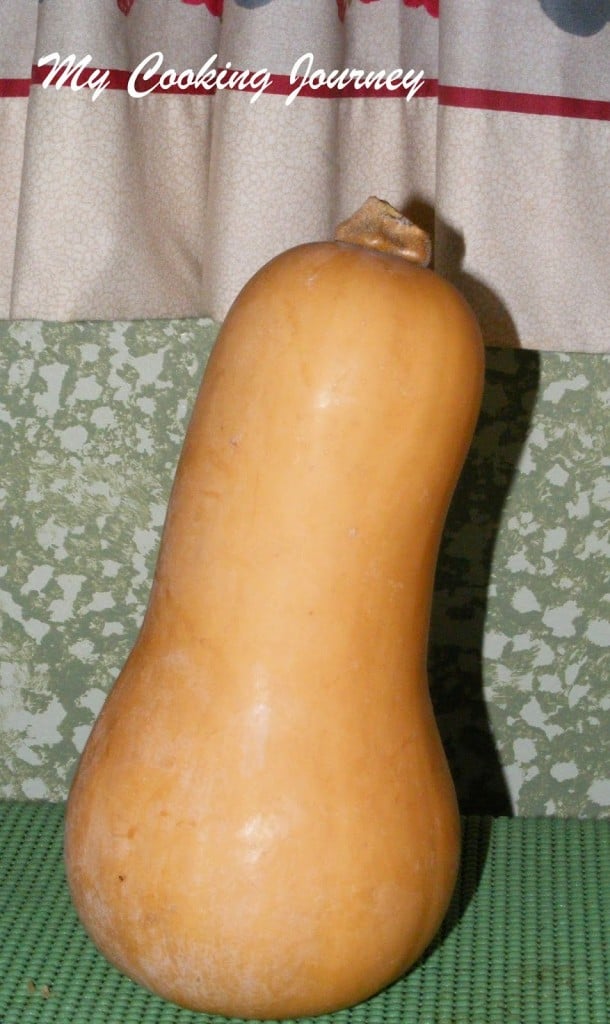 I loved how this curry had very few spices and how extraordinary it tasted. Also the mild richness from milk and little sweetness from sugar worked very well.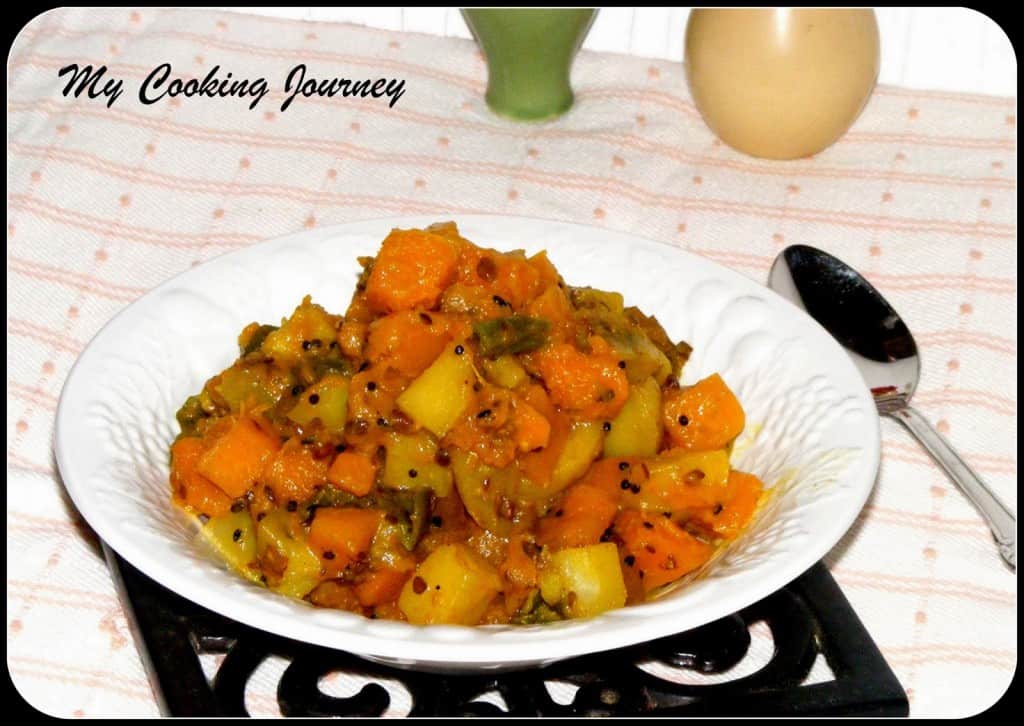 Preparation time – 10 minutes
Cooking time – 30 minutes
Difficulty level – easy
Ingredients – (serves 4)
For Panch Phoron – 
Mustard seeds – 1/2 tsp
Nigella seeds – 1/2 tsp
Fenugreek seeds – 1/2 tsp
Cumin seeds – 1/2 tsp
Fennel seeds – 1/2 tsp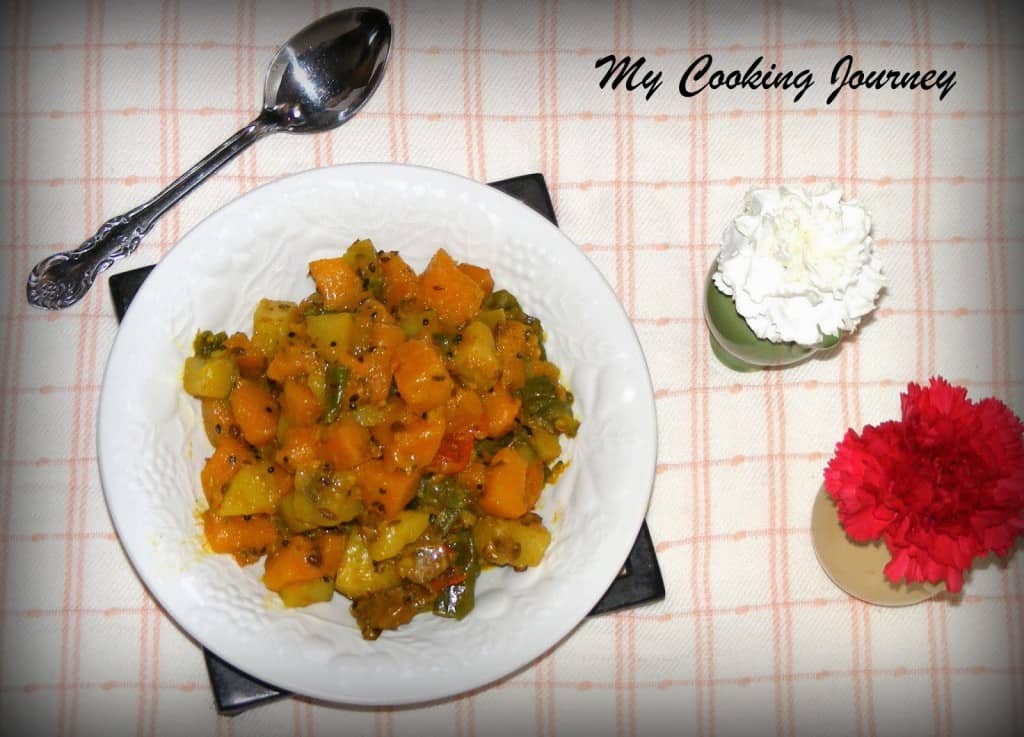 For the Tarkari – 
Butternut squash – 3 cups (chopped into 1 inch pieces)
Potatoes – 2 (Peeled and chopped into 1 inch pieces)
Bell pepper – 1 (chopped into 1 inch pieces)
Dry red chilies – 2
Oil – 2 tbsp
Panch Phoron – all of the mixture made
Bay leaves – 2
Green chilies – 2 (sliced lengthwise)
Turmeric powder – 1/2 tsp
Milk – 4 tbsp
Sugar – 1 tsp
Salt – to taste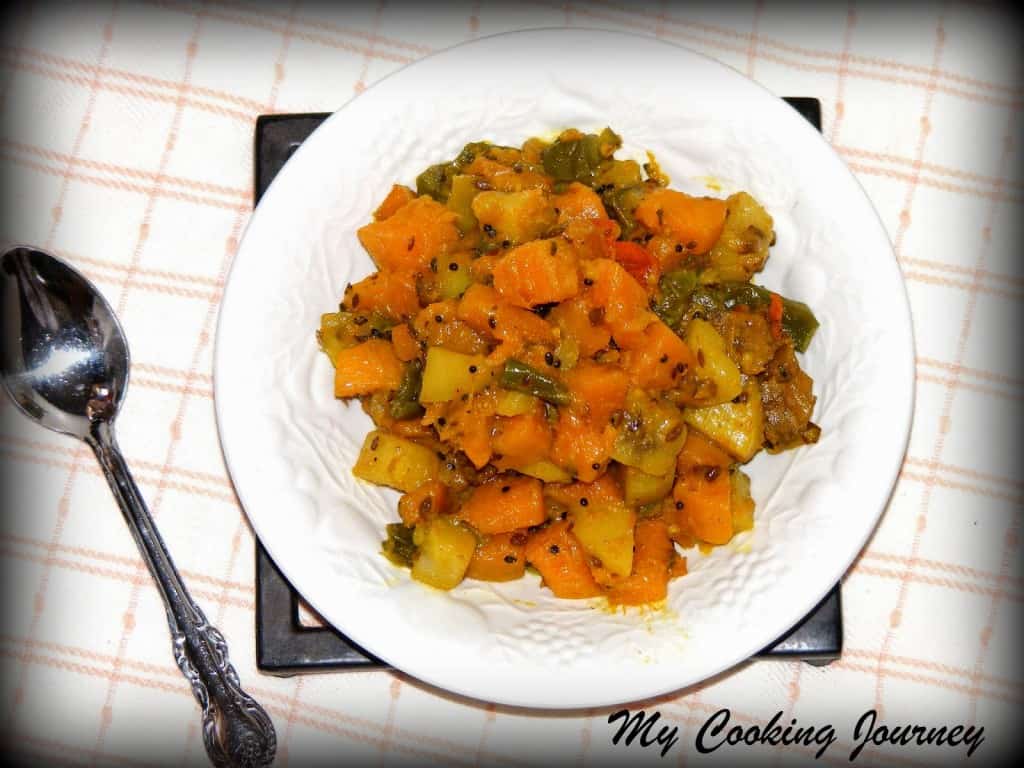 Procedure – To make Panch Phoron –
Mix equal amounts of mustard seeds, nigella seeds, fenugreek seeds, cumin seeds and fennel seeds and store in an airtight container. Use 2 tsp from this to make this dish. I used about 1/2 tsp of each spice.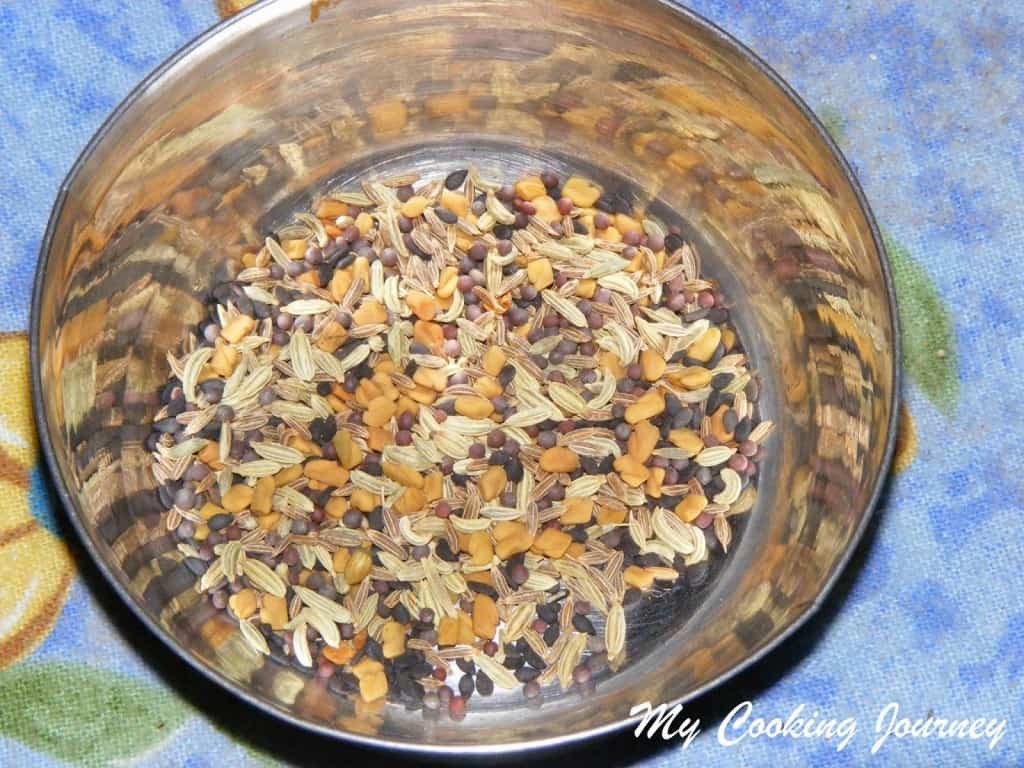 To make the Tarkari –
Peel and chop the vegetables. In a wide pan, heat the oil and add the panch phoron, bay leaves and red chilies. Fry the spices until they are aromatic and then add the vegetables.
Add the turmeric powder, green chilies, salt and sugar and mix well. Now add the milk and cook the vegetables until they are soft and all the liquid has been absorbed.
Serve hot with rice or parathas!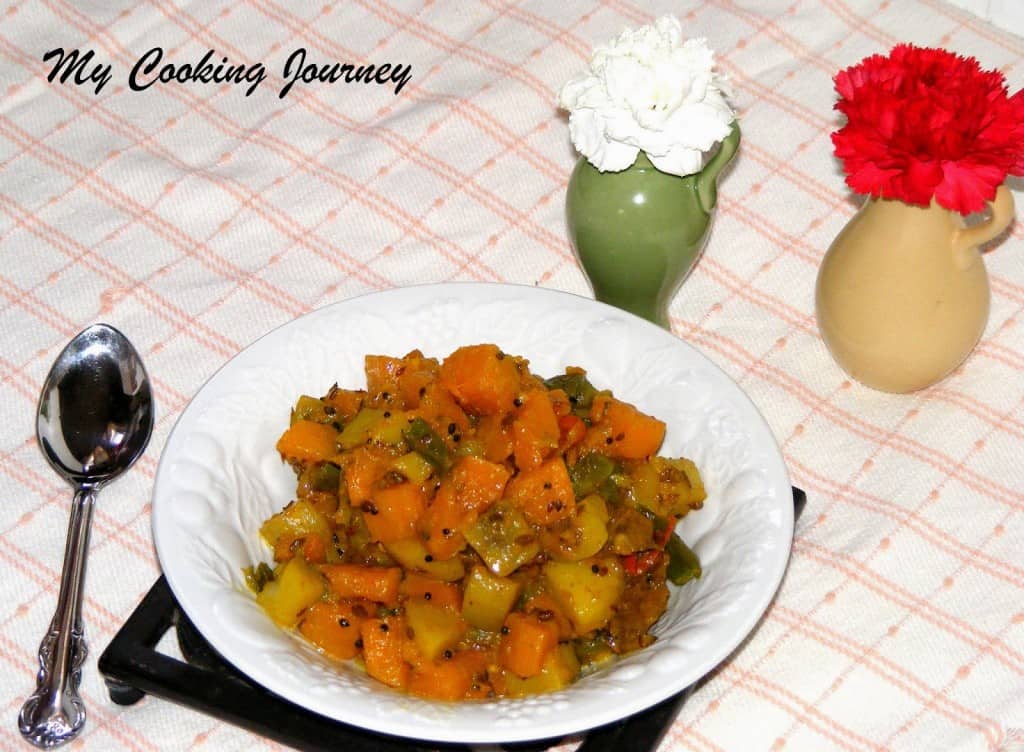 My previous dish from this series –
Andhra Pradesh – Pesarattu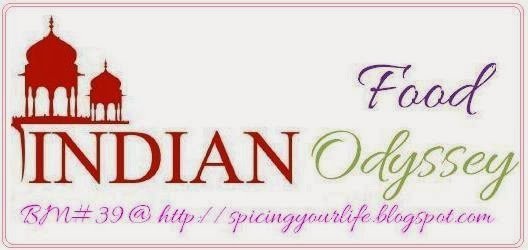 Check out the Blogging Marathon page for the other Blogging Marathoners doing BM# 39