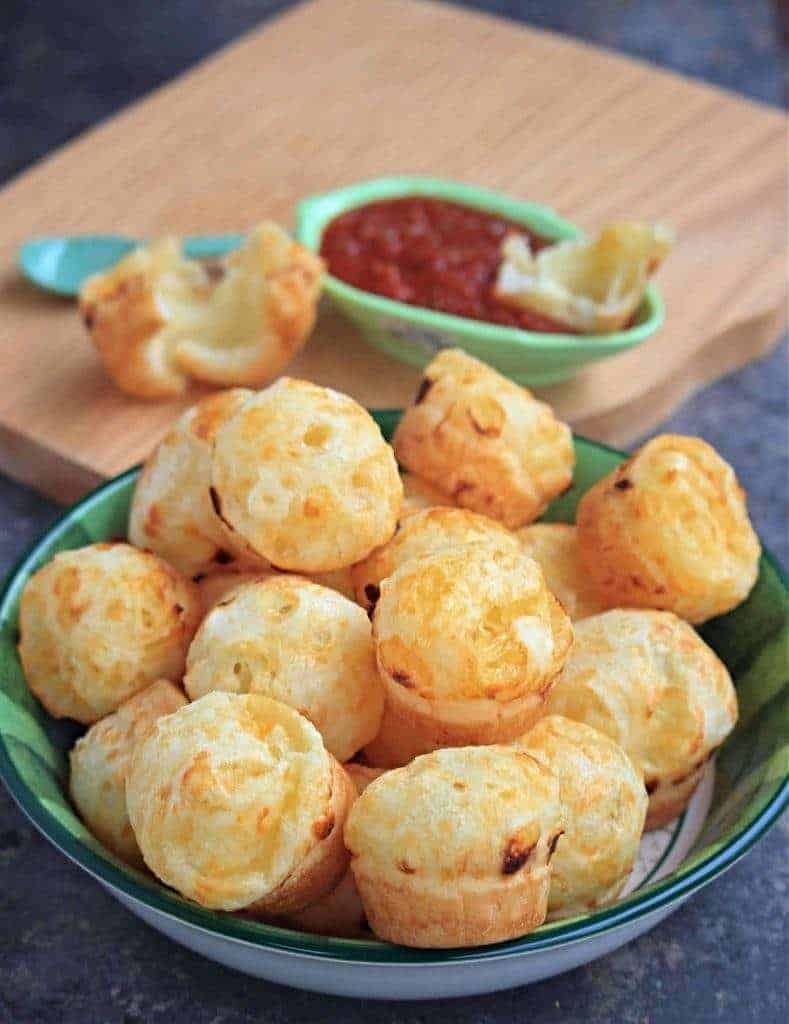 New Year and new beginnings. Here I am beginning yet another year of blogging and I cannot be any more excited about it. Blogging has become a part of me and my family. Food blogging that began as a way to document my mother's recipes has now become an integral part of us.I am beginning the New Year with a very exciting theme, 'Explore the Southern Hemisphere'. My first recipe under this theme is this delicious Pão de Queijo | Brazilian Cheese Bread. This is a delicious and very simple bread from Brazil which can be a wonderful breakfast or a great snack.
When researching for the recipe to make the traditional Pão de Queijo | Brazilian Cheese Bread, many different versions caught my eyes. This is the first time I am baking with an entirely gluten free flour and I was a little hesitant to try it at all. But the recipe was just so interesting with just a handful of ingredients, that I absolutely wanted to give it a try.
We are having a very icy / snowy weather in Oklahoma. There is absolutely no way I could go out and shop for any special ingredients. It turns out that I am destined to bake this Pão de Queijo | Brazilian Cheese Bread today. I have an unopened pack of Tapioca flour in my pantry. I have no idea why I even have a bag of tapioca flour in my pantry and why I bought it. Well, now I know what I will be using it for.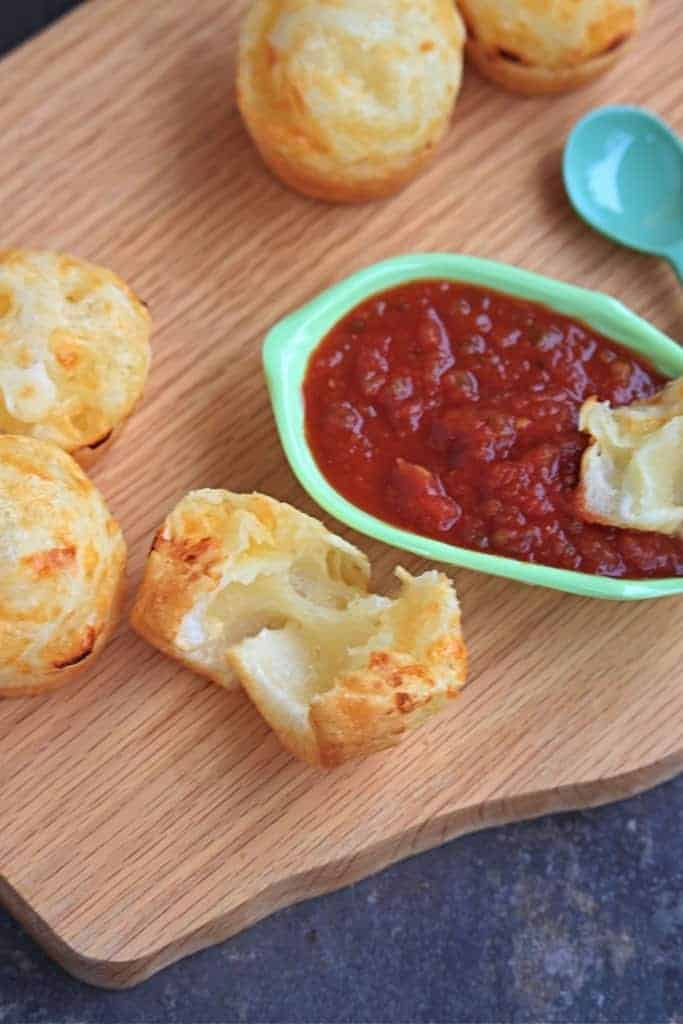 What is special about Pão de Queijo | Brazilian Cheese Bread –
Pão de Queijo | Brazilian Cheese Bread is a gluten free bread / roll made with tapioca flour, cheese, milk and eggs. I will not call it  entirely a bread as it is very hollow and almost like a popover. The Brazilian cheese bread has a beautiful crusty exterior and a very hollow and chewy inside. I used cheddar cheese and mozzarella cheese to make mine. Any cheese would work in the recipe. The flavor of the bread would slightly change based on the kind of the cheese used.
Kids are home and my little one who is the hardest to please out of all of us loved it. As I am writing the post, he is eating the last of the 18 rolls that I baked today. In between the four of us, we ate all the 18 rolls. I served it with spicy salsa and it was just the best. My boys liked it as is and said that they loved the cheesy flavor.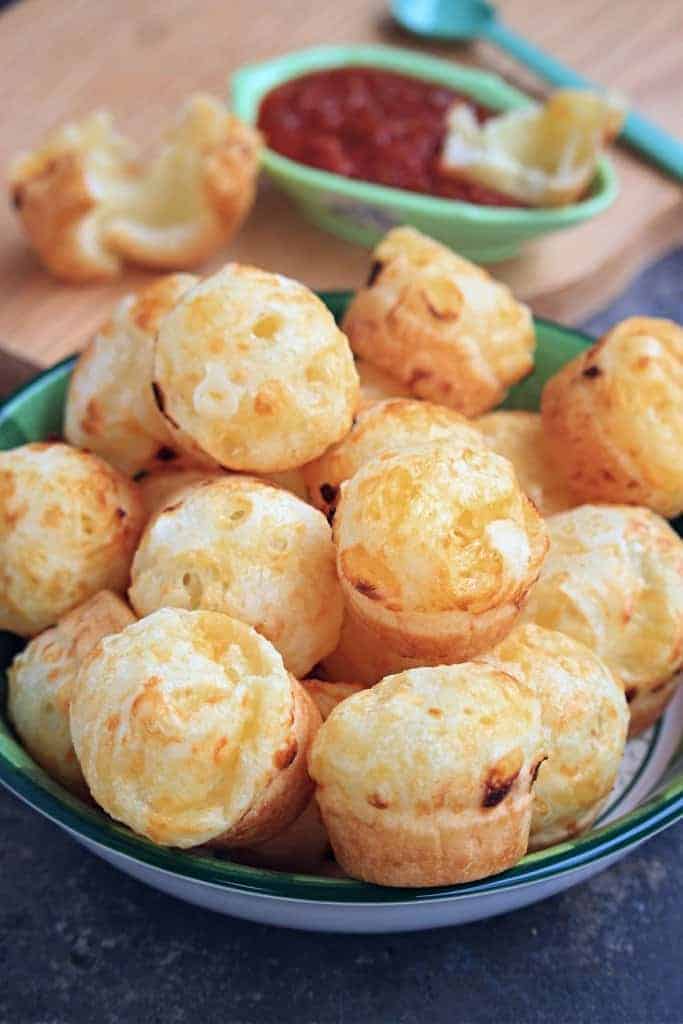 Is there more than one way to make the Pão de Queijo | Brazilian Cheese Bread –
The answer is yes. There are recipes that call for boiling milk and oil mixture to be added to the tapioca flour. This gives a cooked and slightly wet dough. The recipe that I made is much simpler and uses just room temperature milk and everything is just blended in a food processor or a blender. This has a batter like consistency and I have to say that until I saw my cheese bread rising in the oven, I was quite anxious.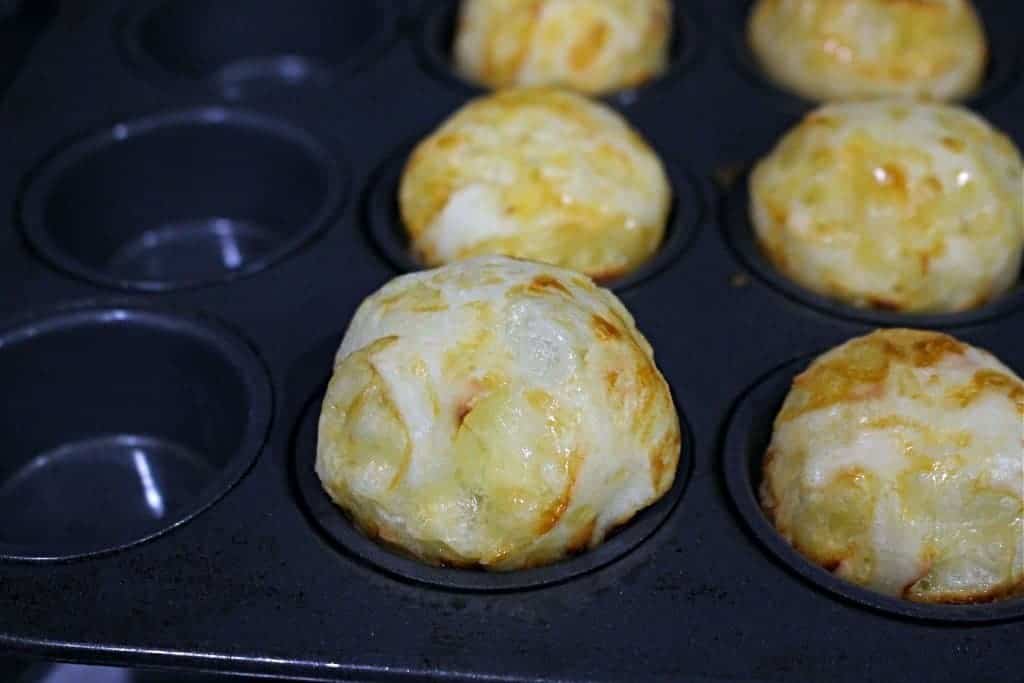 This is one bread that I will be making often. It is really quick to make and there is no special ingredients and not to mention, I have a whole pack of tapioca flour to be used. I bought my Tapioca flour from the local Asian Market and I also saw that Bob's Red Mill carry Tapioca flour. Last but not the least, my little one loves it and has asked me to make this for his lunch box. Baking these cheese breads really take about 20 minutes from start to finish and this will be perfect to make in the mornings. He gets his pick for the lunch box and I get a delicious breakfast.
What kind of pan to use –
I read quite a bit about this recipe as it was very new for me to bake with a gluten free flour. The dough that uses scalded milk can be baked on a baking tray as they can be rolled into small balls. This method though yields a very runny batter and has to be made in a muffin tin. I would suggest using the mini muffin tins as the large ones will yield a very large roll and also because it is large, it might take longer to cook and the exterior might burn before the inside cooks.
And before we go on to the recipe, do check out my other bread recipes. And especially this Jalapeno Cheese Bread if you are a lover of a Cheesy Bread.

Preparation time – 5 minutes
Baking time – 15 to 20 minutes
Difficulty level – Easy
Recipe adapted from – Our Best Bites
Ingredients to make Pão de Queijo | Brazilian Cheese Bread – Makes 18 mini rolls
Tapioca flour – 1 cup
Milk – 1/2 cup (room temperature)
Vegetable oil – 1/4 cup
Large egg – 1 (room temperature)
Salt – 1/2 tsp
Mozzarella cheese – 1/4 cup
Cheddar cheese – 1/4 cup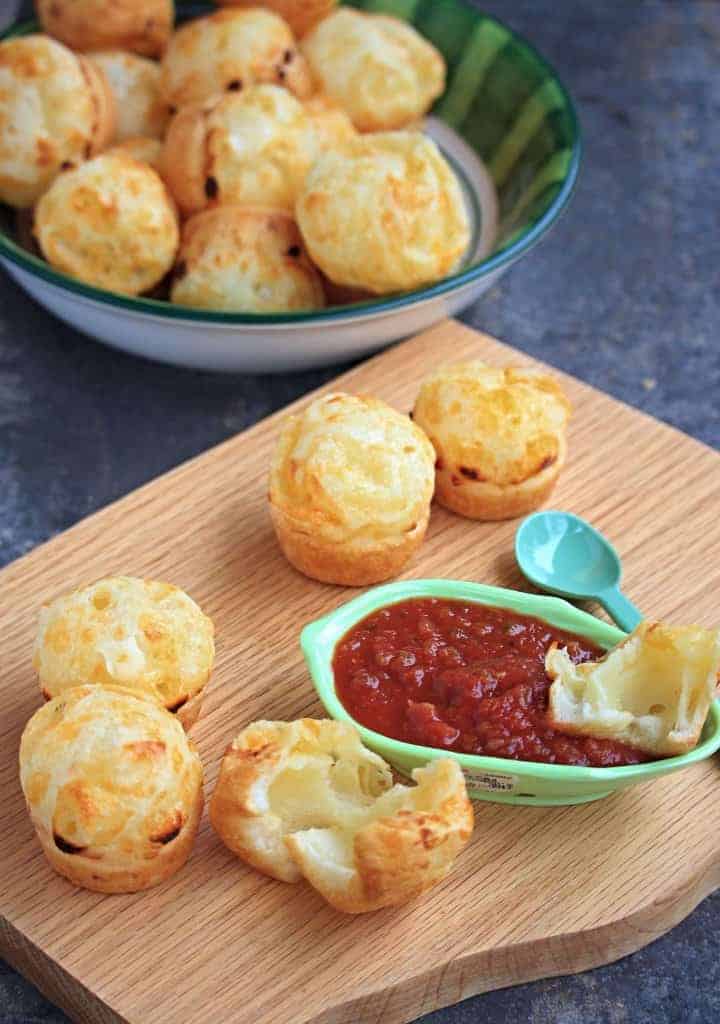 Procedure to make Pão de Queijo | Brazilian Cheese Bread –
Preheat the oven to 400 F.
In a blender jar or a food processor bowl, add the tapioca flour, milk, oil, salt and egg.
Pulse it a few times to blend it into a smooth batter.
Add the cheese and just do couple of small pulses to combine everything.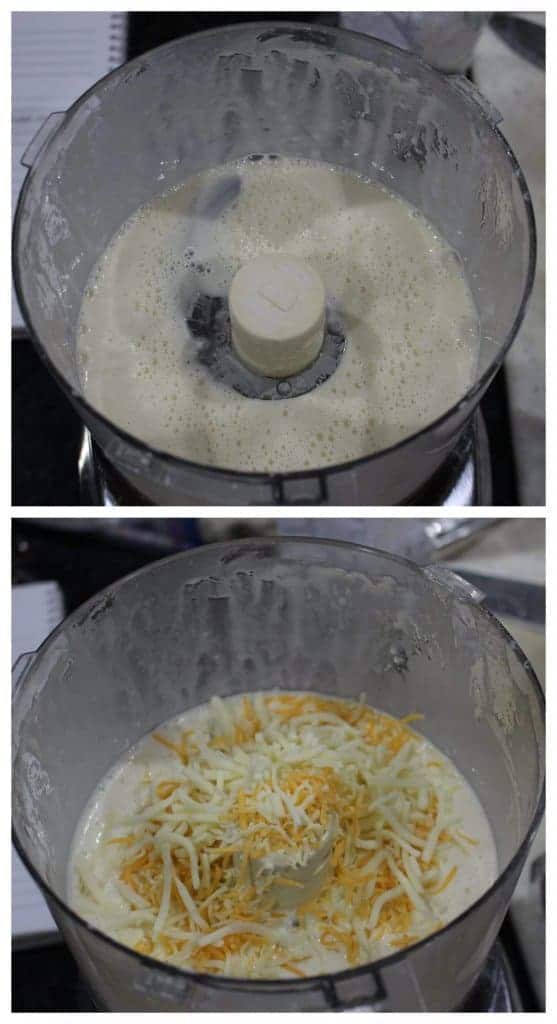 Grease the mini muffin pan liberally.
Fill each hole halfway with the batter. This allows plenty of space to let the bread puff up.
Bake in the preheated oven for 15 to 20 minutes until the bread is crusty on the outside and lightly browned. Mine took only 15 minutes to bake.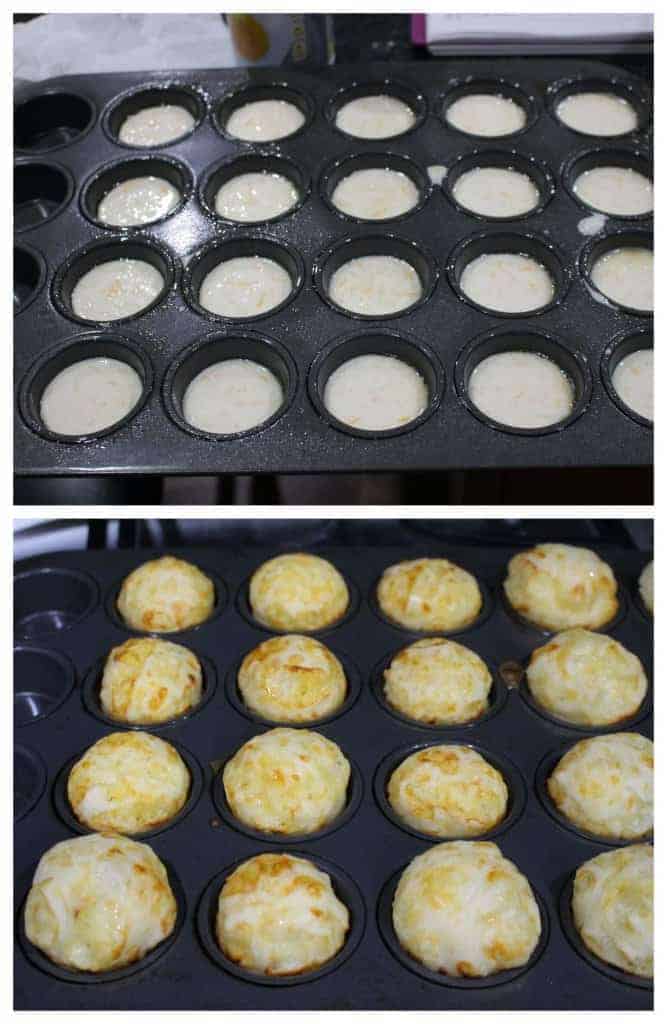 Remove the pan from the oven and let it sit for couple of minutes in the pan. Carefully remove the Pão de Queijo in a bowl and serve warm.