Pasta Salad with Sun Dried Tomatoes – A salad that can be a meal by itself. 
Pasta and vegetables marinating in a tangy dressing and is best when served chilled.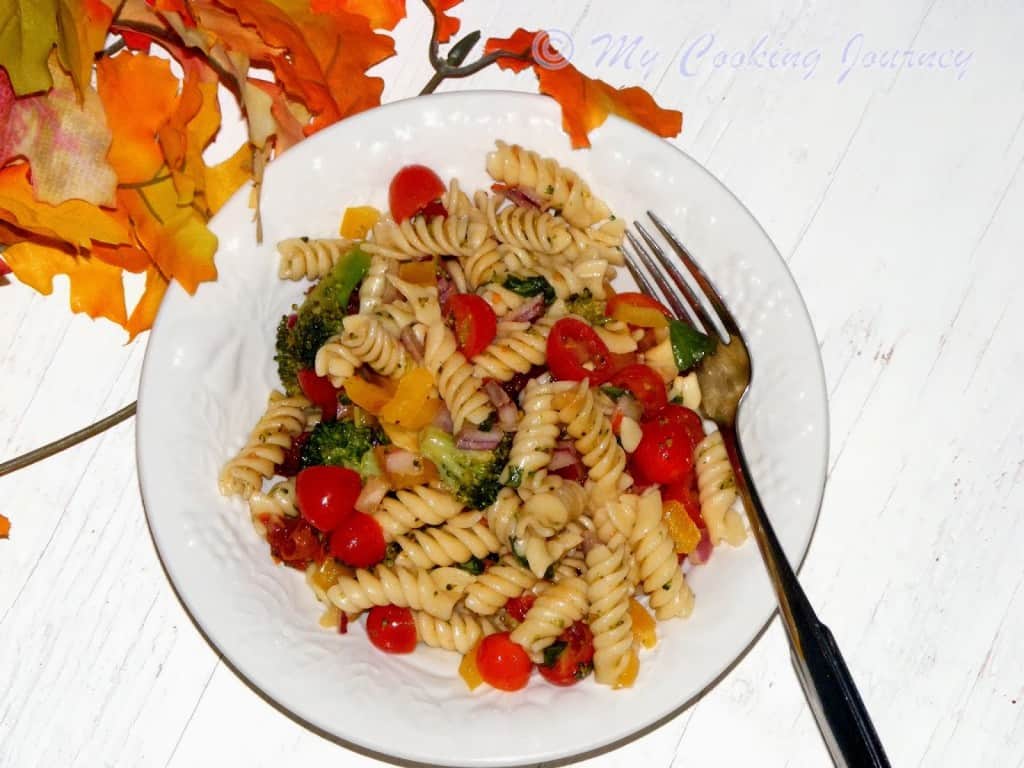 I always wonder how people just salad as their complete meal. The only salad that I would make a meal would be this salad which has a fair share of carbohydrates (which I cannot lose) and loads of fresh vegetables. This salad was first introduced to me by my dear friend and college mate Arthi. She had given me the recipe couple of years back and I made it right away for my son's Birthday party. Everyone loved it at the party and ever since then I make it for parties and pot luck. This is one salad that I don't mind giving my son as his school lunch. My older one loves salad and this also keeps him filled up.
This salad is just so colorful that no one can stay away from this. I made this again last week for my little one's Birthday party along with some salsa and chips and they disappeared right away. The flavor of the salad intensifies upon refrigerating and I would highly suggest making this the night before the party and refrigerating it.
The dressing for the salad is pretty simple and does not need too many ingredients. Make sure you buy the good quality sun dried tomatoes in oil for the salad as the flavor of the oil dominates the dressing.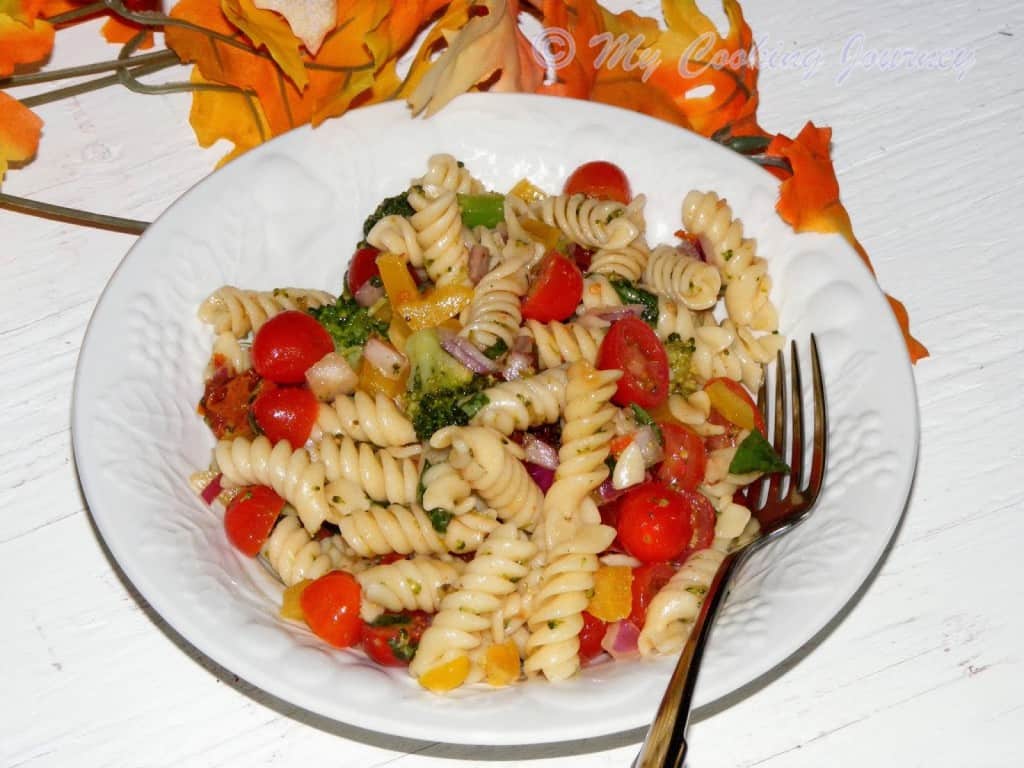 Preparation time – 30 minutes
Cooking time – 30 minutes
Difficulty level – easy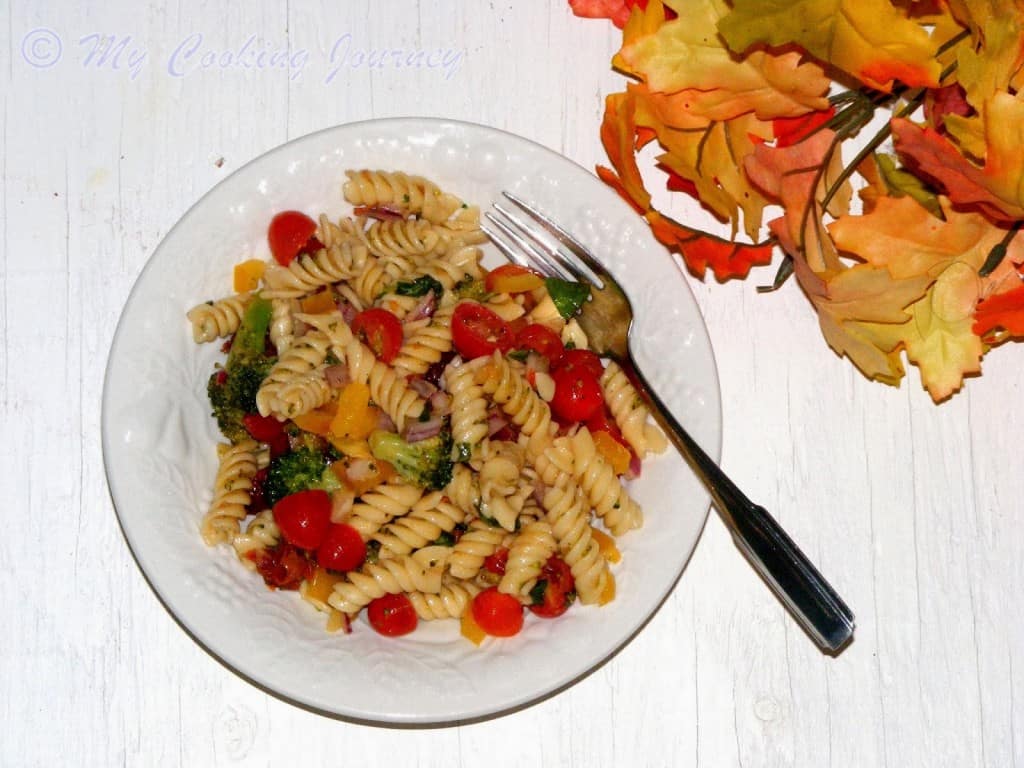 Ingredients to make Pasta Salad with Sun Dried Tomatoes – (Serves 8-10)
Pasta (any shape) – 1 pound (I used the spirals)
Sun dried tomatoes in oil – ½ cup (drained and chopped into bite size pieces)
Cherry tomatoes – 1 cup (halved)
Broccoli – 2-3 cups (florets removed)
Colored Bell pepper (I used orange color) – 1 (chopped)
Red Onion – 1 small (finely chopped)
Basil – ½ cup (chopped small)
For the dressing  –
Oil from the sun dried tomatoes – about ¼ cup
Lime juice – from one large lime (About 3-4 tbsp)
Garlic – 2 (minced finely)
Vinegar – 1 tbsp
Mustard powder – 1 tsp (optional)
Salt – to taste
Pepper – to taste
Crushed red pepper flakes – to taste (optional)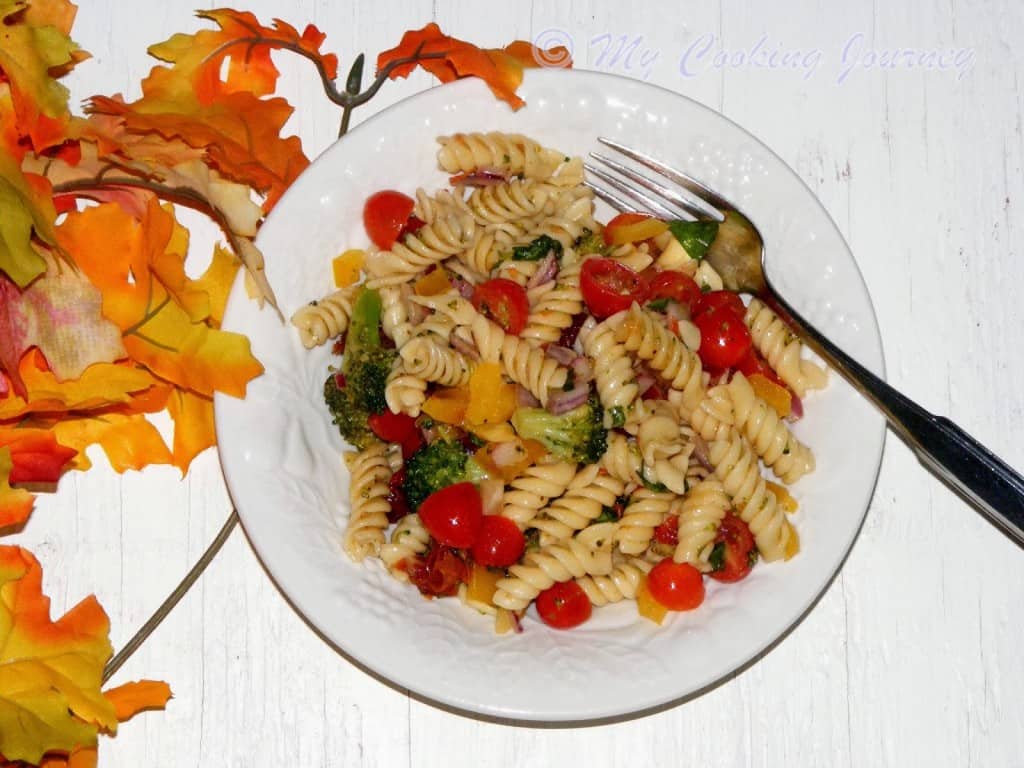 Procedure to make Pasta Salad with Sun Dried Tomatoes –

Cook the Pasta as per the cooking instructions on the box and drain them. Add some olive oil to the drained pasta and toss it well. This ensures that the pasta does not stick to each other. Also when cooking the pasta, do not forget to salt the water liberally. This is the only time we can add salt to the pasta. Let the pasta cool down to room temperature.
In the same salted boiling water, cook the broccoli florets for about 3-4 minutes. Then drain them immediately onto a bowl with ice and water and let it cool down. Remove it from the cold water in about 2 minutes and drain. Adding the cooked broccoli to the cold water ensures that the broccoli does not cook further and also helps retain its bright green color and texture.
To make the dressing, add all the ingredients mentioned above in a bowl and whisk it well.
Take a large mixing bowl or an aluminum foil pan and start adding all the ingredients. First add the pasta and the broccoli, and then add the chopped cherry tomatoes, onion, bell pepper and the sun dried tomatoes. Mix them well and then pour the dressing over them. Toss the salad well and check the seasoning. At the end add the basil and mix once again gently.

Cover it tightly with plastic wrap and refrigerate couple of hours before serving.

Pin it here to use later –