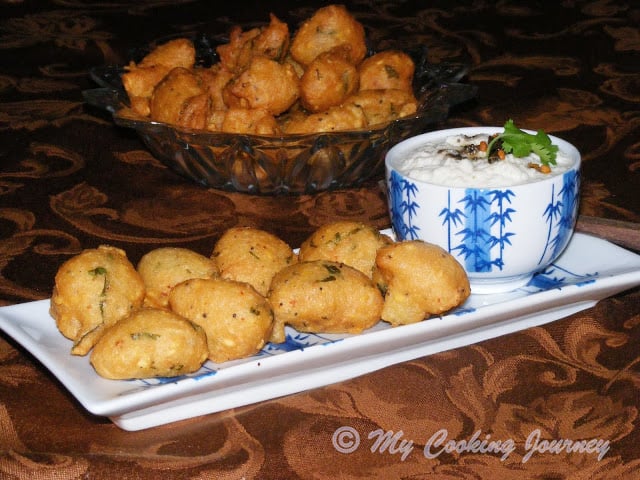 For the second week of blogging marathon, I chose to work with combo dishes. Valli had given us a list of combo dishes to choose from and for the first day I chose to make the thavala vadai with coconut chutney. When I asked my mother for the recipe, she said that she was aware of the thavala adai but not thavala vadai. The recipe I have below is from Meenakshi Ammal's Cook and See. The recipe was very simple and is loaded with protein.
The ingredients for the recipe are somewhat similar to Adai, except it is deep fried. It also reminded me of the Kunukku that we make from left over adai batter, but this was much softer and fluffier than the kunukku. Also the combination with the thengai chutney was very good.
Preparation time – 10 mins plus 4 hrs soaking time
Cooking time – about 40 mins
Difficulty level – easy
Ingredients to make Thavala Vadai –
For Thavala Vadai – (Makes around 30 medium size dumplings)
Raw rice – ½ cup (I used sona masoori)
Thuvaram Paruppu/Toor dal/Red gram dal – ½ cup
Kadalai paruppu/channa dal/Bengal gram dal – ½ cup
Ullatham paruppu/Urad dal/Black gram dal – ½ cup
Payatham paruppu/Moong dal/Green gram dal – ½ cup
Red chilies – 3
Asafetida – ¼ tsp
Green chilies – 3
Ginger – 1 inch piece (grated)
Coconut – 1/3 cup (grated or chopped)
Cilantro – a handful (chopped fine)
Curry leaves – few
Oil – for deep frying plus 2 tsp
Mustard seeds – 1 tsp
Salt – to taste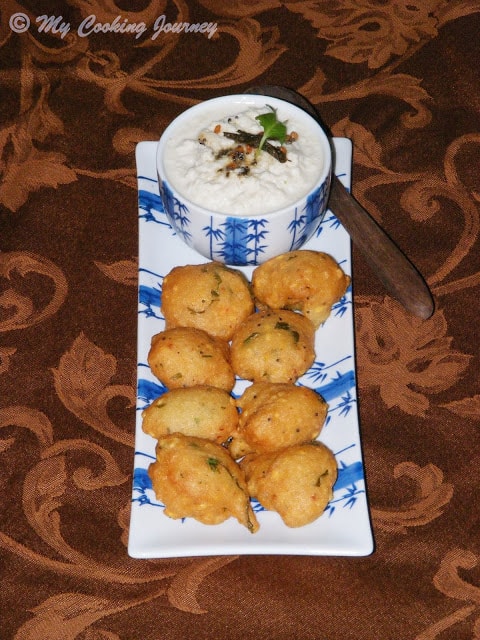 For Thengai / Coconut Chutney –
Coconut – 1 cup (grated)
Pottu kadalai/Roasted gram/Dalia– ¼ cup
Cashew nuts – 10 (optional)
Green chilies – 3
Tamarind – 1 inch piece or ¼ tsp tamarind paste
Salt – to taste
To season –
Oil – 2 tsp
Mustard seeds – 1 tsp
Ullutham paruppu/Urad dal – 1 tsp
Asafetida – ¼ tsp
Curry leaves – few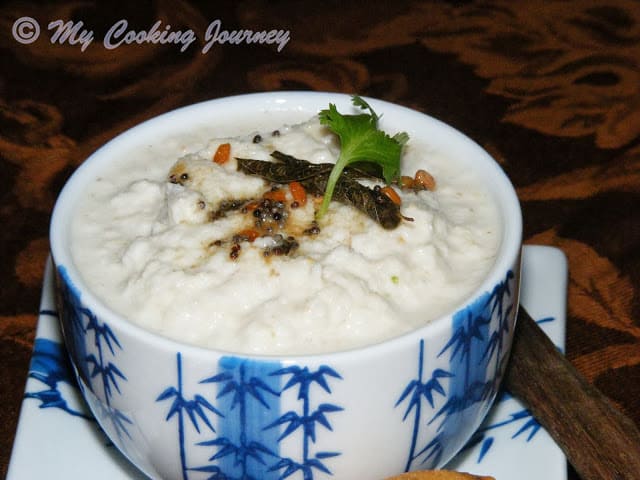 Procedure to make Thavala Vadai –
Soak the rice, thuvaram paruppu and kadalai paruppu together for about 3-4 hrs. Soak the Payatham paruppu and Ullutham paruppu separately for the same amount time.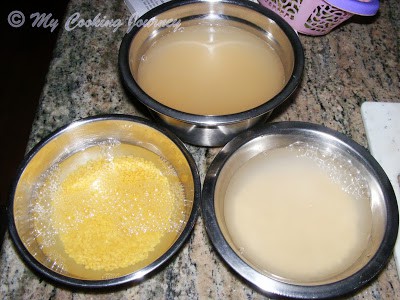 Grind the first three ingredients soaked together along with salt, asafetida, red chilies and green chilies. Make a rough thick batter with it. Do not grind them too smooth. Empty the content into a large bowl.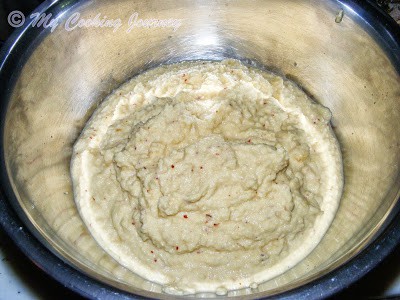 Now grind the soaked urad dal to a smooth paste. Add it to the bowl with the other ground ingredients.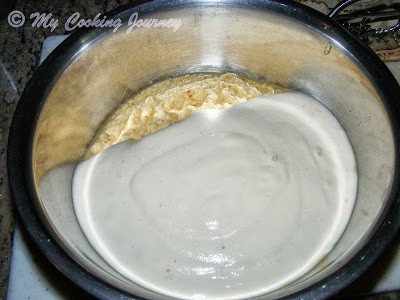 Now drain the moong dal and add it as it is to the ground batter. Do not grind the payatham paruppu.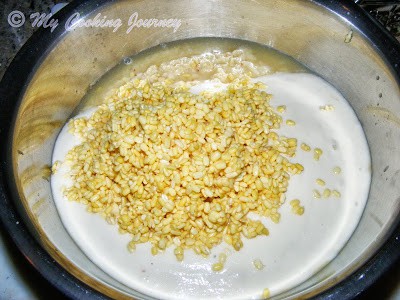 Add coconut, chopped cilantro, grated ginger and curry leaves to the batter and mix it well. The batter should be in a consistency so as to be able to pour from a spoon. It should not be too thin or too thick.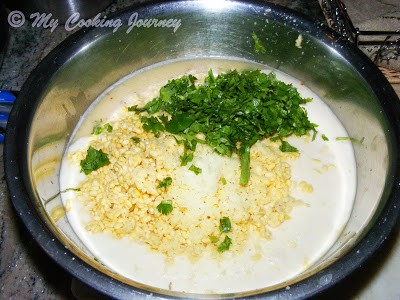 Heat 2 tsp of oil and add the mustard seeds. Once the seeds fry, add it to the batter.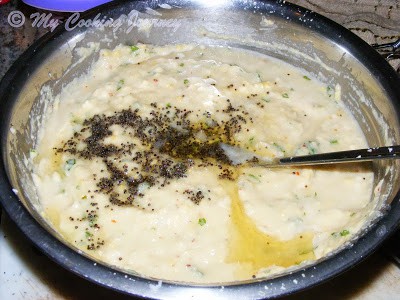 Meanwhile heat oil in a kadai/pan. Drop the batter using a spoon into the hot oil and fry it until it is golden brown. Drain them on a paper towel.
To make Thengai / Coconut chutney –
Add all the ingredients in a blender except the seasoning ingredients and grind it into a smooth paste adding little water.
Heat oil in a pan and fry the seasoning ingredients. Add it to the chutney and serve with thavala vadai.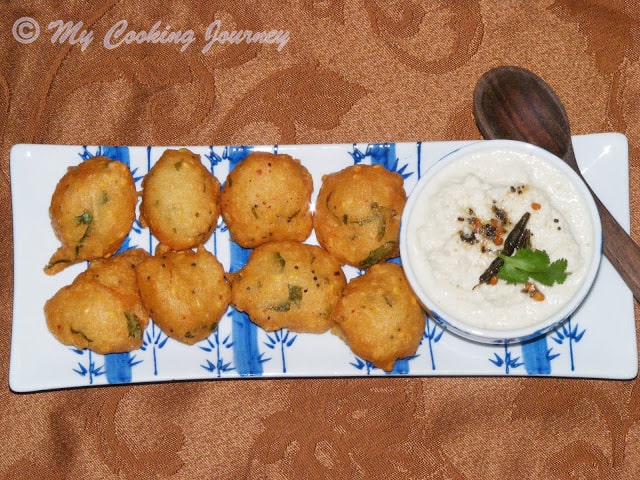 Check out the Blogging Marathon page for the other Blogging Marathoners doing BM#30