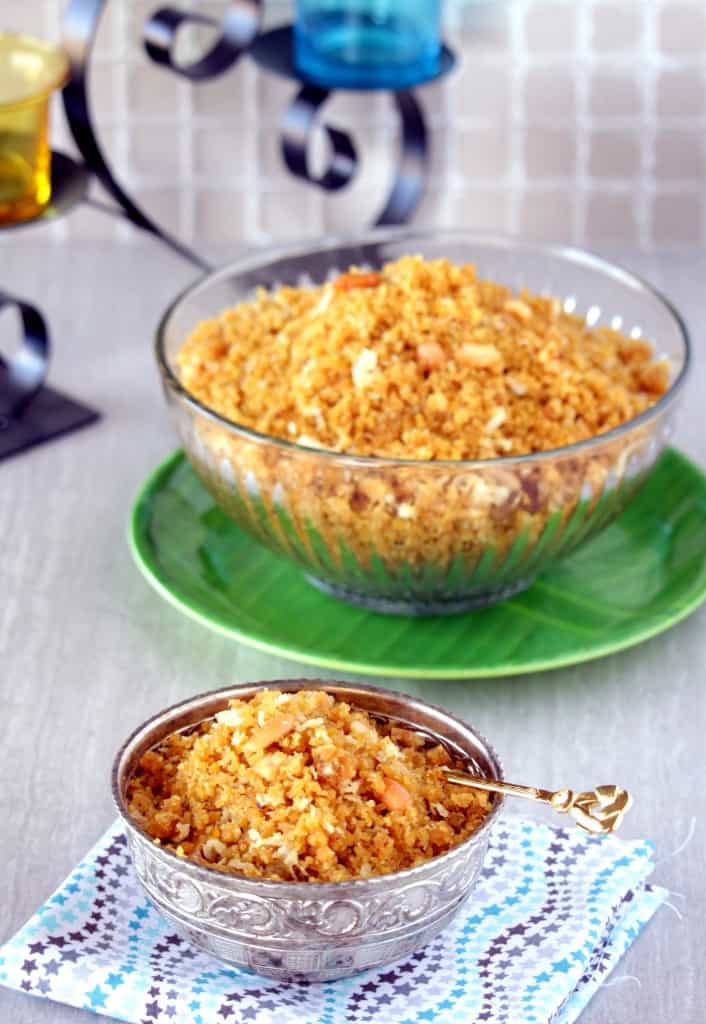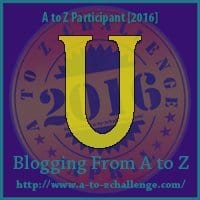 Ukkarai – Okkarai is a traditional sweet made during the festival of Deepavali / Diwali. Growing up I have never eaten this as it is not in our tradition, but after coming to the blogging world, I have seen this many times and I was very tempted to make it sometime. This very closely resembles the puttu in texture and appearance, but that is made out of rice and the ukkarai is made out of lentil or paruppu.
Talking about arisi / rice puttu, that is something I have never made too and last November, amma made it back in India and she told me that it was the best one she had made yet and she was eager to give me the recipe. I was busy with other work that day and also was getting ready for my surgery that was scheduled end of November, so I told her to hold the thought and I would write down the recipe later. Who knew that later would never come and she would die within few weeks.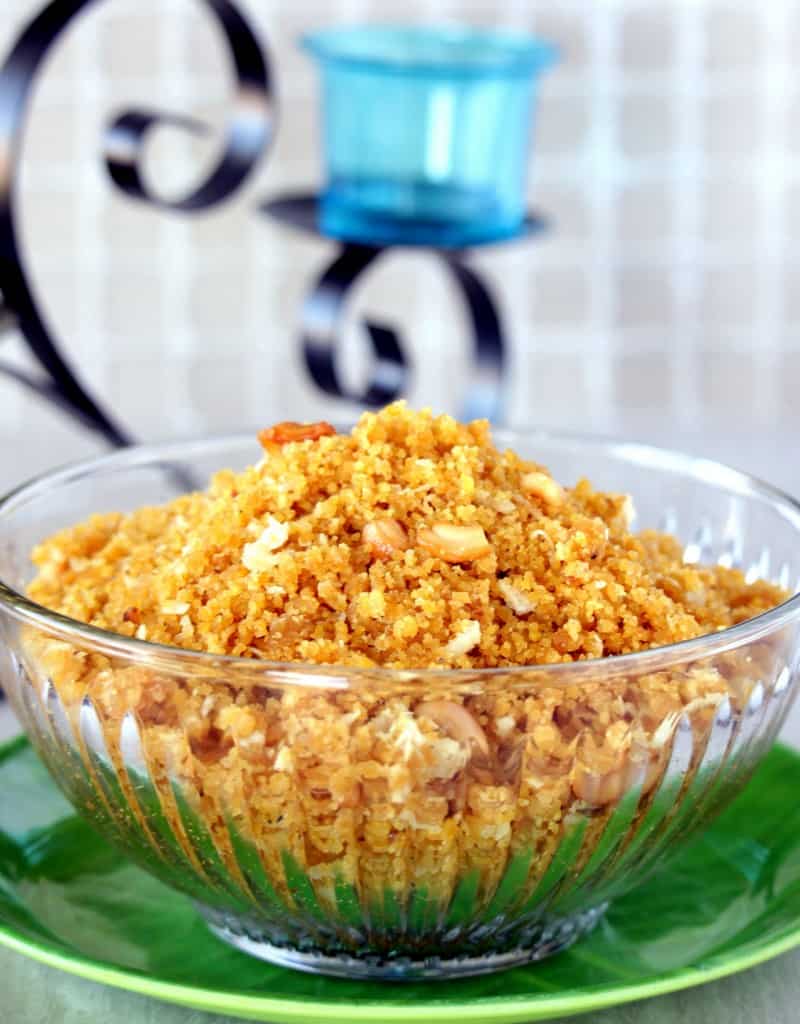 When making this ukkarai, my thoughts went back again and again to our conversation and I was so mad at myself for not having listened to her and written down her recipe. I adapted the recipe from Meenakshi Ammal. When reading about it, I came across many different variations of the ukkarai made with different lentils. People make it with just chana dal or moong dal or a combination of both. I also saw that few had made it with toor dal. I stuck to what Meenakshi Ammal mentioned and used equal quantities of chana dal and moong dal.
The process of making ukkarai is slightly lengthy but it is very easy to make and is absolutely delicious. It stays in the refrigerator for over a week. My husband is the one who loves sweet the most in our house, but this time, I literally fought with him to have a little more of this.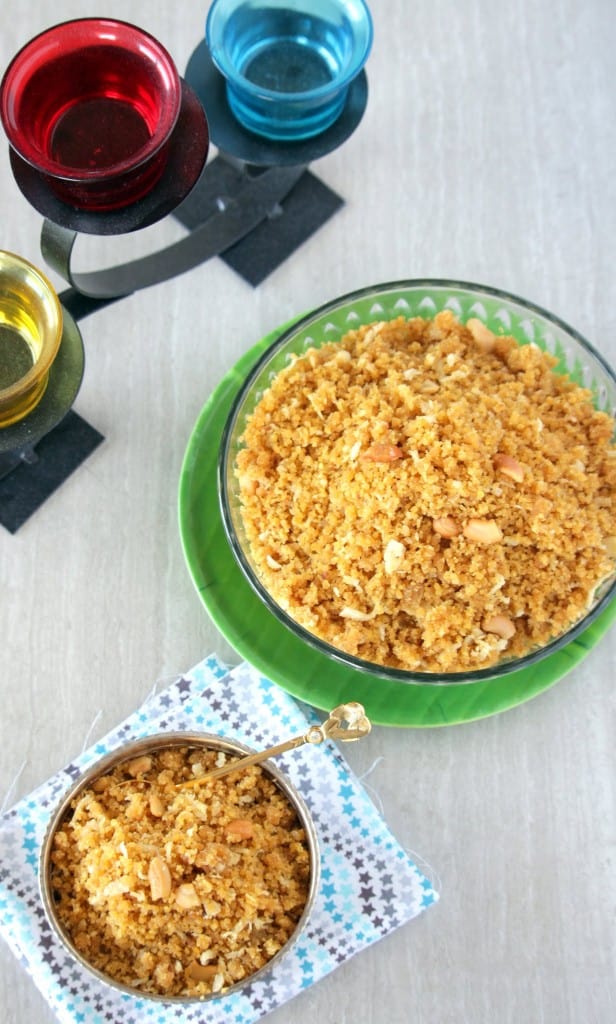 My other recipes from this series –
A – Athirasam
B – Badam Burfi
C – Chettinad Masala Cheeyam
D – Dosai Milagai Podi
E – Ellu Urundai
F – Fruit Kesari
G – Godhumai Rava Pidi Kozhukattai
H – Homemade Rice flour
I – Inji Marappa 
J – Jevvarisi Thengai Paal Payasam
K – Kancheepuram Idli
L – Lemon Pickle
M – Manapparai Murukku
N – Nokkal
O – Oothappam 
P – Pattinam Pakoda 
Q – Quinoa Dosai
R – Ragi Idiyappam / sevai
S – Semiya Pakoda
T – Thaen Mittai
Preparation time – 10 minutes plus about an hour of soaking time
Cooking time – 1 hour
Difficulty level – easy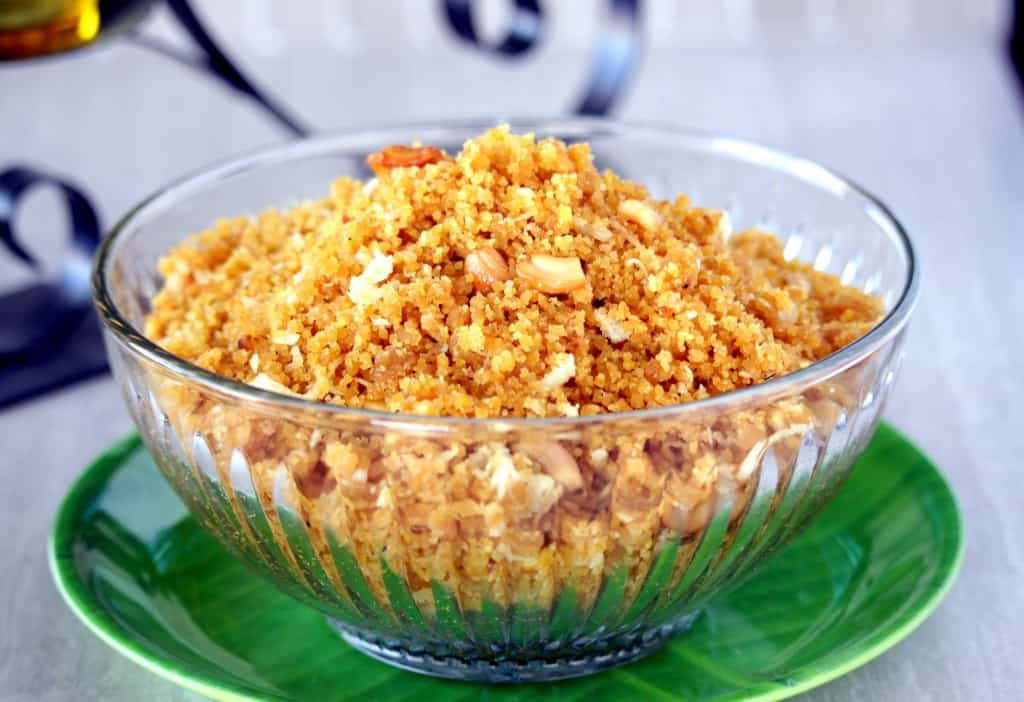 Ingredients to make Ukkarai / Okkarai– (serves 6)
Kadalai paruppu / channa dal – ½ cup
Payatham paruppu / Moong dal – ½ cup
Vellam / Jaggery – 1 cup
Nei / ghee – 4 tbsp
Cashews – a handful
Coconut – ¼ cup (grated)
Cardamom powder – ¼ tsp
Procedure to make Ukkarai / Okkarai–
Dry roast both the dals until slightly golden brown. Make sure that you keep stirring the pan as the dals can get burnt very easily.
Wash the roasted dals and soak them for at least an hour.
Drain the soaked dals and grind them into coarse paste adding very little water. Make sure you add very less water when grinding as we want a semi solid paste that we can steam.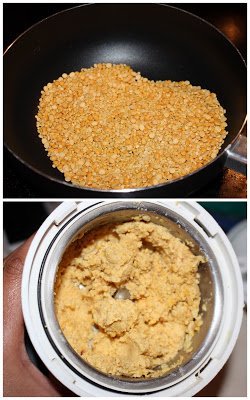 Make small mounds of the ground batter and place it on a steamer plate or idli mould and steam for about 12 to 15 minutes. The mixture will appear stiff and hard when done.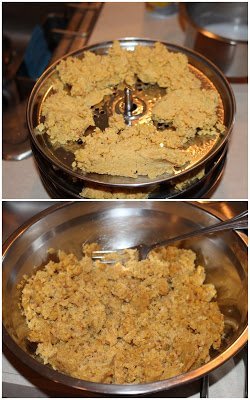 Let this cool down a bit and then break the dough into small pieces and place it in a blender jar. Pulse it a couple of times to make it into a fine powder.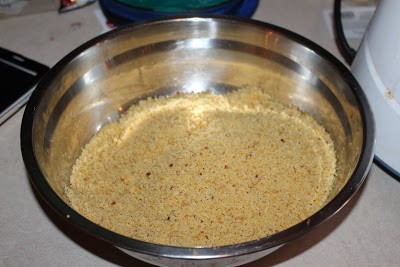 In the meantime, heat a pan and add about a tablespoon of ghee. Fry the cashews until they are golden brown. Remove it in a plate. In the same pan, heat 1 more tablespoon of ghee and fry the grated coconut until light brown. Keep it aside as well.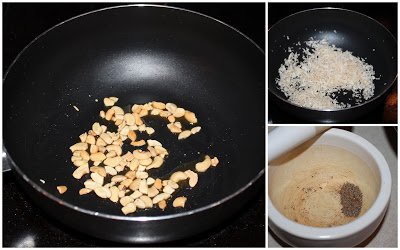 In the same pan add the jaggery and just enough water to immerse the jaggery. Bring it to a boil and let the jaggery dissolve completely. Strain the syrup at this stage if needed and then return it to the flame.
Let the syrup come to a one string consistency. This is when you touch the syrup in between two fingers and pull it apart; it will form a single thread. You could also use a candy thermometer to check the consistency.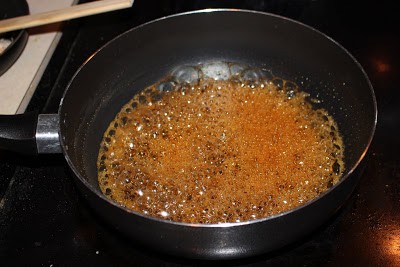 Now add the ground dal powder to the jaggery and mix well. Cook it on low heat until it appears dry.
Now add the fried cashews, coconut and cardamom powder and mix well. Also add the remaining ghee at this stage and keep cooking in low flame until it becomes dry and powdery.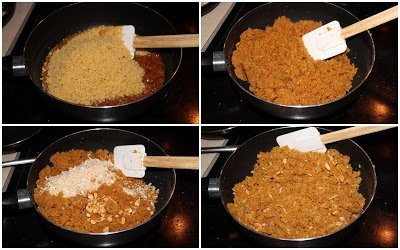 Remove it from heat and serve warm or at room temperature. We enjoyed it for over a week refrigerated.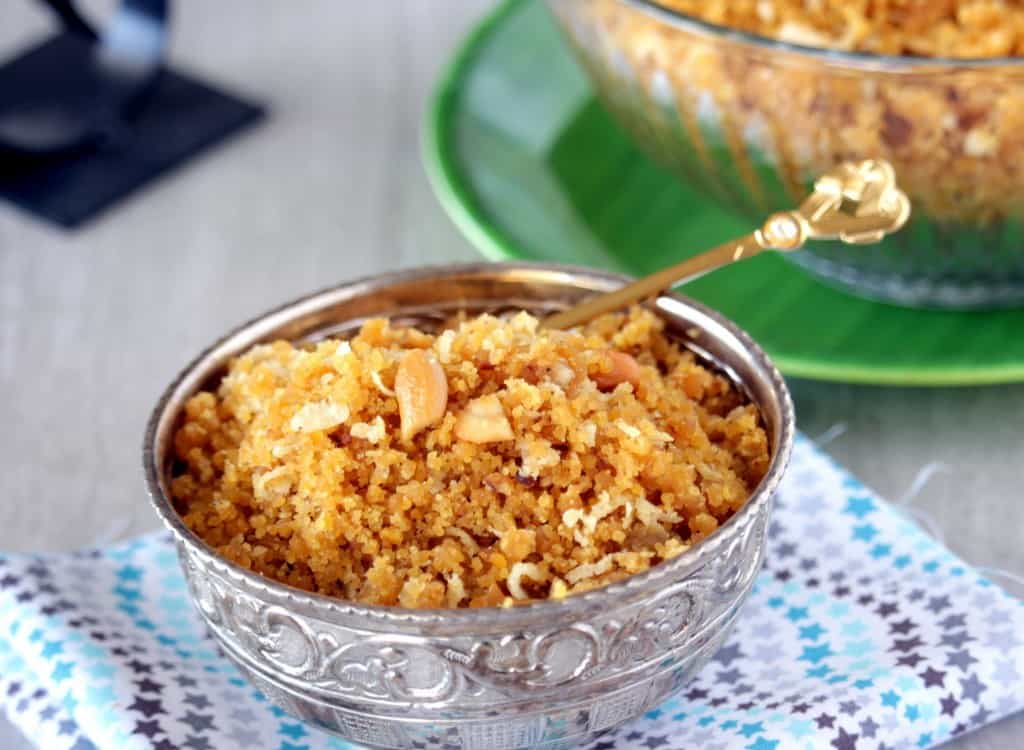 Pin the recipe here –

Check out the Blogging Marathon page for the other Blogging Marathoners doing BM# 63