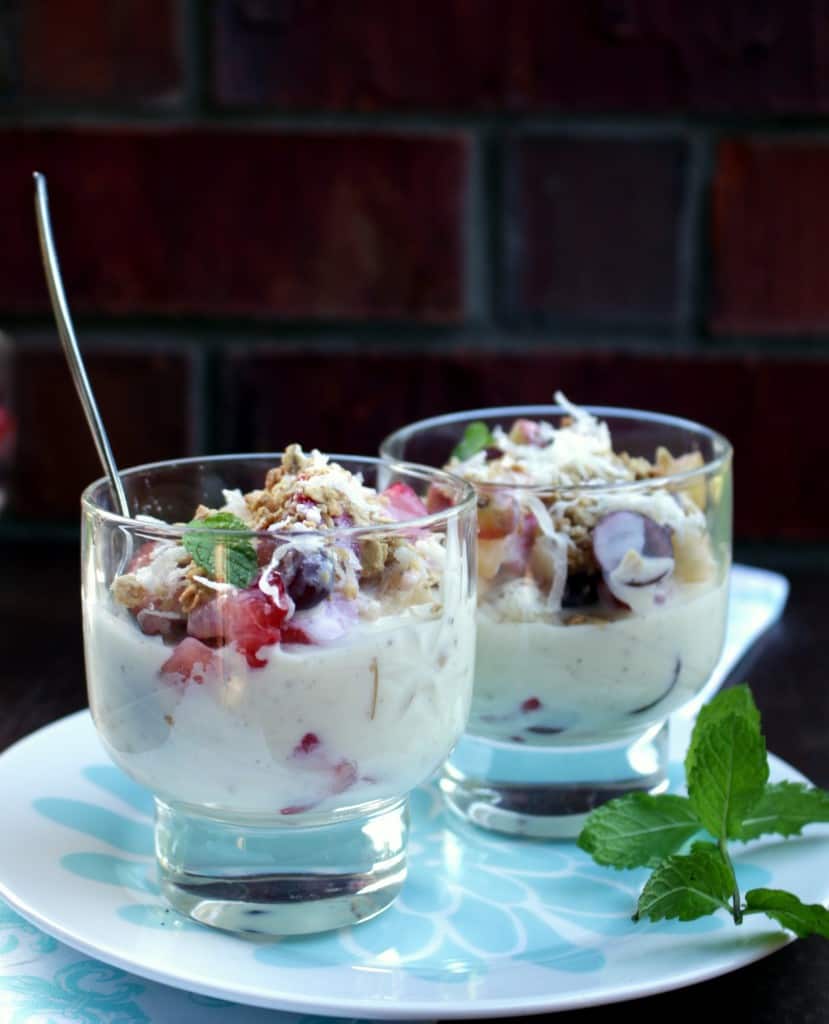 Fruits are an essential snack in my house and I look for different ways to make it interesting. My boys are fine just eating the fruits and do not ask for anything else, but when I see all the colorful fruits salads being served, I get tempted to try something different. My aunt, back in India, always sent a big snack box of chopped mixed fruits to college for my cousins. After I saw that, I started giving my boys a variety of fruits for snacks instead of just a single one.  When I was researching for a different variety of fruit salad, I saw this Mexican fruit salad which had a delicious crema topping. Crema means cream in Mexican and a combination of condensed milk and sour cream is used as crema. I used vanilla flavored Greek yogurt instead of sour cream in my Bionico.
Bionico is very simple with chopped up variety of seasonal fruit mixed with crema and topped with granola and shredded coconut. Sometimes honey and raisins are also used as a topping. I used honey to sweeten the fruits and used some cinnamon in the crema.

My other recipes this Marathon – 
Soups
Appetizers / Snacks
Breads and Rolls
Entrees

Preparation time – 10 minutes
Cooking time – none
Difficulty level – easy
Ingredients – serves 4
Banana – 1
Apple – 1
Grapes – 15
Strawberry – 5 to 6
Condensed milk – ½ can
Greek yogurt (can be substituted with sour cream) – 1 cup (I used vanilla flavor)
Cinnamon – 1 tsp
Honey – 2 tbsp
Granola – for topping
Shredded coconut – for topping
Procedure –

Chop up all the fruits into tiny pieces. Drizzle the honey over the fruits and mix them up.

In another bowl, combine the yogurt, condensed milk and cinnamon.

You could either mix up the fruits with the crema or layer as I did. I added some crema and then fruits and then some crema and more fruits and topped with granola and coconut for my Bionico.
Check out the Blogging Marathon page for the other Blogging Marathoners doing BM# 68