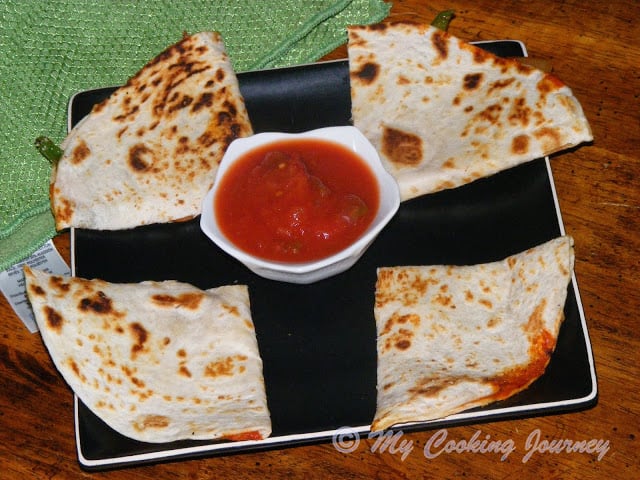 For the third day of mess free lunch box recipes for kids, I have this super fun fusion recipe that can be made within no time in the mornings. Pizza is every kid's favorite meal. This quick recipe of Pizzadilla is a fusion of quesadilla and pizza layered with crispy vegetables. My son loves to take cheese quesadilla to school. When I was looking for some ideas to make his lunch interesting, I came across this recipe on Kraft food's website. I adapted the recipe from there and made few changes to suit my kid's need.
I sautéed the vegetables slightly and added some spices before stuffing it into the pizzadilla. But you could use them raw. Also I kept it simple and used just onions and bell pepper.

Preparation time – 5 mins
Cooking time – 15 mins
Difficulty level – easy

Ingredients to make Pizzadilla – makes 4 slices of pizzadilla
Tortilla (Burrito size) – 2
Pizza sauce or tomato sauce or salsa – 2 tbsp
Cheese (Mozzarella or Mexican blend) – ⅓ cup
Onion – ¼ cup (thinly sliced)
Bell pepper – ¼ cup (thinly sliced)
Oil – 1 tsp plus some to spray on the pan
Salt – to season the vegetables
Garam masala – ½ tsp
Hot chili sauce – ¼ tsp (optional)
Procedure –
In a small pan heat the oil and sauté the vegetables for 3-4 mins. Make sure that the vegetables still has the crunch to it. Add salt needed for the vegetables and also add the hot chili sauce and garam masala. Mix well and keep aside.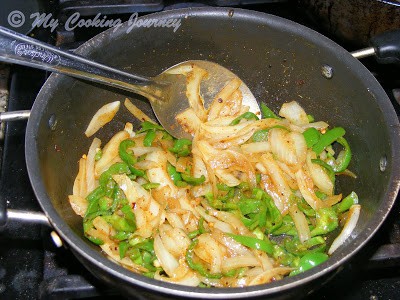 In a tawa or griddle, spray some oil and heat the tortilla on either side. On one half of the tortilla spread about a tbsp of pizza sauce or tomato sauce or salsa.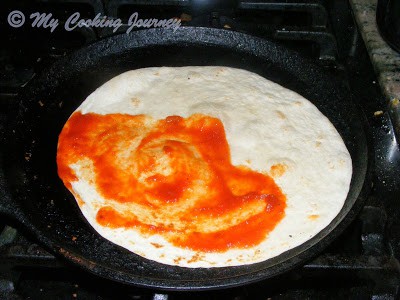 Now spread about a tbsp of cheese on top of the sauce.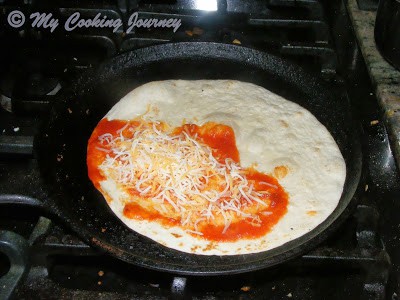 Add half of the sautéed vegetable and spread it evenly over the cheese.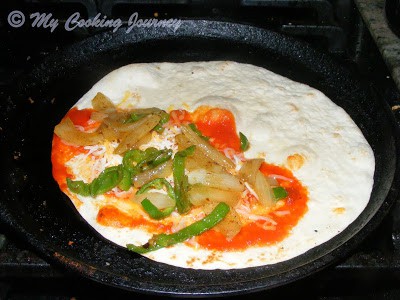 Now add about 1 more tbsp of cheese on top and fold the tortilla over.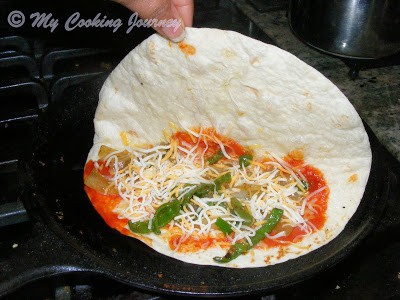 Press well with a flat spatula and flip the tortilla over. Cook the whole time in low to medium heat until the tortilla is crispy on both the sides.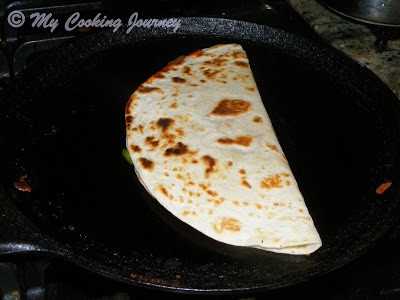 Repeat the same with the other tortilla as well using up all the vegetables and cheese.
Once cooled a little bit, divide the pizzadilla into two and serve with salsa or marinara sauce on the side.
Notes and observation –
Depending on your child's liking add any vegetables as stuffing.
Also make sure that you split the cheese and add it in the top and bottom to ensure that the pizzadilla sticks well.