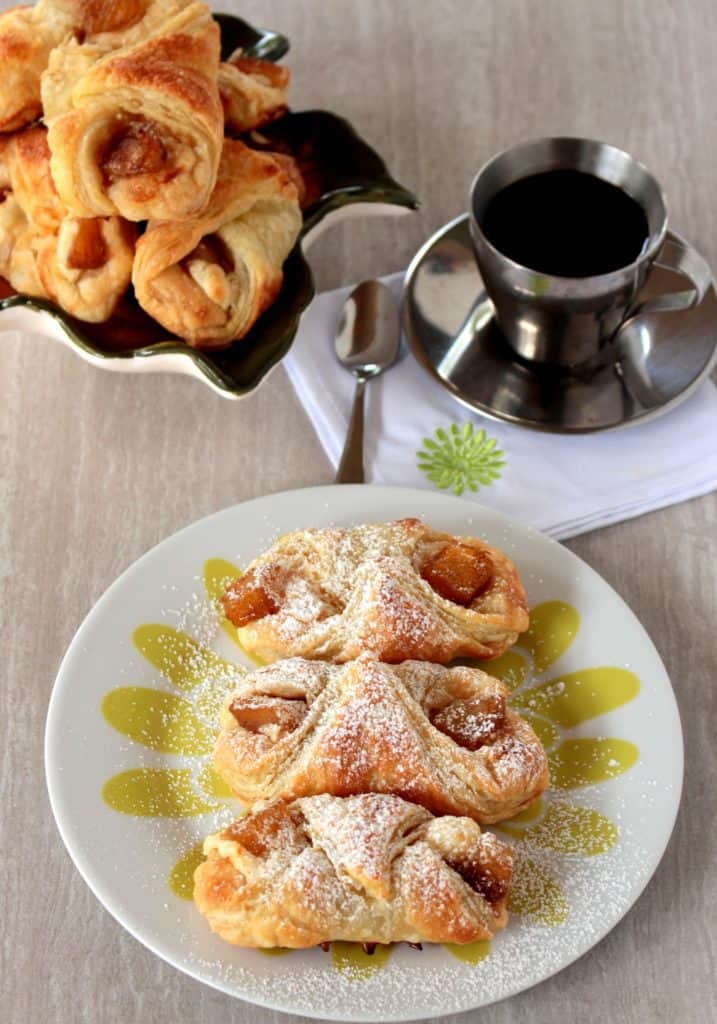 Quesitos, is a Puerto Rico Cheese Puff Pastry which can be found in every bakery in the region. It is a very simple recipe made with puff pastry sheets, mildly sweetened cream cheese and sometimes have fruits added in them. They are amazingly easy to make with just few ingredients and I find the store bought puff pastry sheets a big blessing.
I saw that Guava paste and cream cheese filled quesitos are quite popular in the region and that is when I read that we can use any tropical fruit that can hold up to baking. Pineapples are something my kids love and I always have Dole pineapples in hand. This Pineapple Quesitos, is a best recipe to use fresh pineapples if you have or you could use the pineapple chunks in cans like I did. One of the favorite fruits to take as a snack to school is pineapples in my house and it is not possible to have fresh pineapples available all the time. Recently I have started buying the Dole 4 pack pineapple chunks in its own juice hat comes in cute little plastic jars at Sam's club. This way I always have the boys favorite fruit available for them to enjoy.
I further chopped the fruit into smaller pieces and sautéed them in butter and brown sugar to give it a caramelized flavor. the fruits went on top of the mildly sweetened cream cheese and then baked until the pastries are golden brown. The Quesitos are mildly sweet and if preferred can be dusted with some powdered sugar before serving.
I had made this right before the boys came home from school and they really enjoyed it as an after school snack. My youngest thought that I had apples inside the Quesitos and that gave me an idea to try that next time. When using apples, I might use a little bit more spices to give it an apple pie flavor.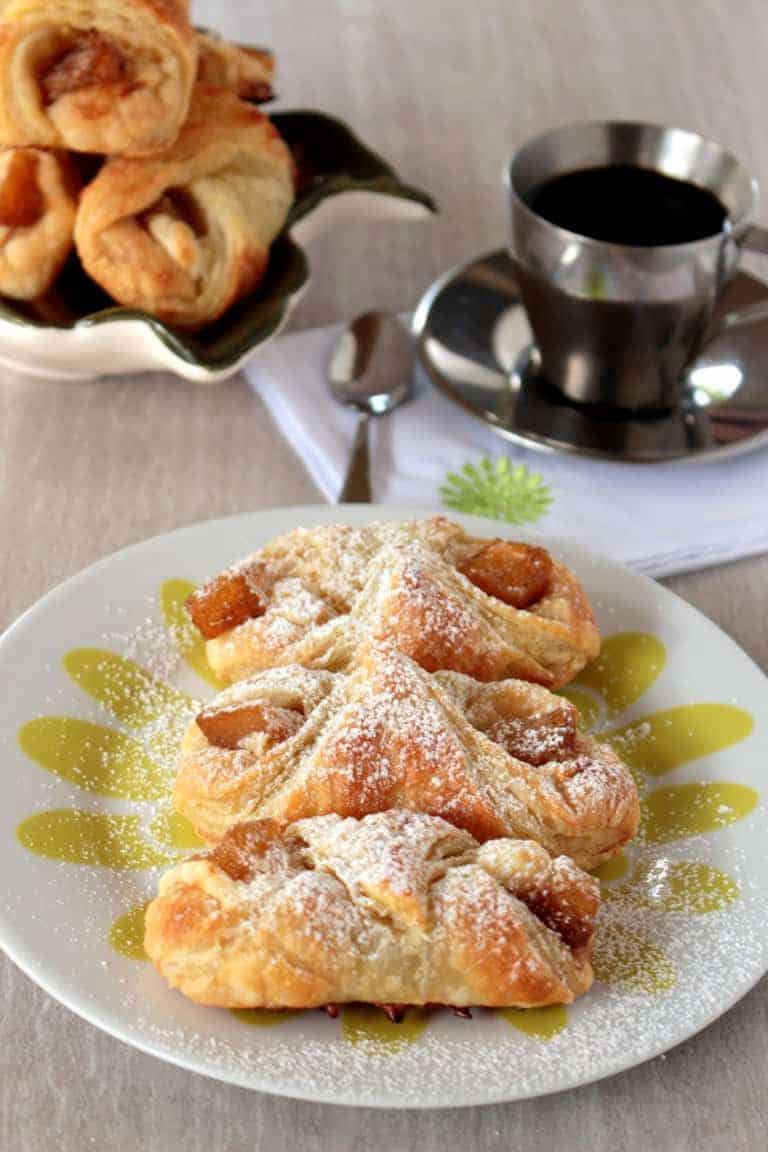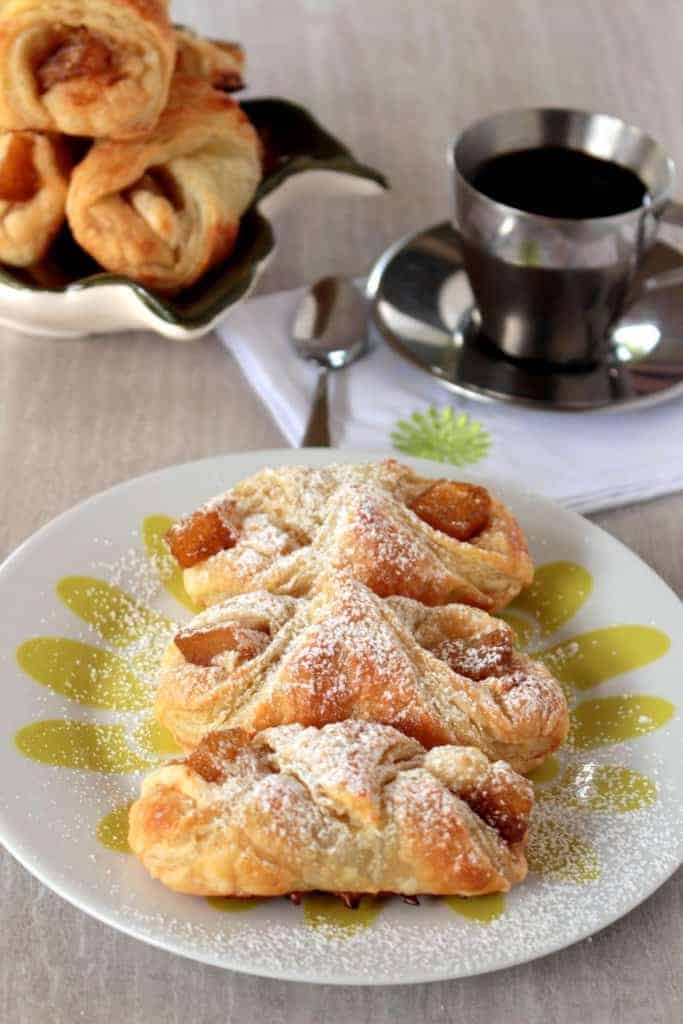 My other bakes in the A – Z Baking around the World Marathon –
A for Almond cookies from China
B for Bretzel Rolls from Germany
C for Chocolate Cupcakes with Chocolate Buttercream Frosting from USA
D for Danish Cookies from Denmark
E for Empanada from Argentina
F for Franzbrötchen from Germany
G for Grissini from Italy
H for Hot Cross Buns from England
I for Irish Freckle Bread from Ireland
J for Jan Hagel Cookies from Netherlands
K for Kiffles / Kiflis from Hungary
L for Lagana Bread from Greece
M for Monkey Bread from USA
N for Nazook / Nazouk from Armenia
O for Obi Non from Uzbekistan
P for Peyniril Poğaça from Turkey
Preparation time - 10 minutes
Baking time - 15 to 18 minutes
Difficulty level - easy
Recipe adapted from - Zoe bakes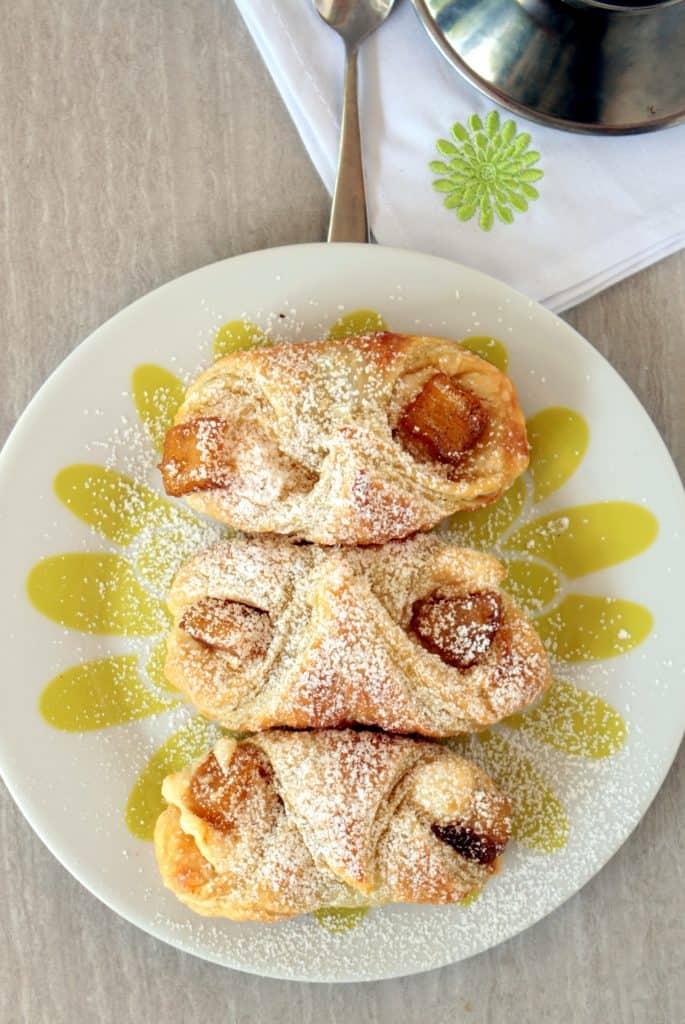 Ingredients to make Pineapple Quesitos - Makes 9
Puff pastry sheet - 1 sheet (thawed)
Pineapple - 1 cup (chopped or sliced)
Brown sugar - 2 tbsp
Butter - 1 tbsp
Cream cheese - ½ cup (4 Oz, softened and at room temperature)
Sugar - 2 tbsp + 2 tbsp
Vanilla extract - ½ tsp
Cream / milk - for brushing the pastry
Powdered sugar - to dust over the pastry
Procedure -
Thaw the puff pastry sheet according to the package directions. Preheat the oven to 400 F and line a baking sheet with parchment paper.
In a pan, add the butter and let it melt. Add the chopped/sliced pineapples along with the brown sugar and let it simmer until the juices evaporate and the fruit mixture thickens and caramelizes a little. Let it cool down to room temperature.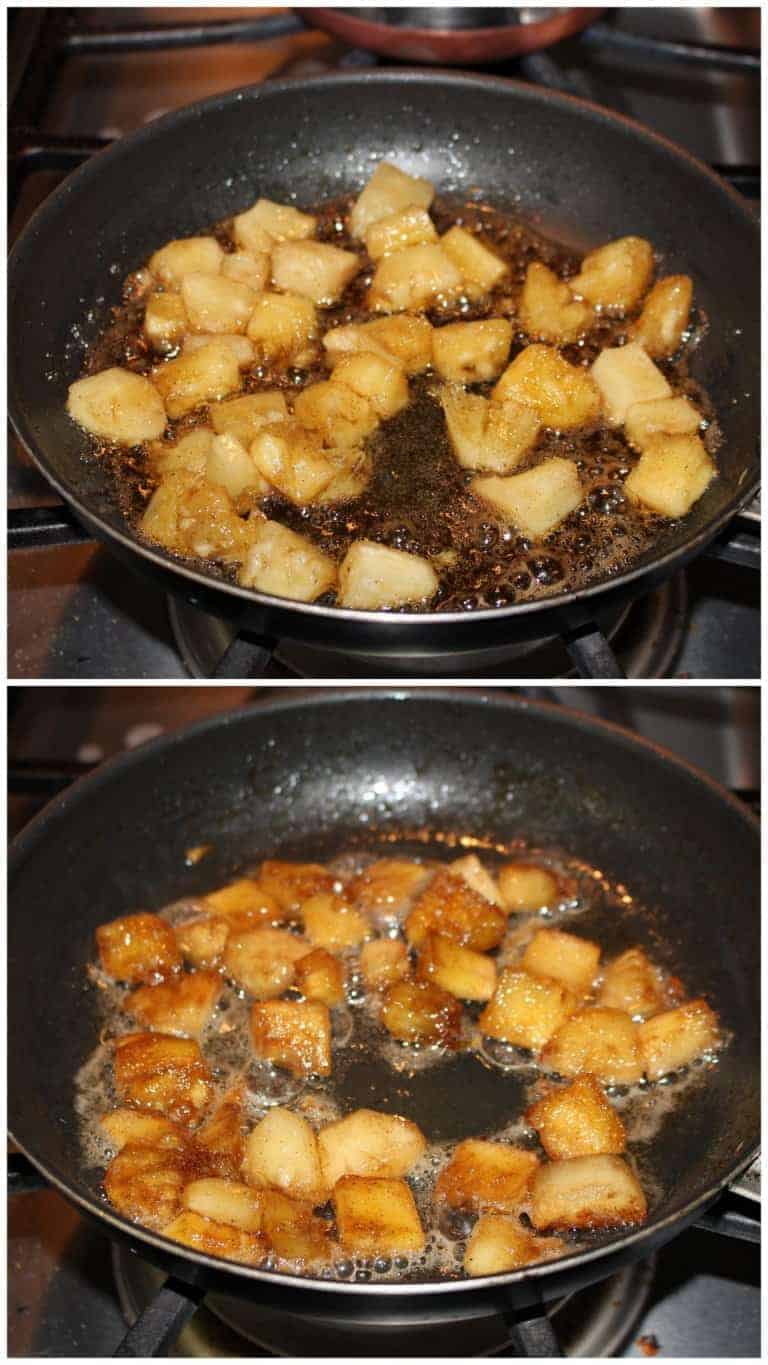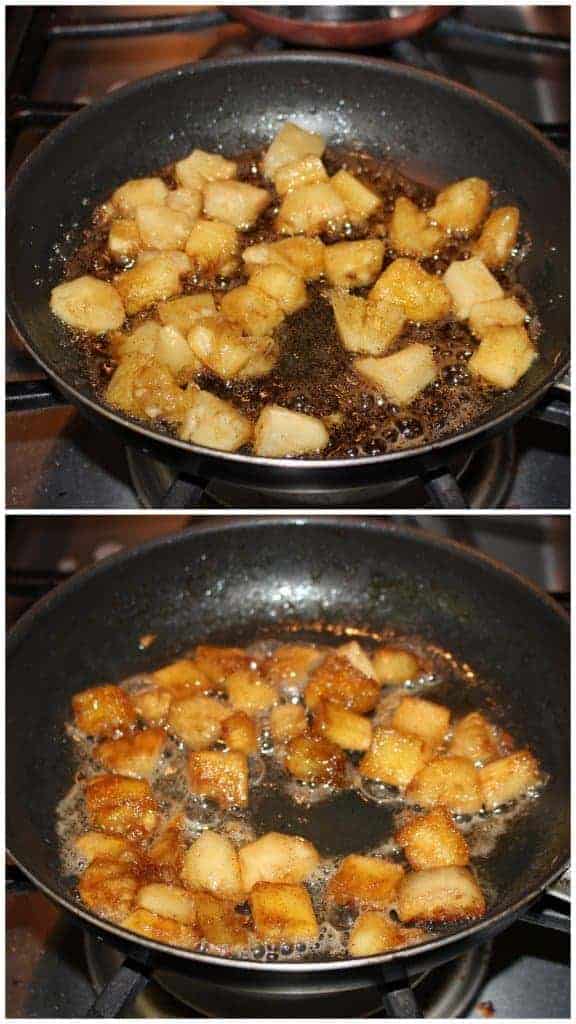 In a bowl, whisk the cream cheese, 2 tbsp of sugar and the vanilla extract until smooth and creamy.
Roll the puff pastry sheet to about a 12 x 12 square and cut the sheet into 9 squares, each measuring about 4 inches.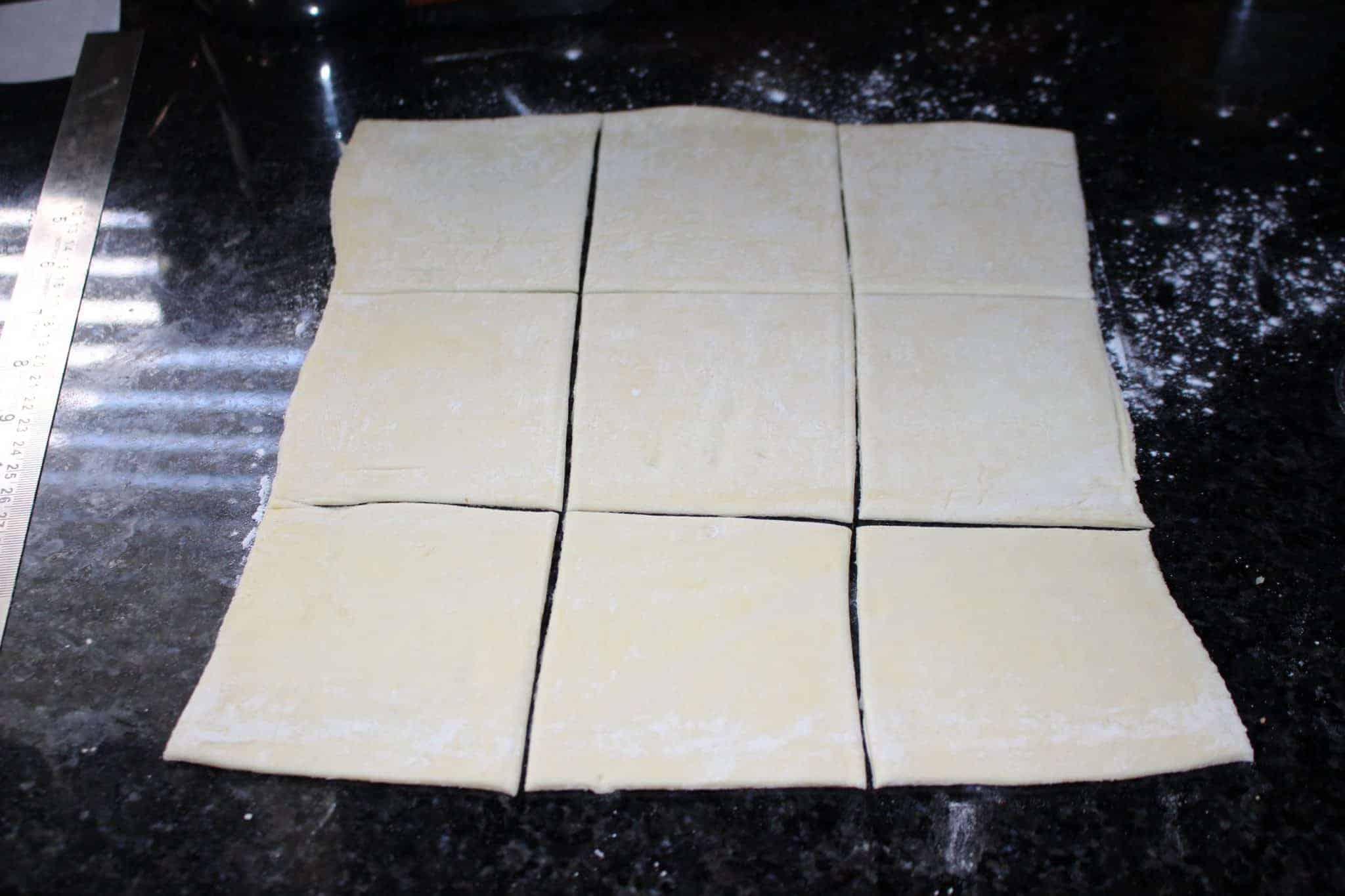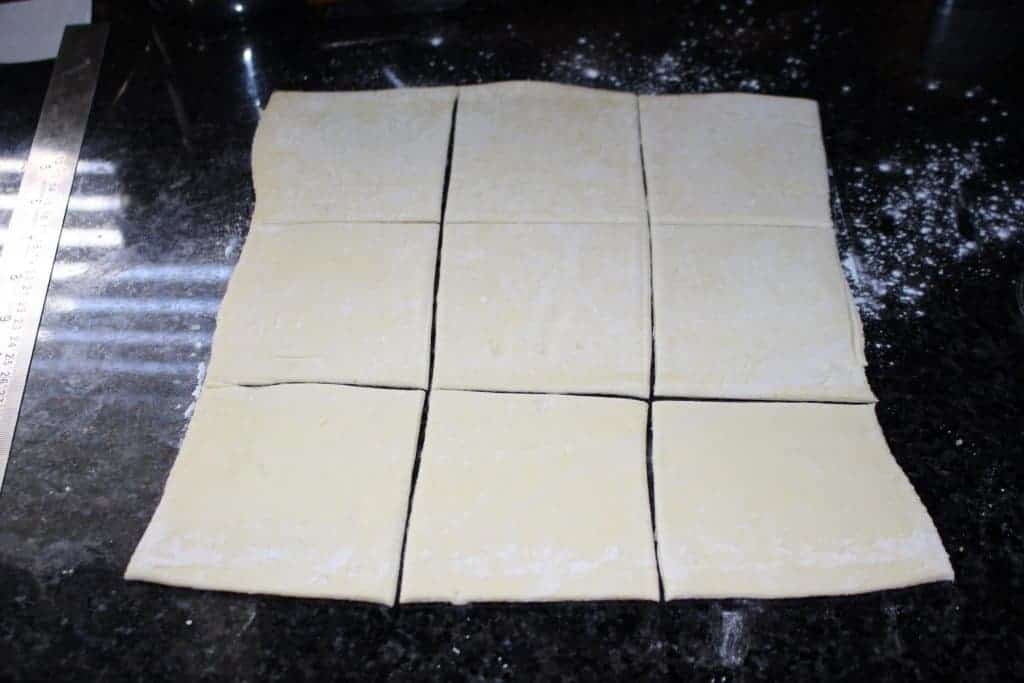 Place about 2 tsp of cream cheese filling in the middle of the square and then place few pineapple pieces on top.
Fold one corner over the filling and press down to seal. Now fold the other corner over this one and pinch the edge to seal. Also tuck the sharp edges under itself so they puff up and keep the fillings inside.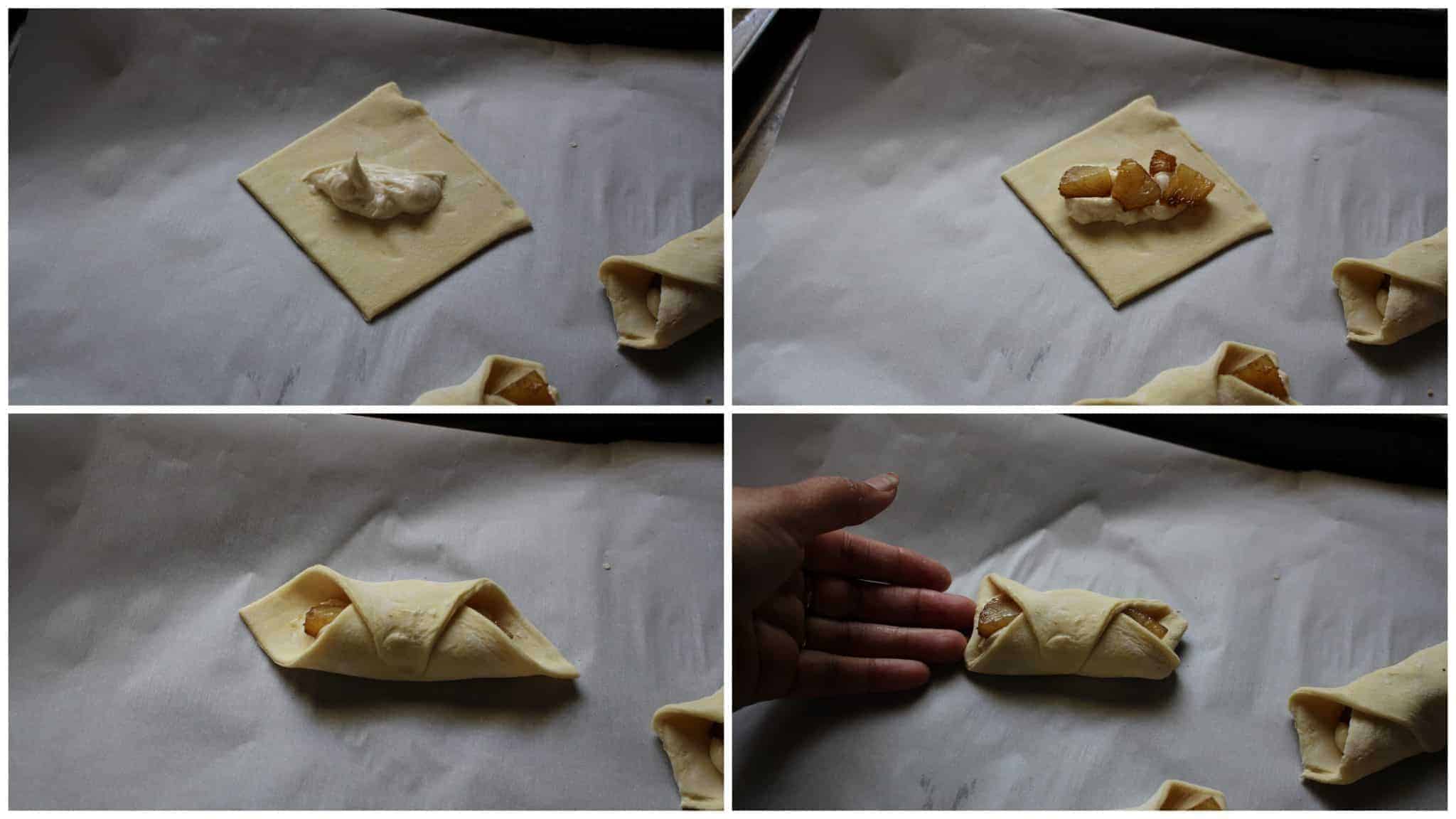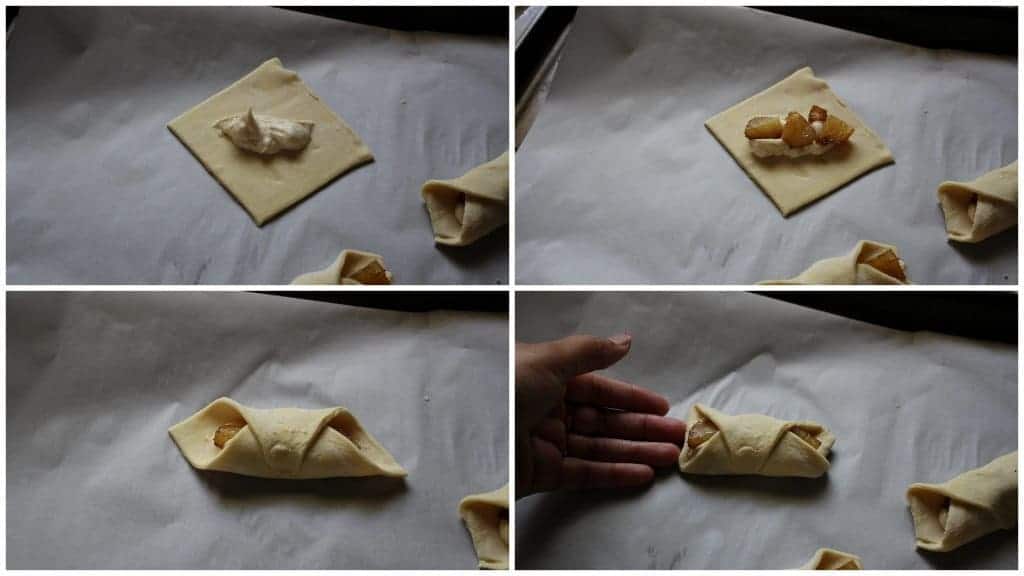 Place the prepared pastries on the baking sheet and repeat the same with the rest.
Brush the pastries with cream/milk mixture and sprinkle some sugar over them.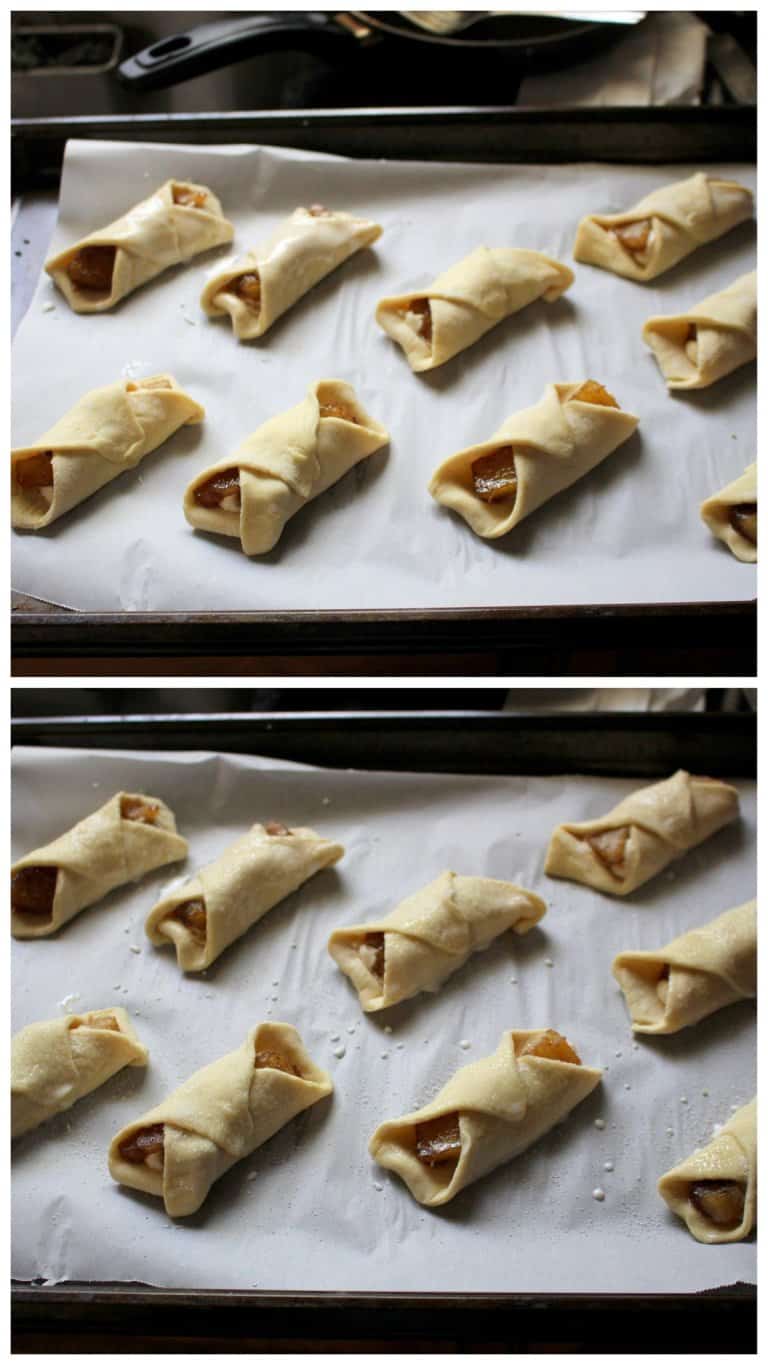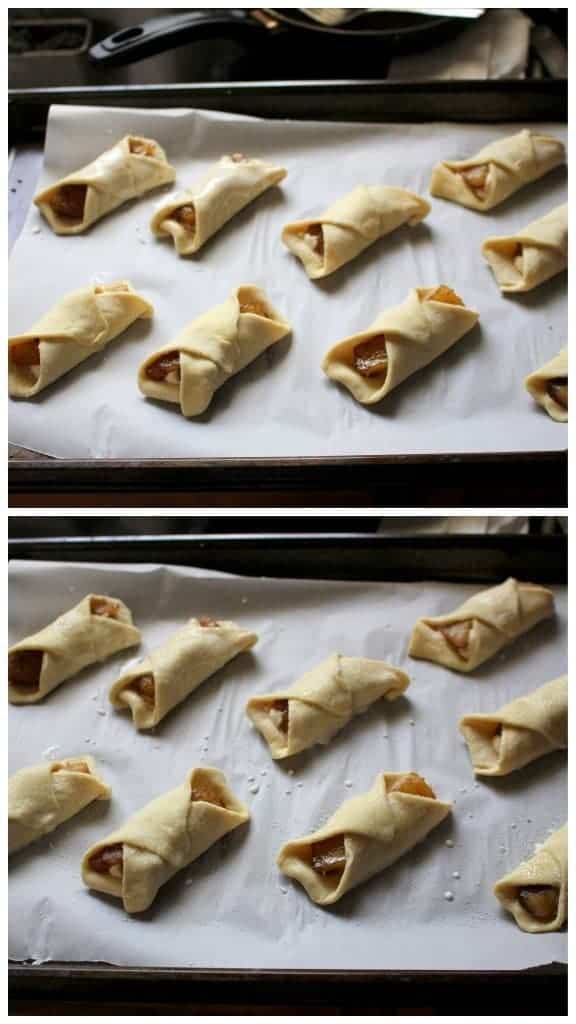 Bake the Pineapple Quesitos for 15 to 18 minutes or until the top is golden brown and pastries are all puffed up.
Remove the Pineapple Quesitos from the oven and let them cool.
Dust with powdered sugar before serving.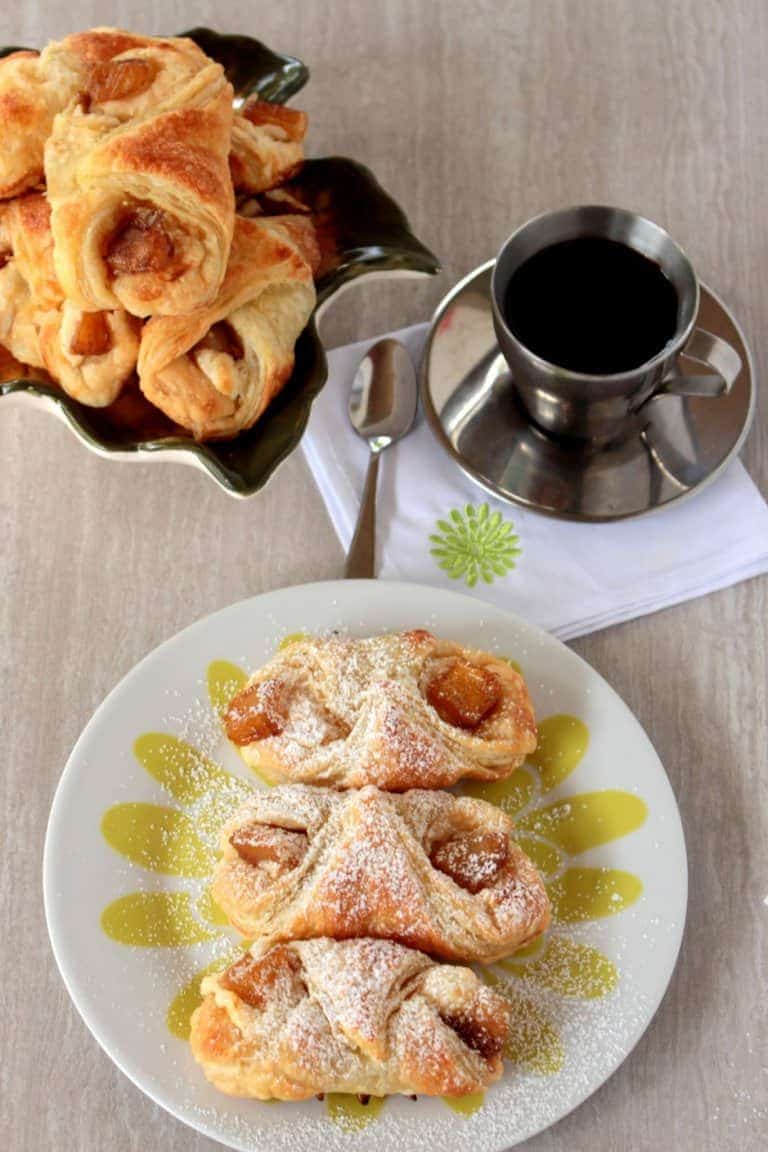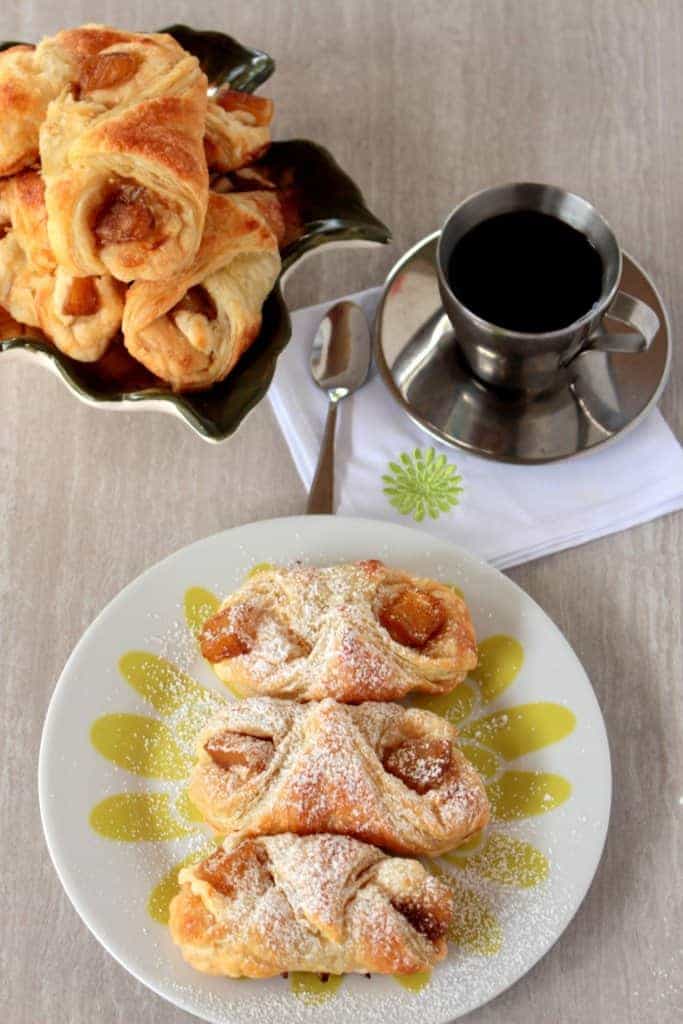 You can pin the recipe below to save it for later -