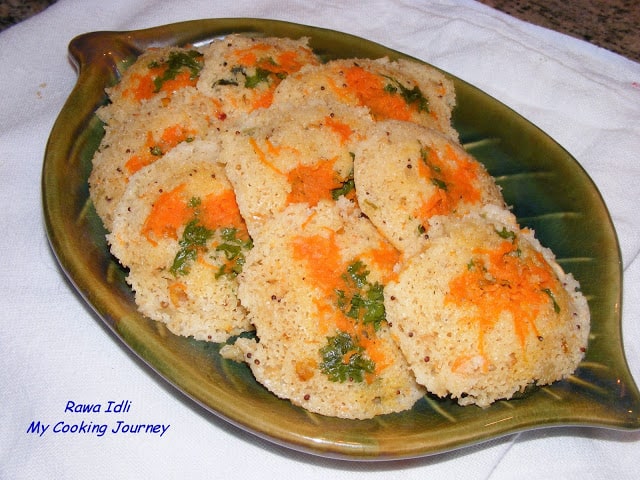 Are you still making those Rava Idli with the packaged idli mix? Try this homemade version and you will realize that this is as easy as making it from the mix. And the best thing is you don't have to run to the store to buy anything. Everything you need to make these idlis is readily available in your pantry.
These idlis are very filling and adding carrots and onions also gets the vegetable dose in the meal. Once the rawa is fried and the seasonings cooked, it takes only a few minutes to get it all together. This would be a perfect weekday dinner solution.
Preparation time – 15 mins
Cooking time – 30 mins
Difficulty level – easy
Ingredients to make Rava Idli - makes around 20 idlis
Fine rawa – 2 cups
Oil/ghee – 1 tbsp
Onion (finely chopped) – 1 (optional)
Green chilies (finely chopped) – 4
Sour thick yogurt – 2 cups
Curry leaves – few
Cilantro – few (for garnish)
Carrot (finely grated) – 1(optional)
Salt – to taste
Baking soda – ½ tsp
For seasoning
Mustard seeds – 1 tsp
Black gram dhal (ullutham paruppu) – 1 tsp
Bengal gram dhal (kadalai paruppu) – 2 tsp
Cashew nuts (broken) – about 10
Asafetida – ¼ tsp
Procedure to make Rava Idli -
Roast the rawa just until it starts to turn brown and keep it aside.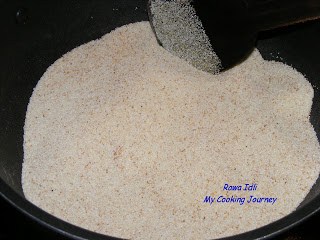 Heat oil, add all the seasonings and once they are browned add the chopped onion, curry leaves and green chilies. Fry it until the onion turn translucent. Let it cool down to room temperature and then mix it with the roasted rawa. Add half of the grated carrot to the mixture.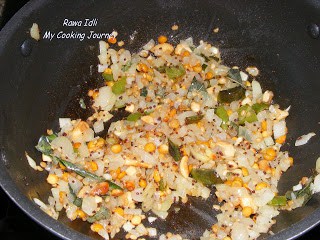 Add the baking soda and salt to the rawa mixture. Now add the curd and mix it well. To bring it to the idli batter consistency add water (if needed).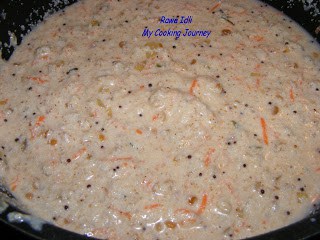 Grease the idli plates and add grated carrot and cilantro to the bottom of the plate. Then pour the batter and steam it for 10 – 12 mins.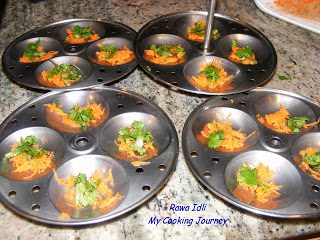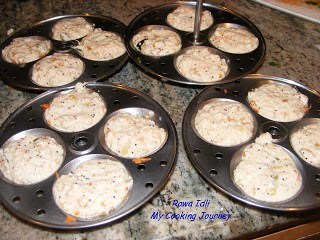 Serve the Rava Idli hot with chutney!!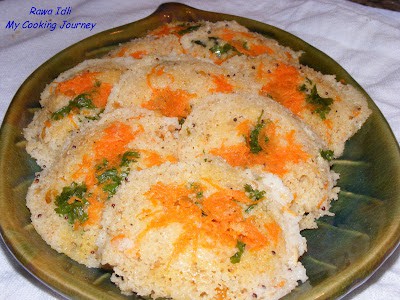 Notes and observations
Once the batter is ready, it is important that they are cooked right away. Keeping the batter too long results in dry idlis.
Mix the rawa with the seasoning and curd after it has cooled down to room temperature. This allows the idli to be fluffy.
If making more idlis, mix the batter in batches.