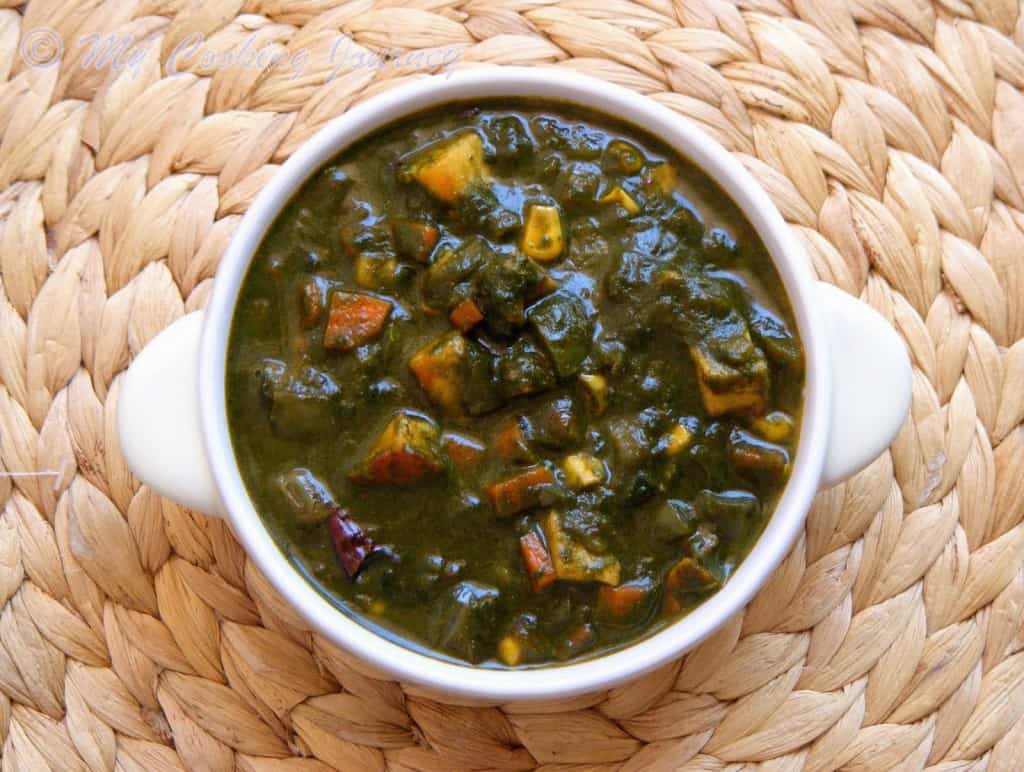 This week I am doing Gourmet gravies and Subzi Diwani Handi is the second recipe I chose for the theme. The gourmet gravies are very creamy and rich, but this one strikes a bit a different from the others. The base for this mixed vegetable curry is spinach. It does have a little bit (ok more than little bit) of cream, but if you are going the lighter fare, substitute the cream with milk or do part cream and part milk. I chose to make it part cream, part milk and it was just fine. Use any vegetables that are left over and make this delicious and quick gravy, the gourmet style!
Preparation time – 15 minutes
Cooking time – 40 minutes
Difficulty level – easy
Recipe adapted from – Saffron Streaks
Ingredients to make Subzi Diwani Handi – Serves 4-6
Mixed vegetables – 3 cups (I used carrot, peas, bell pepper and sweet corn)
Onion – 2 medium or 1 large (finely chopped)
Paneer – ¾ cup (cubed)
Spinach – 2 cup (pureed)
Ginger – ½ tsp (grated)
Dry red chilies – 2
Fenugreek seeds/methi – ½ tsp
Cumin powder – 1 tsp
Red chili powder – ¾ tsp
Garam masala – 1 tsp
Cream or milk – ½ cup
Ghee or oil – 2 tbsp (divided)
Salt – to taste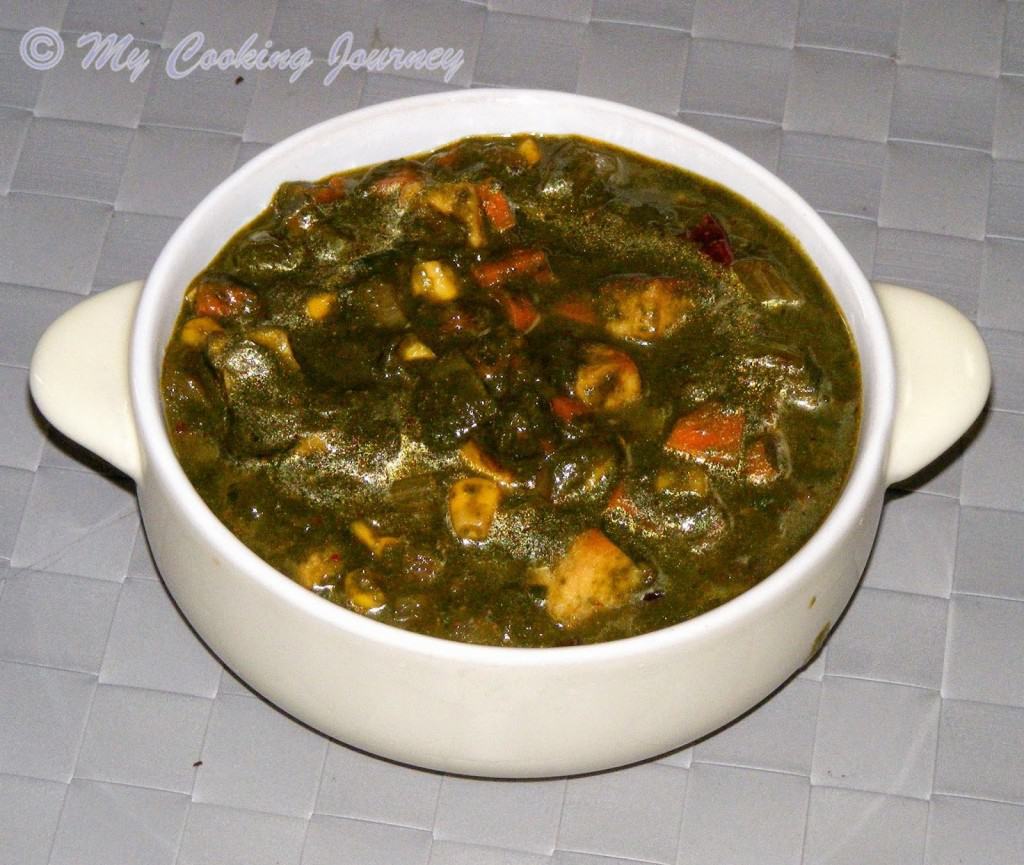 Procedure –
Thaw the spinach (if using frozen) and puree it. If using fresh, clean the leaves and then puree it.
Chop all the vegetables and keep it ready.
In a small pan, heat about 1 tsp of oil and add the red chilies and the fenugreek seeds. Once they fry add the spinach puree and let it come to a slow boil. Turn off the flame and keep it aside.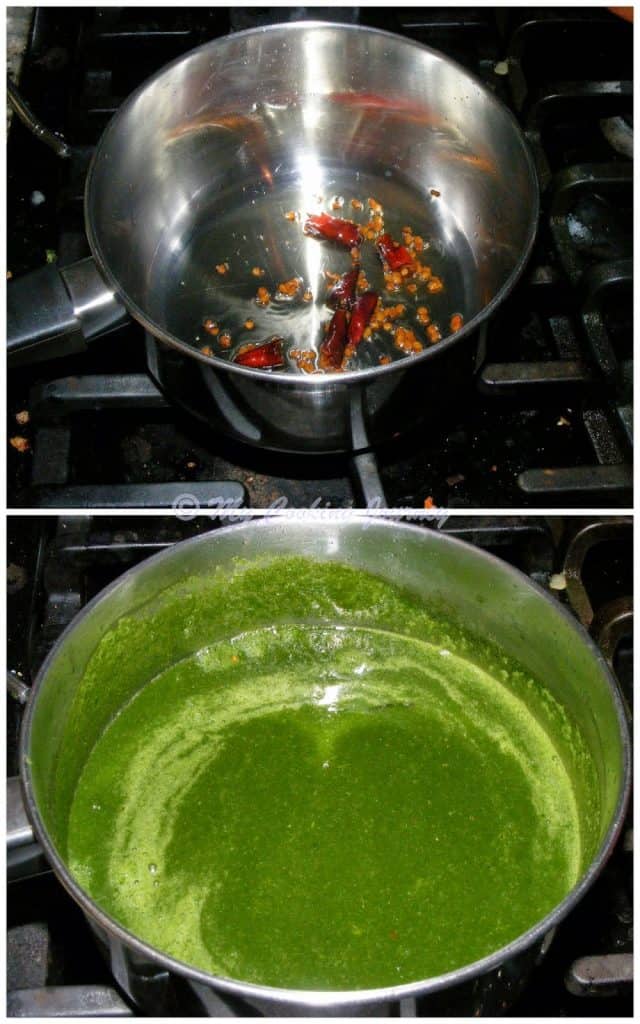 In a wide pan, heat the remaining oil and then add the chopped onions. Let it sauté until light golden brown and then add the paneer cubes. Fry until the paneer cubes picks up some color.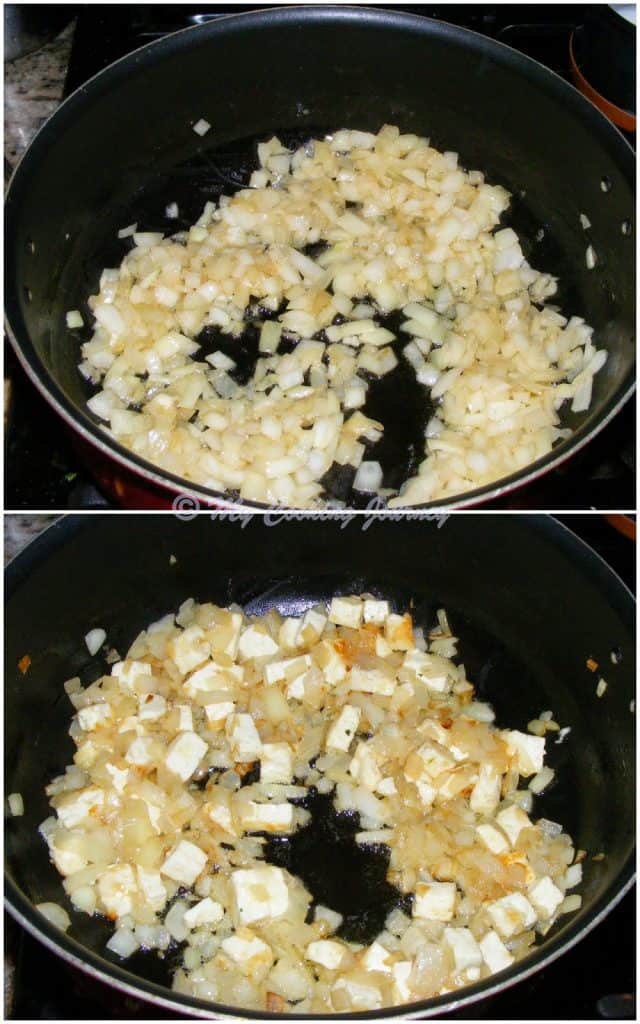 Now add the rest of the vegetables and fry them until the vegetables soften a bit. Now add the grated ginger, cumin powder, red chili powder and salt and let it cook.
Add the prepared spinach puree to the vegetables pan and add some water (about ½ cup or more). Let it come to a boil and then simmer until the vegetables are entirely cooked.
Add the garam masala powder and mix once.
Add the cream or milk and then mix again. Simmer for couple of more minutes and serve hot with paratha or naan.